Archive for the 'Interview' Category
In the coming days we will be introducing a new feature here on the blog, interviews with Niteblade contributors. Our in-house interviewer, Amber Stults, will be interviewing people who have contributed to past issues of Niteblade and sharing those with us here every other week. I'm looking forward to getting to know more about the people behind Niteblade, and I hope you are too.
John Everson is well-known for his novels (Covenant, Sacrifice,The 13th, and Siren). Covenant gained him a Bram Stoker Award for a first novel and his short stories appear in several collections and well over 50 magazines. His latest novel is Siren. John is also co-founder of the publishing company Dark Arts Books, where he works tirelessly assisting with editing, providing cover artwork, layouts and promotion of the company. It is said when he wishes to escape from writing he can be found in his hidden studio recording pop/rock songs.
Can you tell us a little about your beginnings? As a child where you always drawn towards what would later become your career? Do you recall what the first story you ever wrote as kid was about?
As a kid I was a voracious reader, especially of anything fantastic. Growing up I read all the standard kids series — Hardy Boys, Nancy Drew, Tom Corbett, Space Cadet — but I quickly graduated to Golden Age sci-fi novels from Isaac Asimov, Robert Heinlein, Clifford Simak, Poul Anderson, and more.
I loved the twisted macabre-tinged sci-fi of Richard Matheson, and his short fiction in particular was probably a huge influence on my writing. But the first story I remember writing as a kid was a space opera set in Isaac Asimov's Foundation universe. Thankfully, that one is long lost in a landfill.
When did you first know you wanted to become a writer? What did it feel like to learn you can actually make a living doing something you love?
I always knew that I'd write in some sense. In grade school and high school I wrote a lot of song lyrics (and songs) along with poetry and short fiction. Somewhere along the way I decided I'd go into Journalism and work for newspapers, which I did. I quickly found though that I really preferred the "fluff" writing over anything related with actual news. So in college I worked a lot on the features side of the newsroom, doing celebrity interviews and album reviews. Back then I interviewed everyone from Jay Leno to the Throwing Muses. I even wrote a TV column at one point. That carried on after college — I left my first job at a suburban newspaper
to work for a music magazine (though I kept writing Pop Stops, the weekly music column I started at the newspaper for the next 20 years as a freelancer). Those early years at the newspaper and the music magazine are when I first began publishing short horror fiction regularly as well. Eventually I took a job in trade journalism so that I could actually pay the mortgage, so I must say that the writing that I most enjoy doing still does not pay the bills.
Does your son share your passion for written word? Do you find him to be much like you? I hear he likes to hear you play an acoustic guitar. Do you enjoy times when you get to take a break from your work and indulge him that?
My son has had a love for words from the start. I dedicated my short fiction collection Needles & Sins to him because of his love for stories. He knew his alphabet at 17 months and just today we came back from the kindergarten parent-teacher conference to find that he's reading a year beyond his peer group. So yeah, in his love of words and music (and stubbornness), he's a lot like me. And I love to share songs and music with him. Music is probably the biggest love of my life, and he seems as enamoured with it as I have always been. That's pretty cool to see.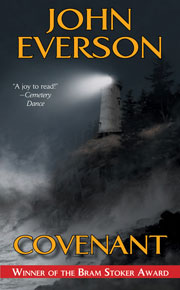 What kind of music do you make there in your hidden studio lair?
Not much, unfortunately, these days. I've been so focused on writing the past couple years, that I've really not played much at all. I do love to write pop-rock songs though. Nothing makes you feel better than a really hooky, well-produced pop song!
What does it feel like to win the Bram Stoker Award? Do you enjoy his works? Which of his works do you feel was his best?
The Bram Stoker Award is given out annually by the Horror Writers Association to recognize achievement in the field. It's voted on by other horror writers — your peers — so it was really amazing to win that award. I actually had gone to the award ceremony that year simply to network… so nobody was more shocked than I was to find out that I won!
As for Bram Stoker himself? The only work of his I've read was Dracula, but that novel I read 2-3 times in high school. I loved it.
What was the best advice anyone ever gave you?
Go ahead and write fiction if you can't not do it. But don't quit your day job.
Do you prefer to write novels or short stories, or do you like them both equally?
I like the instant gratification of short fiction, because you can start and finish a short story in the same day. It's nice to have to have a completed piece of work in that short of a time. That said, when you finish a novel,it's really a monumental feeling because it's so much work to write one. Over the past few years I've definitely grown to focus more on novels, which allow you to expand and tell a more complex a story than short fiction does.
What do you think you'd be doing if you hadn't became a writer?
Well… currently my day job is involved with creating websites for online education. So… I suppose I might be doing that whether I became a fiction writer on the side or not. Or maybe I would have gone completely batshit crazy, quit the conservative comfort of my day jobs and gone out on the road as a rock musician. A guy can dream…
Do you enjoy providing the artwork for covers? Is there any one cover you have worked on that you love most?
I kind of
backed into creating bookcovers. It started when I tried to help out a small press that was publishing an anthology that I had stories in. I wanted to help make the cover a little better than their original, and the next thing I knew, I was designing the next half dozen releases for them. That led me to founding Dark Arts Books (where I also do the covers) and to doing a line of small  hardcover chapbook covers for Delirium Books. Nearly all of my covers feature photo collages of photos I've taken, and my
favorites are probably Spooks! and Failure, which feature images of my wife and Like A Chinese Tattoo and Suckers which feature LA model Jade Paris.
You can see most of my cover and website art work at http://www.johneverson.com/artwork.htm
Other than Alan Clark what other illustrators do you admire?
Travis Anthony Soumis has done the book covers for my last three full-length small press hardcovers, Needles & Sins, The 13th and Siren. I really love his style, and adapted the imagery from Needles & Sins to serve as the focal banner on my website.
Are there any of your works that hold more personal meaning for you?
Siren and Needles & Sins are probably my most personal novel and short story collection, respectively. Siren because it deals with the fear a father has for losing his child (the lead character is haunted by the death of his son which he watched and couldn't prevent) while the collection includes stories that really touch on some of my deepest emotions.
Why do you think people are so drawn towards the darker side of things?
We all are afraid of the dark… so more than anything else, we want to know what's hiding there… perhaps in the knowing, we can conquer our fear.
What is one subject you'd like to cover that you haven't had the chance to yet?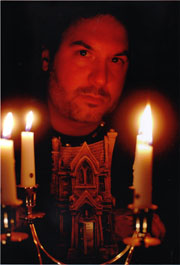 Honestly… I don't suppose there is one that I haven't touched on yet. I've been publishing fiction now for nearly 20 years. I've written 5 adult novels(one to be published next year as The Pumpkin Man) a young adult novel about goblins and witches and kids (currently being edited so that it can be shopped) and four short story collections that hold nearly 60 stories between them. There are still stories I want to tell… but my key themes have consistently been obsession and erotic horror. And I've done those a lot!
What works are you currently working on that you are most excited to get out there to the people?
(I just turned in my fifth novel The Pumpkin Man a couple months ago, so I'm pretty excited about that, though it won't be out for at
least 10 months. I'm also about to start edits on my young adult novel, tentatively titled A Gathering of Goblins. So I'm looking forward to polishing that so that hopefully my agent can find a good home for it where lots of kids will have the chance to read it. Because in the end, that's why I got into writing in the first place — to provide others the same kind of enjoyment that I found in books when I was a kid. It's kind of all come full circle.
One of the perks to doing interviews with authors for Niteblade is learning about their work and sharing it with you.  Today, Niteblade readers, is a lighthearted  interview with Jeremy C. Shipp.  Jeremy is a Bram Stoker Award nominated author.  He lives in Southern California and his newest book, Fungus of the Heart, went on sale this month.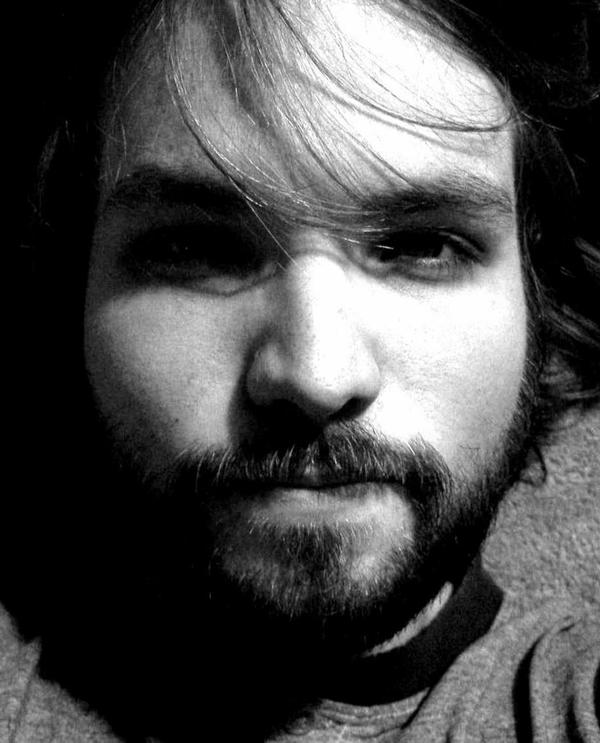 You've been writing novels since you were 13 and had one of your short stories published when you were 18. Do you remember when you first considered yourself a writer?
The first time I considered myself a writer, I was a baby, writing a hieroglyphic-style story about two-headed dragon on the living room wall. Then, in 4th grade, I felt like a writer once more when I wrote my first rather long short story. At 13, after I finished my first novel, I thought, "Now I'm a writer." And then, at 18, when my first short story was published I thought, "Now I'm definitely a writer." And finally, in 2007, when my first novel was published I thought, "Now I'm a writer for sure!"
In 2009 you received a Bram Stoker Award nomination with your novel, Cursed. Writers often work in vacuums and don't always hear from their readers. Was it validating to be nominated by your peers?
It was definitely a touching moment in my career to be honored by my fellow horror writers. I was as excited as Atreyu when he rode Falkor for the first time.
How do you pick the titles for your books?
First I pull Scrabble tiles out of a magic yard gnome hat and use those letters to come up with possible titles. After that doesn't work, I put on my thinking cap and come up with an appropriate title. I ended up using "Fungus of the Heart" as the name of my newest book because I find the image and concept to be emotionally evocative and thematically fitting.

I understand your newest collection of short stories, Fungus of the Heart, goes on sale this month. Did you write the stories specifically for the collection or did you select them because they were connected in some way?
I wrote most of the stories with the collection in mind. I also included three older tales that meshed well with newer stories. Each story in this collection is a unique world, but the worlds are all orbiting the same thematic sun. And while that doesn't make any sense, it's true.
What are you working on now?
I'm writing a middle grade fantasy novel as well as a new horror story collection. There's also a musical stage play in the works based on my short tale "Nightmare Man." In addition, I'm trying to build a giant robot that looks like Mr. Belvedere. I can't remember why.
You live with yard gnomes and attic clowns.  Do you ever think they will wage a war for more territory?
Attic clowns find war to be hilarious, and they might attempt to kill all the yard gnomes in my garden as a joke. However, the gnomic shamans wield magical sporks that can transform clowns into Skittles. And so, the war wouldn't last very long.
Is there anything else you'd like to share with our readers about Fungus of the Heart or your other works?
You can read one of the stories from Fungus of the Heart here: http://www.dharlanwilson.com/dreampeople/issue34/excerptshipp.html
You can also check out more free stories of mine here: http://jeremycshipp.com/onlinestories.htm
I was recently interviewed at Six Questions For in my capacity as editor for Niteblade. Interviews make me nervous, and being nervous tends to lead to me rambling, having typos and thinking I come across as an idiot. Please take a look at the interview and then tell me that I don't look like an idiot. Please? It will make me feel better.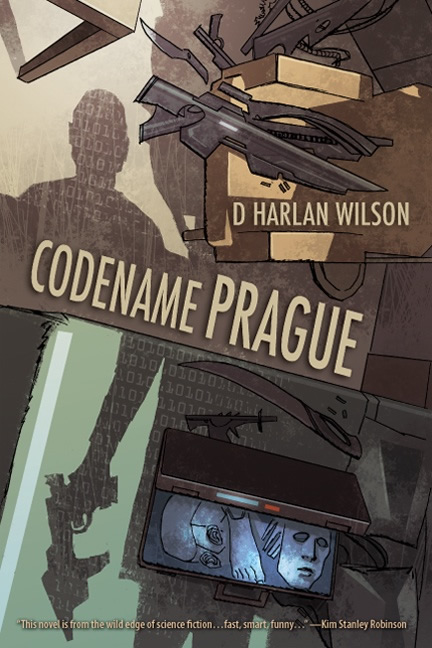 D. Harlan Wilson is a busy man. He edits The Dream People, teaches full-time at an Ohio university, and still manages to have a life unrelated to writing.  He took the time to answer my questions about his work and allow the Niteblade readers to learn more about him.
Looking over your biography, I noticed you received your M.A. in Science Fiction Studies from the University of Liverpool. I honestly thought you made it up until I visited the university's website. What was that experience like?
 The Science Fiction Studies M.A. was a wonderful experience and seminal to my growth as a literary critic and fiction writer. I owe it all to Bob Crossley, my advisor at UMass-Boston, where I did my M.A. in English (1995-97) before the ULiverpool program (1997-98). When I started at UMass-Boston, I wanted to be a Medieval or Elizabethan scholar, but I met Bob in an apocalyptic literature course I took with him, and he turned me on to science fiction. Under Bob's guidance, I did my UMass-Boston M.A. thesis on science fiction, a linguistic analysis of the novels Neuromancer, Riddley Walker, and A Clockwork Orange, for which I won an award. Bob encouraged me to pursue another M.A. degree at ULiverpool, one of the only SFS programs in the world at the time. I didn't feel like I was ready for the rigors of a Ph.D. yet, so I did it.
In addition to immersing myself in a different (English-speaking) culture – I lived in downtown Liverpool across from the central train station in a flat over a fish and chips shop – I got to read scores of cool sci-fi books and talk and write about them extensively in an intimate professor-student setting. Basically we met twice a week for two hours at a time to discuss a particular text, usually a novel, and then the rest of the time the onus would be on me (and the four other students in the program) to do research, meet with our advisors, and produce criticism. And in the end we had to write a 40 or so page thesis. Mine was a study of the influence of Romanticism (especially Keats' work) on Dan Simmons' Endymion quadrilogy. Not publishable stuff, but instrumental in my future Ph.D. studies at Michigan State University and the book of literary theory and criticism that resulted from it: Technologized Desire: Selfhood & the Body in Postcapitalist Science Fiction.
Aside from my studies, I fondly remember my trips to the Lake District, about two hours north from Liverpool by train.  That's where all the Romantics hung out – Wordsworth, Coleridge, Keats, etc. I went up there whenever I could, and I go back whenever I can. I think it's my favorite place in the world. The landscapes, the air itself, is inspiring in so many ways.
Your fiction works have been described as Bizarro or irreal fiction. How do you describe your work to someone not familiar with it?
I've more or less given up trying to describe it, or I deflect and redirect the question whenever it's put to me. Categories are useful for marketing purposes, and it's human nature to categorize things, but otherwise calling something this or that ultimately belies what it is in its totality. In the past, I've called my writing "offbeat" or simply "weird" in casual conversation. I like the term "irreal," which exhibits absurdist, existential, and/or dreamlike elements. Irreal fiction usually denotes a certain literary quality (à la Kafka, Borges, Gogol, etc.), but the term "literary" is problematic, too, and can mean different things to different people. As with anything, really; the specter of subjectivity is a formidable monster.
Bizarro is an increasingly slippery category, mainly because there are so many different kinds, although most if not all Bizarro fiction seems to relish in the absurd and out-of-the-ordinary. I certainly do that. Bizarro has received as much criticism as it has praise and outright fanaticism, and all publicity, negative or positive, is good publicity. The fact is Bizarro continues to gain momentum and popularity; some readers really get into it, whereas other just want to see what it's all about. I like the category in that respect. And I like some Bizarro fiction. There's good and bad, but that's the case with any type of writing, or art in general, and my version of good and bad of course differs from other versions.
Categories aside, I hope my writing does two main things: edify and entertain. I want people to laugh, but I also want them to think about the nature of narrative, reality, language, history and the future. Especially in my novels, where I almost invariably blend the genres of science fiction, fantasy, horror, and film and literary theory. These speculative and critical realms were once perceived as outside the purview of basic human ontology. I believe they are at the center of twenty-first century mediatized life.
In previous interviews you've expressed the wish to re-edit some of your earlier works. How do you think your style has changed over the years?
My style has changed significantly over the past 15 or so years since I started writing fiction, as it does for most writers. For me, it had to do with developing a wider lexicon and command of language, which I'm always trying to improve upon. I began writing novels – bad ones, although I thought they were good at the time. I remember feeling more and more insecure and uncomfortable as each novel unfolded. I didn't really know what the hell I was doing, or wanted to do. Other than to become a famous author, right? Once I started writing shorter pieces, though, particularly flash fictions, I got better, grew more confident with my narrative voices, rhythm of prose, word choices, execution of dialogue, etc. Nowadays my fiction tends to be rather theoretical, i.e., I often fuse elements of fiction with film, literary and cultural theory. It's not that I want to return to my old stuff and theorize it, per se. I just want to clean up what in retrospect looks like crappy prose to me. And of course my interests have changed as I've gotten older. Many themes in my earlier fiction are pretty boyish and juvenile compared to now. Naturally – I started writing in my early twenties, and now I'm almost forty.
Do you have specific writing habits which contribute to your success?
No. I've never had any habits that fueled my writing, other than smoking, but I haven't smoked while writing for years. I write most efficiently in the morning, in my basement library, with coffee, when my mind is clearest. But I teach fulltime and have service responsibilities at my university, and I have a family (a wife and two daughters), so usually I have to write whenever I can, whenever I find cracks in my schedule. I still write every day, if only for 15-30 minutes.
I feel I have to ask an obvious question to the author of Peckinpah: An Ultraviolent Romance – If you could time travel and spend the day with Sam Peckinpah what would you do?
If I was younger, I suppose we'd go out and party or something – he was a wildman, did tons of drugs and drank his ass off; at one point he claimed that he couldn't direct effectively unless he was shitfaced. I try to keep my partying to a minimum these days, with moderate success most of the time, so I guess I'd probably sit there and listen to Sam ramble on. He was a big talker, according to his biographies. Despite being an addict, and an asshole, he was a brilliant guy, filmmaking aside. But eventually I'd get sick of him. I usually get sick of everybody, preferring humanity in small, controlled doses.
I understand you're working on a cultography of John Carpenter's They Live. How does one prepare for such an undertaking?
Lots of research in many different areas, including my personal history as well as film criticism, literary and film theory, the cultural history of the 1980s, and the biographies of John Carpenter and Roddy Piper.  The cultographies series is a recent venture for UK publisher Wallflower Press, which is distributed in the US by Columbia University Press. It's a cool project in that I'm asked not only to analyze the film but to write about my personal relationship with it, i.e., how it influenced and enlightened me in its (and my) historical context. I've completed the research portion of the book and I've written about a third of it, so it's well underway.
Writing my first book of criticism, Technolgized Desire, was a totally different experience, fraught with anxiety and uncertainty. I was still finding my way as a neophyte critic, and I had to satisfy the demands of my Ph.D. dissertation committee. I spent three years revising the book after I received my Ph.D., without guidance, and that was kind of traumatic, too. The They Live book is a different experience altogether. I know what I want to do and I'm having so much fun writing it. That's what writing criticism should be like. Nobody really reads it except for professors and scholars and grad students. This wasn't always the case, but nowadays I can always tell if books of criticism were written under the pressures of The Academic Thumb. It's nice to get to a point where you can have fun while at the same time produce compelling and dynamic criticism. I've only crossed that threshold recently.
From November 2010 to March 2011 you'll be on an international book tour to promote the release of Codename Prague. The venues aren't all bookstores and universities. How did the tour come together?
The Zero Degree of Meaning Tour, as I call it, a reference to the theory of Deleuze and Guattari, which informs Codename Prague, has been a long time in the making. Codename Prague has been finished for about two years, so my publisher, publicist and I have had ample time to plan the tour and scope out unique venues. I didn't want to do readings/signings at a bunch of megabookstores like Barnes & Noble, Borders, etc. I'm a big supporter of independent bookstores, and presses for that matter, who are interested in unconventional literature that pushes boundaries and tries to do new things. So that was my main focus. I also focused on other, more esoteric venues – bars, drug stores, stadiums, fitness centers, old school theaters, sex shops, fish and chip shops, celebrity households, the streets … A number of people worked on setting up readings/signings for me, but I owe most of it to Stanley Ashenbach, my publicist, and also my primary financial sponsor and backing. This'll be the biggest tour I've ever done for a book and it wouldn't be happening without his encouragement and hard work. Stan and I have been together for years and I wouldn't be the writer I am today without him.
I can't say whether or not the tour will be a success, i.e., that it will produce the proverbial buzz that authors and publishers need to sell books. This ain't Newyorktimesbestsellerland, after all. I have received several good preliminary blurbs for Codename Prague from the science fiction literati, among them Kim Stanley Robinson, John Shirley, Pat Cadigan, and Mike Resnick. That will get the book some attention, I hope, but ultimately the book must speak for itself. Whatever the case, I'm looking forward to scurrying like a vermin around the world for a few months.
What is the most unusual experience you've had at a book signing?
Most of the signings and readings I've done have been uneventful. One incident stands out. I was at an independent bookstore somewhere in West Virginia. Can't remember the name of the store, but I was signing copies of Dr. Identity in 2007. At some point, a goddamned porcupine got into the store and started raising hell, running all over the place, knocking over bookshelves, and even firing its quills at people. I remember the manager of the store staggering around trying to catch the thing in a garbage bag. That didn't work, obviously. In the end, some guy – might have been a cop, but maybe not – shot it with a handgun. Like, a Dirty Harry handgun. Huge. Loud as hell. I couldn't believe it. But it didn't seem to bother most people. The guy calmly picked the porcupine up by its tail and carried it outside like Medusa's head. Crazy. Then I went back to signing books.
Your writing interests are all over the place – novels, flash fiction, screenplays, criticism – what do you do in your free time?
Along with family stuff, I watch TV and movies, and I work out. Lately, in the last three or four years, I've been getting more and more into bodybuilding. I have a gym in my basement and lift weights 60-90 minutes a day, five days a week, plus cardio, and I watch my diet carefully, counting calories, measuring proteins and carbs and fats, and allowing myself one cheat day per week during which I eat whatever I want. My metabolism is such that muscle doesn't come easy to my body, so it's a challenge, but a much needed challenge, one that speaks to all aspects of my life, if only in that the release of endorphins into my system keeps me on the level – I'm sort of wound up. Anyway, I can't say things are that exciting right now. But that's ok. I'm enjoying a relatively tame family and academic life. For now. When my girls get older, my wife and I have plans. She's a writer too and we're always mapping out the future.
Anything else you'd like to share with our readers?
I'll simply to encourage folks to visit me online at www.dharlanwilson.com and www.dharlanwilson.blogspot.com. Thanks Amber!
The March issue of Niteblade included a short review of The Field on the Edge of the Woods.  It's my pleasure to give you something else related to it before Volume II is released.  Mike "Frick" Weber took time out of his busy schedule to answer some questions about the project.  The interview begins with a question that was on my mind when I saw who was given credit for Volume I. 
How did you get the nickname "Frick"?
Swim team in high school . . . my real name is Mike, and there's a lot of other Mike's out there . . .  so it kind of stuck, I think it makes it easier for other people to keep track of all the Mike's they know.
I read in another interview you wrote the story, Gary Morgan does the penciling and Loran Skinkis handles the inking.  The Field on the Edge of the Woods is a collaboration that competes with home life and other jobs for time.  How often do the three of you meet to discuss and review the project?
Does NOT ENOUGH qualify as an answer? . . . I think we're all on Verizon wireless so we talk and text a lot . . . when we do meet, it's usually about once a month, and it serves as a great deadline of sorts.  While I don't think most artists like deadlines, they are very helpful to keep us all on track.
Why was the decision made to release The Field on the Edge of the Woods into four volumes?  I've read the first volume.  It hooked me in but left me with a lot of questions while I wait for the second volume.
Well, we're new at this . . . so I don't think we'd be able to keep up with the timeline of doing a once a month issue, so we figured we'd do our best to give the reader twice as much (48 pages) and sell it for less than that standard Marvel or DC issue ($2.99).  . . the downside is where we are now,  having to pretty much beg the patience and forgiveness of the readers while we put together the next 48 page book.  We're a work in progress.
How long did it take from the first meeting to produce the first volume?
1 year.
I've heard the stories from Jeff Smith and Terry Moore on what it's like to independently produce a comic.  For them it was doing nearly everything from start to finish while their wives helped with some of the distribution duties.  How do the three of you divvy up the work?
It's funny you mention Terry Moore, I met him at the Pittsburgh Con last year and talked with him and his wife for about 2 hours on producing independent books . . . he's a very lucky man, not only is he talented, but he has a great wife to help out with all of the production/marketing, which is a full time job in and of itself.  I'm the one usually doing the marketing and promotion, even though we all reach out via emails, facebook, shows, stopping by shops . . . it's not unusual for me to spend 4 or 5 hours a night just sending out emails to various people in the industry . . . it takes away from everything else, but it's the only way to get your stuff out there, and when you stop spending time and doing things like that . . . the interest you've created pretty much dries up.  We just started a facebook page of the book (THE FIELD ON THE EDGE OF THE WOODS) so hopefully we can use it as a way to reach out, keep everyone updated, and let them all share along in the process by posting pencils, sketches, roughs, and previews.
How long has this particular story been in your head?
Wow, 19 years . . . it grew from a 1 Act Play I wrote in high school.  And it just kind of bounced around and grew . . . I'm a big day dreamer, and I listen to sound track music a lot in my car, so it's kind of like my own private movie theater in my head.  I wrote it as a film script, and when I got together with Gary and Loran, I let them read few of the different stories I've written and then they picked the one they liked . . . they like THE FIELD ON THE EDGE OF THE WOODS, and I hope you guys do to.  (wow, that's so cheesy, did I just write that? . . . yep, I did.)
Why did you choose the comic book format to tell it?
I'm a filmmaker at heart . . . and now I am also a husband, father, and monetary provider . . . who loves to spend time with his family AND loves his job (video producer / director / editor) . . . and the last indy film I did (KEEPING THEM BLIND) really kicked my ass (am I allowed to swear?) . . . I did pretty much everything by myself, and it took so much time and effort, not sure I could do it again without sacrificing too much . . . and making comic books is just like making a film, except that you stop at the story board stage . . . for the most part.
Do you have any writing rituals or superstitions?
No.  Unless "praying what I wrote doesn't suck" counts?  Hmmm, the first and second drafts never really see the light of day, and my wife is the first person to read the third draft.  Then I pray again "that it doesn't suck."  And if I'm really feeling down, and start feeling like a not talented, slug, who couldn't write out a name tag . . . I shut everything down and go to bed.  Things suck a lot less the next day.
Is it difficult to turn your words or stories over to other people for interpretation?
No, quite the opposite . . . Gary and Loran are so damn talented, it's a huge thrill to see each panel (and I'm not just trying to suck up to them . . . well maybe?) . . . I so wish I could draw like them!  It's really cool when they add something that I didn't even think of and it turns a triple into a home run.  (sorry, I like to use a lot of analogies)
The web site, www.filmsandcomics.com, has a three-part film available titled Keeping Them Blind.  What are your future film plans?
There are 5 parts and they're on youtube.  FILM PLANS . . . Hoping to see this book take off, and perhaps serve as director, producer, or even an editor.  And with that, I have to really thank friendly people like you (Amber), Rhonda, and Niteblade . . . you guys don't know us from a hole in the wall, and yet you wrote back to us, and were kind enough to look at our book and give us a review . . . and NOW THIS, an interview . . . WOW, we can't thank you enough.  So when this book does take off (and it will) and when we do make our make in the industry (and we will), please know that you guys had a big part in it.  Thank you!
Thank you so much for allowing us to get to know you and The Field on the Edge of the Woods better.  Below are thumbnails of some images from Volume I.  (Click on them to see the larger individual panels.)
I bought a copy of Troll's Eye View for myself, then once I'd finished devouring it I shared it with my eleven year-old daughter, Danica. I enjoyed the book so much that I intended to ask the editors, Ellen Datlow and Terri Windling for an interview here at Niteblade, however, when it turned out that Danica loved it too, I got a different idea. I asked Ellen and Terri if they would mind answering a few questions from Danica rather than me. They agreed, thus increasing their level of awesome in my mind.
Danica: Was editing Troll's Eye View fun? Why?
Ellen: Yes, because working with Terri is always fun and also because pushing our authors to consider the villain's point of view and so get them to stretch as writers is always fun.
Terri: Editing Troll's Eye View was loads of fun. I loved fairy tales when I was a kid, and I didn't stop loving them when I grew up. I went on to study folklore at college, where I discovered that fairy tales have a long and fascinating history. The earliest versions of stories like Sleeping Beauty, Cinderella, and Snow White were much darker and stranger than the Disney versions that most people know today — and the heroines tended to be more active, more feisty, and much more clever. The tales aren't static; they change from century to century as storytellers re-work them for each new generation. By encouraging writers to re-tell fairy tales in Troll's Eye View and our other fairy tale anthologies, we become part of a tradition that stretches back to the dawn of storytelling itself. I find that very exciting.
Danica: Ellen, if you could work with Terri again would you? Why?
Ellen: Of course! We've worked on many many anthologies together and hope to work on many more in the future. And although I prefer horror to fantasy and Terri prefers fantasy to horror, I think we work well together. Unfortunately, we rarely actually see each other in person as she lives in England and Arizona while I live in New York City. But working together keeps our friendship alive and vital.
Danica: Terri, if you could work with Ellen again would you? Why?
Terri: I've been editing anthologies with Ellen for over twenty years, and I hope we'll still be working together in another twenty — not only because we've become good friends after all this time, but also because I have enormous respect for her literary acumen and editorial skills. I think our partnership works because we're so different: Ellen loves horror and dark fantasy, I love myth and high fantasy; she loves everything quirky and strange, I love everything Pre-Raphaelite and romantic; she lives in one of the largest cities in the world, I live in a tiny English village; etc. etc.. We couldn't be more opposite — which means we bring a broad range of personal tastes into every project we work on together. What we share is a passionate love of short stories, and a belief in the literary possibilities inherent in fantastic fiction.
Danica: If you could be any of the characters from Troll's Eye View who would you be?
Ellen: Ooooh. I think I'd like to be Jaundice, the witch's marmalade cat in Garth Nix's "An Unwelcome Guest." I love cats and I think it might be fun to be one for a short while.
Terri: Nick in Delia Sherman's "Wizard's Apprentice," because he knows how to turn into a fox! I'd love to be able to be able to do that. There are foxes in the woods behind my house in Devon, and they are such quick, clever, beautiful creatures.
Danica: Who is your favorite fairy tale villain?
Ellen: Rumpelstiltskin because he's not really a villain at all. He was cheated by the lying princess who broke her promise. In fact, I think a LOT of the supposed "heroines" are the actual villains –The princess in the
Frog Prince who breaks her word–what is it with these twits?
Terri: The villain who has always frightened me the most is Snow White's wicked step-mother. Beautiful and cold as ice, the Queen not only orders her huntsman to take Snow White into the woods and kill her, but demands he bring back the girl's heart and liver as proof — and then eats them for dinner! There are lots of nasty step-mothers in fairy tales, but Snow White's is the creepiest, hands down.
On the other hand, I've recently become a step-mother myself, and so I can't help but wonder if fairy tale step-mothers have simply had a bad rap….
Danica: I don't think step parents are all that bad 🙂 Do you write as well as edit? If so, what genre?
Ellen: Nope -at least not fiction. I write the occasional book review or essay.
Terri: Yes. I've written fantasy fiction for children, teenagers, and adults, and nonfiction on myth and contemporary mythic arts. I'm also a painter, specializing in imagery based on myth and folklore.
Danica: Thanks  for answering, I really liked the book so please keep editing.
I've had the pleasure of working with Christopher Hivner a few times since Niteblade began. Some of his poetry graces our pages and I've always found him very personable and easy to work with. When he emailed to ask if one of our reviewers might be interested in taking a look at his short story collection The Spaces Between Your Screams I didn't hesitate to agree. (Amber's review appears here) and at the same time asked if he'd be interested in an interview. He said yes. It's been a while since then, but finally the interview is done and ready to share. Enjoy 🙂
First of all, thank you so much for your patience. We've been meaning to do this interview for ages, but something always kept coming up on my end that put it off. Do you find that the business of publishing tests your patience on a regular basis? The whole waiting to hear back from publishers, waiting to publish…that sort of thing?
Absolutely. Patience is something I've had to learn in all aspects of life, I certainly wasn't born with it. I started trying to get published around 1992 and had no idea what I was doing or what I was in for. Back then it was looking for the SASEs in the mail and when one showed up it was like Christmas morning. The longest I've waited for something to get published was 18 months. It was a poem in a British zine called Krax. They warned me ahead of time it would be a wait so I forgot all about it. When the contributor's copy appeared in the mail one day I had no idea what it was. The longest response time I've had was 2 years and I had already sent a communication to them withdrawing it, submitted it elsewhere, had it accepted and published by the time they told me they weren't interested. I've learned to busy myself with other projects after submitting something so I don't think about it.

I'm looking at a copy of The Spaces Between Your Screams right now, is this your first short story collection?
Yes, this is my first full length collection of anything. I had a chapbook of mainstream poetry, "Edged in Blue", published in 2004, but this is my first published full length book. I have enough stories for a 2nd one but they all need edited and revised and I'm still trying to get Spaces out there, so that's down the road.
People enjoy hearing about how something came to be published. Do you have an interesting story about The Spaces Between Your Screams?
I have a frustrating one that harkens back to the whole patience question. I put The Spaces Between Your Screams together after a 2 year hiatus from writing. I thought the process of compiling the stories and revising them would be a good way of easing back into things. When it was finished the publisher I had been planning on sending it to was out of business. I found another publisher that wanted only a sample of 20 pages which they said they would respond to in a month. 10 months later I got a letter saying they were intrigued and would like to read the whole book so I packed it up and mailed it off, expecting to hear something in 6 months. A year passed and I started sending query letters and emails. Finally one day they answered that they were inundated with submissions and were behind in their reading, but assured me they would get around to my manuscript.
So I waited and waited and waited . . . and waited. I got involved in other things, putting it in the back of my mind and soon another year had passed. More letters and emails went out into the ether and eventually I received this answer: So and So publishing will be going out of business within the month. We have no record of receiving your manuscript or of having ever read it. We apologize for any inconvenience.
I don't know, is 3 years of my life an inconvenience? After I stopped swearing I sent it to eTreasures Publishing and the publisher, Vickie Kennedy, accepted it in a few weeks. It was published as an ebook in September 2007 and as a paperback in September 2008.
I haven't finished reading The Spaces Between Your Screams yet but so far one of my favorite stories is Eyes Wide Open. Do you have a favorite story in this collection?
When the Machines Arrive is my favorite. I'm a sucker for a post-apocalyptic story, especially one with no neat and tidy ending. I've always figured if the scenario ever plays out for real, we won't truly understand what happened so why should it be written in a packaged way. Also, I've always had this weird fear of a large object falling on me from the sky. I used to lie on the grass as a kid and look at the clouds imagining one descending onto me.
I have a soft spot for Water and Wine as well. I'm not hugely invested in vampires but I like to write humor and it's a challenge to blend it with another genre.
I'm a big fan of your poetry, Niteblade has been honored to include several of your pieces in the past. Do you occasionally find that something you start writing as a poem instead would work better as a short story or vice versa?
I have definitely taken the poem to story route. Most of my poetry is begun as stream of consciousness and after I hit on something I like then I start shaping it. Because I use a narrative style quite often, many of my pieces could go either way.
I have a stubborn streak so at times I'll keep trying to force a poem to remain what it began life as, until one day I finally admit that it's truly awful, but could be a good story.
I don't remember every turning a story into a poem, but maybe I should take a second look at some of the things in my unfinished pile.

What are you working on now?
Currently I'm the king of the half finished projects. I'm about 37,000 words into a horror novel that started life as a 5000 word short story that wasn't working. I shortened it to 2000 words and it was worse. One day I hit upon an idea to expand it to novel length and now I'm excited about it if I do it right.
I also have 35 pages finished of a screenplay based on one of my old short stories, The White Line. I would like to put together a collection of my horror poems. I started a preliminary one a few years ago but it needs revised.
I am writing a series of humorous stories based on a fictitious community I created. Not the most original concept I'll grant you, but I really like the stories and characters that are emerging from it. So far I have 6 stories at about 40,000 words.
What are your plans for the future?
I have several chapbook and full length books of mainstream poetry I'm trying to get published so I will continue that search.
I also started a blog in March called Cosmic Overdrive. I satirize anything in the news that I have a strong opinion about. It's turned out to be about American politicians 75% of the time because they just keep doing and saying stupid things.
My main focus now is to get word out about The Spaces Between Your Screams. To that end, something I have to do in the near future is overcome a fear of drawing attention to myself. I am an introvert who would like to be similar to the birds I hear every morning in the trees next to my home; they surround me with their songs but I can never see them. In a perfect world for me my writing would make the noise and I would stay unseen in the shadows. That's unrealistic so I have to learn to deal with attention and sell my work.
Where is the best place for people to get a copy of The Spaces Between Your Screams?
My book can be found at 2 places online:
www.Amazon.com where it is available in paperback and kindle device
www.etreasurespublishing.com where it is available in paperback, ebook or CD-Rom
Where can they find you online?
http://www.squidoo.com/screams is a page I created to advertise The Spaces Between Your Screams. There are excerpts from 3 of the stories in the book, and links to a few of my favorite horror novels and zines. There are also links to some horror-themed t-shirts that my sister and brother and I designed and sell at an online store we run, Yoe Creek Designs .
My blog can be found at http://cosmicoverdrive.blogspot.com
I have just recently joined Facebook. If you search my full name, Christopher Hivner, you will find a page I created where I will be posting anything that has to with my writing.

Thank you so much for taking the time for this interview. Again, I apologise for how long it took for me to get my act in gear. Thank you for giving me your time and allowing me the exposure in Niteblade. Good luck in the future.
It was my distinct pleasure to meet and hang out with Conrad Williams at the World Horror Convention in Winnipeg. I was also lucky enough to be one of the first people to claim a copy of his newest novel, One.  As it turns out he sold out and had to take mail orders, but I snagged one before that happened. It gave me something to read on the plane back to Edmonton, and I devoured it. You can check out my review on my personal blog.
Once I finished the book I shot Conrad an email that sort of said "Hey, can I interview you for Niteblade? Please, pretty please?"
He said yes.
Enjoy 🙂
Your work, at least what I've read of it, tends to deal a lot with delusions and insanity. Is that something you've always been interested in?
I think horror fiction certainly lends itself to these subjects. Insanity certainly hovers at the margins of my latest novel, ONE. It can't be avoided. End of the world, uncertainty, fear. Insanity can't be far away. I like to explore the limits of endurance that people suffer before they crack. I think we're a pretty hardy breed and can deal with most things that nature throws at us, but that borderline where enough is enough, it's an interesting place to tread, creatively.
When I finish one of your stories, I am compelled to go back and re-read it again. Not because I don't understand it, but because I feel like there are layers upon layers and that it will take several reads to really excavate them all. Do you know if other people feel that way, or am I over-thinking things a bit?
Readers who are also writers go back over stories they've enjoyed or found interesting because they're fascinated by the craft. They want to see the nuts and bolts, how it's been done. And also what they might have missed. There may be different levels, there might even be levels that the author wasn't thinking of when he/she wrote it but the reader interprets for him/herself.

Are the myriad of layers a conscious decision or simply something that comes from your personal writing style and choice of subject matter?
You want the story to be as rich and meaningful as possible, without miring it in too much ambiguity or signposting it to death. I think it's sometimes best to simply write the story you want to write and hope that any deeper meaning comes about serendipitously.
What writers or books do you think have influenced you the most?

Early Stephen King (The Shining means a lot to me). Peter Straub. Ramsey Campbell. Derek Raymond's Factory novels. Treasure Island. Graham Greene. Ray Bradbury. Patrick McGrath. Christopher Priest. M John Harrison. JG Ballard… Too many to mention, really.
Who is the favorite character you've ever created. Why?
I quite like MacCreadle, who appeared in the first story I sold to an anthology. He played a major role in my first novel, Head Injuries, and has had a cameo in each of the novels I've written since. He's a mixture of school bully, nightmare legend and tragic failure.
Looking back on your writing career thus far, what are you the most proud of?
I'm honoured to have won a couple of awards. The International Horror Guild Award was special because Stephen King, one of my heroes, was on the shortlist too. Having that thing on my desk is a great confidence booster.

What do you still hope to accomplish?

I want to write lots more novels and stories. I want to be writing into my 70s, like Ray Bradbury and JG Ballard.
Have you any words of advice for aspiring writers?
Never stop. Listen to what is in you. Don't take no for an answer.

Many writers find writing to be a very solitary and isolating occupation. Do you agree? If so, what do you do in order to counter that?
It's necessarily solitary. I listen to music while I write. And I make sure I get outside for some fresh air, especially if it isn't going well.
What is next for you?
Decay Inevitable is published by Solaris in the summer. It's a story about what goes on at the threshold between life and death. And I'm working on a new novel concerning a pilot and a nurse. That's all I'm saying!
Thank you so much for the interview Conrad 🙂  If anyone is interested in learning more about Conrad and his work you should check out his website by clicking the banner below.

I first met Leslie Ann Moore at Fanstory which is a community for writers to give and receive feedback on their work. I always valued every word of critique Leslie offered (she is the person who taught me about passive voice and helped me purge it from my writing). I often felt bad because I wasn't able to offer any helpful critique of her work, it always seemed so polished! Anyway, she must not have held that against me because now that she's released the second book from her trilogy she took a few minutes out of her crazy schedule to answer a few of my questions. 🙂
I know everyone asks this and I'm afraid I'm not going to be an exception; what inspired you to write the Griffin's Daughter trilogy?
LOL! It IS a logical first question! The seed idea for GD came to me many years ago in a short story I wrote for a college creative writing class. I'd actually come up with the proto main characters as far back as middle school. I used to make up tales about a young girl and her elven lover to entertain myself while lying in bed at night, waiting to go to sleep. It was all quite romantic in a chaste sort of way back then! Lots of passionate embraces and kissing, but nothing else.
The catalyst for me, the one event that actually got me started writing the trilogy was meeting Terry Brooks, the best-selling fantasy writer. It was at the 2001 Los Angeles Times Festival of Books. He was on a panel with other well-known fantasy writers, talking about how he'd managed to transition his career out of law and into full-time writing. A light bulb went on in my head. Hey, if Terry can do it, why can't I? When it came time for me to get an autograph from him, as he signed my book, he asked what I did. Instead of saying "I'm a veterinarian", I said, "I write fantasy, like you." To this day, I don't know what made me say that, because I hadn't actually written anything fiction-wise since college. Terry replied, and I'm paraphrasing here, "Well, don't ever give up. Keep writing, no matter what." I know he probably says that to everyone who tells him about their writerly aspirations, but his words just galvanized me! That night, I bought a copy of a book on writing that Terry had recommended in his talk—The Writer's Journey, by Christopher Vogler—read it from cover to cover over the next two days, then sat at my computer and began the outline that would ultimately become the GD Trilogy.
In reading "Griffin's Daughter" I was struck by how seamlessly you'd woven the setting through the book. Did you do research to find details to set an authentic tone?
I did a lot of research on both feudal Japan, which the elven society is loosely based on, and ancient Rome and medieval Europe in the immediate post-Roman period, from which I borrowed heavily for the Soldaran Empire. For personal and place names in Alasiri, the elven country, I used real Japanese names and either changed the spellings slightly, or took parts of names and combined them to make a new name. The single exception to that is the name of the elven castle where a lot of the action takes place in the second half of the book. The name Kerala is actually taken from a state in modern India. I just loved the way it looked and sounded!
The Soldaran personal names are all straightforward Latinized names most people would recognize as still in use today. Later on in the trilogy, in Book 3, to be precise, there's a large battle scene. Well, I knew nothing about how to write convincingly about military action, so I read a book about military strategy written by a career army officer. I based that battle and the strategy behind it directly on a real battle from ancient times.
What was the biggest challenge you faced in writing this trilogy?
The biggest challenge for me was finding a way to divide the story into three parts. I wrote the entire thing as one very long story. I soon realized that I'd have little to no chance of finding a publisher who would be willing to take a chance on a 1200+ page manuscript from a first-time novelist; however, three 400 page manuscripts just might have a chance! So, I had to go back and look for three natural break points in the overall story. After I identified the best places to break, I then had to write new material to serve as the beginning chapters of Books 2 and 3, and a suitable ending for Book 2. It took some thinking, but I got it done in what I believe to be a satisfying manner.
Congratulations on winning the Benjamin Franklin award for the Best First Book in Fiction. Can you tell us a little bit about that?
The Ben Franklin Awards are given out yearly by the Independent Book Publishers Association, a large international trade group of indie publishers both big and small. Perhaps the best known of its members is St. Martin's Press. I got to go to the ceremony, which was held in L.A. in 2008. It was very exciting! I got to get up in front of an entire ballroom full of industry folk and give a little thank-you speech.
And then on top of that, Publishers Weekly gave you a great review for the sequel, "Griffin's Shadow". You must be very happy.
"Happy" is too tame a word! "Ecstatic" is more like it! The Library Journal has also now officially endorsed "Griffin's Shadow" as well.
I haven't read "Griffin's Shadow" yet, but the style of the cover art is dramatically different from that of "Griffin's Daughter", can I expect a similar shift in the style of the novel?
Only in that "Griffin's Shadow" is darker in tone. It deals with loss and adversity, and how the main characters cope. The change in cover style was a marketing decision. The publishers wanted to avoid some confusion about the series that the first cover created. A lot of people mistakenly thought GD was a YA or Young Adult title, aimed at teens. The look of the cover and the fact that the two main characters were both very young contributed to this. The publishers have since re-issued GD with a new cover more in line with the cover of GS.
What is the title of the third book in the trilogy, and when can we expect it to be released?
The third book is titled "Griffin's Destiny" and if all goes according to plan, it should be released sometime in 2011.
So, what comes after this trilogy for you? Are you working on something now, or still focusing on Jelena and her adventures for the time being?
I am currently working on a science fiction project. No magic or elves in sight! It takes place on a distant planet that was colonized by humanity, but instead of learning from the mistakes they made back on Earth, they brought all their prejudices and war-like impulses with them. The story takes place 400 years after the first colonial civilization destroyed itself in a war. Their surviving descendants have managed to rebuild and regain a technology level equal to the late 19th-early 20th century, so I guess you could say it has elements of steampunk in it, though it's not specifically a steampunk-genre novel.
If your fans want to find you, where's the best place? Your website, or will you be attending any live events this year?
I'll be at LosCon again this year, which is the Los Angeles Science Fiction and Fantasy Convention, which will be happening in November. People can always contact me through my website at www.leslieannmoore.com.