Archive for the 'TOC' Category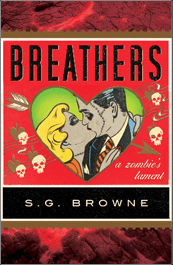 I loved this book. Not only does Breathers have zombies it's funny, romantic and has something to say. Mostly it's just a lot of fun to read and I devoured it.
While at the World Horror Convention, S.G. Browne signed an extra copy of Breathers for me, and I will be giving it away to a lucky Niteblade reader.
The table of contents for the June issue of Niteblade, Of Warmth, Of Dragons, has been finalized and it's going to be a great one.
Of Warmth, Of Dragons by Michael R. Fosburg
Untitled by Greg Schwartz
Blood Brother by Angel Zapata
Breathless Reunion by Ann K. Schwader
Brain Cookies by Kaolin Fire
Family Jaunt by Lucien E. G. Spelman
He Wanted by Stephanie Smith
The Price by Michael R. Fosburg
These Trees Outside the Window by John Grey
Dead Hands Claw by Anthony Bernstein
Keepsakes by R. J. Walker Miller
Work of Horror by Noel Sloboda
Brad Pitt Sells You His Doppelganger's Home by Philip Coffeen
The Empty Crib at the End of the World by Beth Cato
A Night With Grimes by Bret Jordan
Cemetery Pet by Marge Simon
Rocky Road and a Dead End by David Flint
The Strawman and a Murder by Jeff Menapace
Monsters by Stephen Graham Jones
Whipped by Paul Ingrassia
Dream Spinner by Robert E. Keller
The Never Fair by Kenneth Schneyer
Giant Killer by Howie Good
The Parts of Justice by Gavin Hughes
Behind Blue Eyes by Sharon Kae Reamer
Copperheads by Catherine Brown
Amber Stults reviews The Stepsister Scheme by Jim C. Hines
Kari Wolfe reviews Unabridged, Unabashed and Undead: A Collection of the Best Zombie Short Stories by Eric S. Brown
The online version of the June issue, like the March issue before it, will take the form of a wordpress blog. However, during the month of June any comments left on the blog will be considered entries into a draw for the signed copy of Breathers. Also, purchasing the .pdf version of the June issue will be considered five entries into the draw. A winner will be chosen on July 1st from all the entries.
So a great line up of stories, poems and book reviews, plus a chance to win a signed copy of a fantastic zombie novel. Niteblade is totally the place to be this June! Mark the first on your calendar, you won't want to miss this.