Archive for the 'Uncategorized' Category
With moustachioed lips pulled back from yellowed teeth, a surly old troll snarls at each and every viewer who catches a glimpse of his ugly mug. A green-faced fortune-teller gazes into a crystal ball, reading the uncertain futures of any and all passers-by. A tormented soul partially enshrouded in blackness wails behind crimson bars. These and other colourfully strange images can be seen in Cartoons by Cartwright.
When he isn't pummelling himself in the head with a frozen mackerel or drooling on tavern napkins, Steve Cartwright is creating his unique brand of cartoon art. A freelance artist, illustrator, and cartoonist working out of Atlanta, Steve has composed works for a variety of venues, including newspapers, magazines, websites, and books. He received the 2004 James Award for his Champagne Shivers cover art. In addition to his for-profit ventures, Steve also works pro bono for various animal rescue groups. From time to time, he's even been known to scribble on those aforementioned tavern napkins (hopefully before they become too soaked in drool).
More of Steve's work can be seen here:
***
'Technical difficulties'. Really we should call them 'Exercises in Frustration'. Whatever you want to call them, we are having them and so the front-of-house for the website is going to be a bit erratic for the next little while. I apologise.
Travel back to a bygone age when gods mingled with mortals and fantastic beings roamed land and sea.  Come face-to-face with ancient deities and the magical folk of yore. Hear the enticing siren's call that draws you deeper and deeper into the mythic world of Warble's art.
The paintings and drawings of Michael "Warble" Finucane exhibit an alluring classical style in the mode of Gustave Moreau, John William Waterhouse, and other 19th century masters of mythic art. With pencil and brush, Warble masterfully creates mythological visions that convey an Old World sensibility and whisk viewers away to mystical realms.
An award-winning artist, Warble has received a number of accolades and honours. His work has appeared as cover-art and interior illustrations in various publications, including Faerie Magazine, Fae Magazine and The Faeries and Angels Magazine. His art have also adorned album covers. In addition to his many publications, accomplishments, and awards, Warble's "Poseidon and the Sea Maiden" was exhibited at the 2010 Art Bares All show at MAC650 in Middletown, CT.  More of Warble's work can be seen here:
***
After a lot of careful consideration I have decided to start using Submishmash to handle Niteblade's fiction and poetry submissions. You can see our new, schmancy, updated guidelines here, which include a link to the new submission forms. It is my sincere hope that once I work through the backlog of emailed submissions and start using the automated system exclusively it will speed up response times for all submitters and ultimately help make Niteblade run smoother and more efficiently. If the system works well for the fiction and poetry submissions I will begin using it for book reviews, interviews and art blog showcases as well.
This change means that over the next few weeks Niteblade will be looking for a handful of slush readers. This is a volunteer position, but can provide invaluable insight as to what it's like to be on this side of the submissions process. You would need to be familiar with Niteblade and the style of content we run. If you're interested and would like more information email me at Rhonda@Niteblade.com
I want to know what you think.
I've fallen behind on reading submissions, it's pretty chronic actually, and reached the point where I've thought about bringing in a slush reader or two to help speed up the process. The best way for me to do that is to begin using a submissions service/system that requires creating an account and logging in to submit rather than continuing to accept submissions through email.
Some people don't like creating accounts / signing up to websites to submit.
You tell me, if it would speed up the rate at which your work would be considered and responded to, would you be willing to create an account to submit to Niteblade?
I am pleased to announce we have two new book reviewers have joined the Niteblade team. Sarah and Sean will be joining Amber, A.R. and Jonathan in doing reviews and sharing them with readers through our blog. Diversity is a good thing and we've increased ours by adding a couple fresh minds into our mix.
If you have a book you'd like considered for review, we continue to accept them as described here, and if you would also like to be a part of the review team you can find out more about that here. In the meantime, welcome aboard Sarah and Sean, and thank you to all our reviewers for the wonderful work you do here.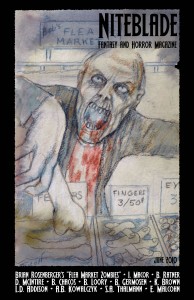 Issue number twelve of Niteblade is now live and ready for your reading pleasure. It's a shorter issue than many of our previous ones (as is reflected in the reduced price for the pdf) but it's packed with awesome. I kid you not. Check it out, and leave a comment on your favorite pieces — the author's really love that.
Also, how awesome is that cover? <3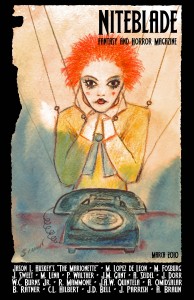 Issue 11 is out and it is fabulous! I know I say this every time, but it's true, every time. This is the best issue yet! Haunted hospitals, dancing skeletons, goddesses, a deeply disturbing play and retold fairy tales are but a few of the pieces we've got waiting for you. Check this out, you won't be sorry, I promise.
Poetry:
Daughter by Miguel Lopez de Leon
My Own Ending by Michael Fosburg
Words of the Unprofound by Joseph M. Gant
The Note Found on the Person of the Dead Wizard Skewered From Above by Alexandra Seidel
The Marionette by Jason L. Huskey
Newport Memorial by Jason L. Huskey
Second Chance by James Dorr
Goddess in Training by WIlliam C. Burns, Jr.
Fiction:
Sickeningly Sweet by Maia Lena
The Night The Cricket-Man Came by Alejandro Omidsalar
Bride of Neanderthal by Jonathan Sweet
The Devil at Your Heels by Robert Mammone
AutoCanniBioTech by Joseph A. W. Quintela
Happy Halloween, It's a Bloody Puppet Show by Bill Ratner
Judas Dances by Paul Walther
Finally Never Again by Crystal Lynn Hilbert
Cats in the Backyard by J. David Bell
Reviews:
Around a Dark Corner Reviewed by Alan Braun
The Field at the Edge of the Woods Reviewed by Jonathan Parrish
We love Niteblade readers. We really, really do. We think you rock, and you are one of the big reasons we, as writers, poets, editors and artists do what we do. With that in mind, we wanted to give you all a little something during this holiday season.
Please accept this free download of the .pdf version of our December 2008 issue, "Oh, Christmas Tree" with our appreciation. Have a wonderful holiday season and we'll see you right here again in the new year.
Oh, Christmas Tree
As I grow into my role as editor, I become aware of, and capable of, things that the year before I was not. One of those things is the Pushcart Prize. Niteblade has published a lot of fantastic works this year and it was my pleasure to nominate six pieces (the most we were allowed) for this year's Pushcart Prize.
Niteblade nominees, for works published in 2009:
And Yet Stars Still Existed by Beth Cato
Christmas' End by Jamie Lackey
Following Rabbits by Gregg Winkler
Gender Characteristics by F.J. Bergmann
Dream Spinner by Robert E. Keller
What's For Dinner? by Ash Krafton
Congratulations everyone, and good luck!