Posts Tagged 'Amber Stults'
Heather S. Ingemar doesn't tie herself to one creative outlet.  She's a story teller, songwriter and musician.  Echelon Press released her horror short story "Middle of Nowhere" in February.  It's available at Omnilit and Amazon.  You can follow Heather on Twitter.
When did you first recognize yourself as a writer?
Probably 2006. That was when I began seriously considering publication.
What draws you to speculative writing?
I've always been drawn to the fantastic, the what-if scenarios that could happen. For me, it's always been castles-in-the-air. (laughs) I guess it's only natural that would show up in my prose…!
Is there a piece of writing advice you've never followed?
"Write EVERY Day." Nope, never really followed that one… Kinda hard to when you work part time, musician part time, and help run the family farm full time… I'm more fond of "quality over quantity."
In the September 2009 issue of Niteblade, Rhonda chose to publish your story, "Cold Too Long".  Is there a story behind how it came about?
I just had this yen to write a story featuring a skeleton. I've never written anything dealing with bones; it's always been monsters and fantastic beasts. No bones. I wanted to experiment with that. And then, the first line of the story came to me and I was sold!
What have you been working on lately?
I have been working to get several pieces ready for publication, and then this year, I've decided I want to work on writing in verse. I feel like I want to try something new, something challenging, and verse is both of those things. We'll see how it goes!
Is there anything else you'd like to share with Niteblade's readers?
I've got several stories now available for Kindle and Nook, and I'm keeping busy getting others ready for publication. I invite you all to stop by my website, http://heatherthebard.wordpress.comfor the latest news, and 'fan' me on Facebook – look for Heather S. Ingemar. I love hearing from people. 🙂
F. J. Bergmann is presently living and writing in Wisconsin.  To learn more about her and her work, visit her website at http://fibitz.com/.

When did you first recognize yourself as a poet?
Probably in high school. I wrote a few poems then, one of which was published in a national anthology, and a few in college. And then I quit writing for 20 years (busy doing other stuff).
What draws you to speculative poetry?
The same things that draw me to speculative literature, which I've been reading all my life: boredom and a need to escape.
Is there a piece of writing advice you've never followed?
"Write from the heart." With "Write what you know" coming a close second. I totally agree with Oscar Wilde, who said "All bad poetry springs from genuine feeling."
In the December 2010 issue of Niteblade, Rhonda chose to publish your poem, "The Book of Goodnight Stories."  Is there a story behind how the poem came about?
Sure. I was at a poetry open mike in the bargain section of Barnes & Noble, sitting opposite the children's books. Every sentence in that poem is one of those book titles. I like to use a lot of structural devices and appropriated material in my writing. Spam is especially useful.
What have you been working on lately?
I finished a chapbook of conflated-fairy-tale poems, Out of the Black Forest, due out from Centennial Press in 2011 or 2012, and a book of travel-related speculative poems, Travels in the Antipathies, which is under consideration with a UK press. I also have a collection of first-contact poems, originally chapbook-length, but becoming increasingly unwieldy. Recently I learned letterpress printing, and am hoping to start a press that will publish chapbooks by other sf authors.
Is there anything else you'd like to share with Niteblade's readers?
Writing notably different, unusual work within the context of a speculative publication is always more of a challenge than in mainstream literary magazines. I hope that my poetry will continue to explore the unexpected, with interesting and entertaining results.
J. A. Tyler's debut novel(la) Inconceivable Wilson (Scrambler Books) was released in late 2009 & was followed in 2010 by two chapbooks: The Zoo, A Going: The Tropic House (Sunnyoutside) & Our Us & We (Greying Ghost). He has several books slated for release in 2011, including A Man of Glass & All the Ways We Have Failed (Fugue State Press), In Love With a Ghost (Cow Heavy), &, with John Dermot Woods, the text / image novel No One Told Me I Would Disappear (Jaded Ibis Press).  You can learn more about J. A. at http://www.mudlusciouspress.com.
When did you first recognize yourself as a writer?
I recognized myself as a writer during the first year I began submitting, when I had a half-dozen pieces accepted and starting to appear online and in print – though whenever I see a book of mine reviewed or discussed outside of my own circles, I still have a bit of enjoyable disbelief at being one.
What draws you to speculative fiction?
I believe people perhaps miss, or mistake, that speculative fiction can work great magic on surreal and realistic works alike. Brian Evenson is a prime example – he does not really write speculative fiction, but so many elements of this genre are evident in his writing, and it is often those elements that keep you pinned to his words.
Is there a piece of writing advice you've never followed?
Some say that you need to write each and every day, but honestly, some days I don't have time, can't find time, or am at a place in my writing where it needs to sit, to stew, where it needs a day of rest. I prefer to think of it as baking bread: you work hard, sweat with the dough, then leave it to rise and run, come back later for the oven, to finalize it.
In the September 2007 issue of Niteblade (and the Lost Innocence anthology), Rhonda chose to publish your story, "Shine On".  Is there a story behind how it came about?
At that point in time I was extremely focused on placing a single outside factor in front of a character and then writing to see what happened. In the case of 'Shine On', I started by turning off all the lights. What happened from there was what came from the impetus of darkness.
What have you been working on lately?
I just recently finished a surreal novel called Water, about the loss of water and then the flood and then a drying out again, a boy and a girl lost among the chaos, the static hum of a land broken down and burning. It is my longest book to date, something that was a beast to write, and something that will hopefully be a beast to read for people sometime down the line.
Is there anything else you'd like to share with Niteblade's readers?
Read as much as you can; in my opinion, that is what makes good writers great.
Linda D. Addison grew up in Philadelphia and began weaving stories at an early age. She moved to New York after college and has published over 200 poems, stories and articles. Ms Addison is the author of "Being Full of Light, Insubstantial" (Space & Time Books) and the first African-American recipient of the world renowned Bram Stoker Award. She was honored with her second win in April 2008 for her latest collection. See her site (http://www.lindaaddisonpoet.com) for the latest information.
When did you first recognize yourself as a writer or poet?

It's going to sound funny but the first moment I knew I wanted to be a writer was when I held a book in first grade and realized that a person wrote it. I remember thinking I wanted to make something like that one day. Even though at that age I didn't know what that meant.
My mother was an amazing storyteller and would make up stories to entertain the nine of us. I grew up thinking it was natural to make up stories. I would create tales for my brothers and sister about fairies and magical adventures at night before they went to sleep.
I had a couple of poems published in my high school paper but it wasn't until my first poem was printed in Just Write magazine in 1994 that I felt like a published author.
Since then I've had over 200 poems, fiction and non-fiction published, but I still remember the thrill of that first publication and seeing my name in print.
What draws you to speculative fiction and poetry?

Reading fables in elementary school was the best part of the day for me. I've always loved reading fantasy and science-fiction. I would daydream about having wings. My imagination is constantly unfolding in non-real ways, it wasn't something I chose as much as I was wired for speculative writing.
Poetry is a very natural form for me. It's always singing in the back of my mind. No matter if I'm watching nature, or science or devastating news in the world around me, I hear poetry in everything. I don't know if there's an explanation for that, it's certainly not by choice; it's just how my brain works.
Is there a piece of writing advice you've never followed?

Hmmmm, can't think of anything off the top of my head. I like trying new ideas. I've read about the writing process and taken writing workshops. More often than not a new approach makes me create in a way I wouldn't have thought to do on my own.
I will say I'm not great on outlining. When I do an outline, it is a brain-storming exercise, but then I don't feel that I have to follow my outline once I start writing. I'm perfectly comfortable with the story moving in a different direction.
In the June 2010 issue of Niteblade, Rhonda chose to publish your poem, "Star Seed's Arietta".  Is there a story behind how the poem came about?
Stephen M. Wilson and I have been working on a collaborative book of poetry called 'Dark Duet'. He wrote a superb poem called 'Lonely Starseed' (published in Star*Line magazine) that touched me so deeply I wrote "Star Seed's Arietta" in response. Both poems will be in 'Dark Duet', along with many new poems, some we wrote together.
What have you been working on lately?
I've been enjoying collaborative work. Tim Flynn and I finished a poem, 'Phoenix Awakens in the Blood of Nightbird' which was great fun. Besides 'Dark Duet'  with Stephen Wilson, I completed a book of poetry, 'Four Elements', with Marge Simon, Rain Graves and Charlee Jacobs; three poets who are a constant inspiration to me. It was wonderful creating work for the book, we each took a different element, and mine was Air.
And there's a list of new projects that I'm working on, another poetry collection, a science-fiction novel and a non-fiction book. I need a couple of clones to help out.
Is there anything else you'd like to share with Niteblade's readers?
You can find my latest work in Genesis: An Anthology of Black Science Fiction, Dark Faith and New Blood anthologies. Check my site, http://www.lindaaddisonpoet.com, for the latest information.
I'm crazy excited about having a new collection of poetry and fiction, "How to Recognize a Demon Has Become Your Friend", coming out with Necon E-Books (neconebooks.com) in 2011.
Happy Valentine's Day everyone!  Today I'm interviewing J. E. Taylor whose novel, End Game, is now available on Amazon in Kindle format.

When did you first recognize yourself as a writer?
I wrote my first story in sixth grade and continued writing short stories and poetry through college.  When I got married, I put aside my writing while I cultivated a career and raised my kids.  Then, when I was restless with my day job, my daughter asked me if I could do anything, what would it be.  The answer was as easy as breathing.  I wanted to write a book and have it published and I haven't looked back since. 
What draws you to speculative fiction?
I've always been drawn to the macabre – even that first story I wrote and gave to my father had a morbid ending.  I've always had pretty vivid dreams and nightmares and love the rush of adrenaline that comes with a healthy dose of fear.  Growing up I read everything Stephen King put out, sometimes underneath a blanket with a flashlight, and I wanted to write as effortlessly as he does. 
Is there a piece of writing advice you've never followed?
Get an agent.  I submitted query letters to agents before I knew what a query letter really should be and in doing so, I burned the bridges for my top choices of agents.  As I've gone from looking at the big publishing players where you're required to have an agent to get your foot in the door, to the smaller indie publishers where no agent is required, I've reconsidered my need for an agent. 
In the December 2008 issue of Niteblade, Rhonda chose to publish your story, "Nightmares".  Is there a story behind how it came about?
This is an easy one – it came from a nightmare within a nightmare and it ended up being my first sale.  I wrote it for a monthly short story contest on the Backspace forum (www.bksp.org) and after some shrewd feedback and serious re-writes, I decided to submit it to Niteblade.   I was jazzed when I got that acceptance email. 

What have you been working on lately?
I've been working on my next thriller in my FBI series – Hunting Season which is scheduled to be published in May.  I'm also gearing up for the release of my third book in my erotic thriller series – End Game, which is coming out on Valentine's Day.   
Is there anything else you'd like to share with Niteblade's readers?
I'd love to share a blurb for both Vengeance, which is the predecessor to Hunting Season and available now on Amazon. 
Living large in New York City as a corporate lawyer for the most savvy drug lord on the East Coast, Special Agent Steve Williams carefully plots Charlie Wisnowski's downfall.  His plans go to hell when his wife Jennifer survives an attack by a serial killer.  With her life in jeopardy and his undercover guise threatening to unravel, he orders Charlie's arrest.  But the sting goes woefully wrong and Steve becomes the target of a mafia assassin hired by the biggest crime boss in America. 

Escaping from the city, Steve and Jennifer settle back into their quiet life on the banks of Mirror Lake. Their peaceful existence shatters with a crippling loss and Jennifer's visions escalate, forecasting a brutal assault on their family.    

Armed with scant details from her dreams, Steve trudges through a litany of past connections, searching for the key to stop the course of fate. 

What he uncovers chills him to the core – a brother with a grudge, a serial killer and a mafia assassin are all on his trail.  The hunt begins . . .

For more information about me and my writing habits, Niteblade fans can shoot over to my website:  www.JETaylor75.com
Today's Niteblade Contributor Interview is with William C. Burns Jr.  I hope you enjoy it!
When did you first recognize yourself as a writer?
I've been a poet forever.  My mom tells a story of when I was four and we were going past my favorite drive in restaurant, the Gold Dome, named such because of the Gold Dome of the capitol building in Charleston WV.  Mom is driving our two tone Ford and I asked if we could stop for a hotdog.  She said, "Not today, its the day before payday."  To which I apparently replied; "The day before payday / not a penny to spend / wait til tomorrow and we'll all eat again." She tells me she had to pull off the road.
Pablo Neruda says that poetry found him one afternoon.  It found me in the     pre-air conditioned, cinder block hardwood floored terrain of post sputnik American education, Mrs. Wolfitt's class to be specific.  We were studying chapter 14, poetry, and she hated poetry. 
I've always had a knack for song lyrics and music was one of my windows on the world outside the hollow where I was raised (the other was Chiller theater on channel 13).
What draws you to speculative poetry?
What can be more alien than poetry?  The xeno aspect of speculative fiction seems to fit so nicely with the often mythic and sometimes wonky mechanisms of poetic expression.
Is there a piece of writing advice you've never followed?
Yes, at a reading in November of this year, a former teacher advised me to start writing my poetry in ways that are more accessible to the general public.  I asked that she elaborate.  She explained that my craft was good, but too much of my content was buried in my work, and the average reader would never exert themselves enough to uncover it.  As she went on it became clear that she has a very low opinion of the comprehension of most of the American public.
I'm sorry but I can't take her advice.  I think it best to continue working my craft in a way that never 'talks down' to my reader.  It may sound trite, but I love my readers, and I shall never intentionally insult their intelligence by offering them less than my best work.
In the March 2010 issue of Niteblade, Rhonda chose to publish your poem, "Goddess in Training".  Is there a story behind how the poem came about?
I was working with a protegee (who has asked to remain unnamed).  She had asked me to teach her poetry.  The shear impossibility of the task appealed to me.  How do you teach someone poetry?
It came to me that it was a lot like teaching demis and goddesses.  So in true Neil Gaiman style, I set out to build a series of poems around the idea of training gods and goddesses.
What have you been working on lately?
I am working on 'The Nine Strange Muses of Regwin' (alternate universe with a higher predisposition for magic),  'The Museum of Arcane Objects' (kinda Merlin and Nimue thing) and 'The Wholly Visible Man'.  Honest I have lots of projects at any time, but there are always a few in the process of precipitating out.
Is there anything else you'd like to share with Niteblade's readers?
My turn to give advice to spec/fic poetic types.  Learn the rules before you break them so that you know what you're doing.  Write, right now.  Don't wait for the lightning bolt of inspiration to strike you.  To badly paraphrase Louis Pasteur, 'Inspiration favors the prepared pen and journal'.  Get one of those Moleskine Notebooks or Journals, a good G4 Pilot Pen  (no endorsements intended) and set aside at least an hour a day to use them.
Find your favorite author and read everything they ever wrote, but don't try to copy them.  Don't try to be a Freudian, be the next Sigmund Freud.
I would like to thank Niteblade for existing.  They way you folk love the written word is reflected in every aspect of your publications.
Stephen Graham Jones doesn't limit his writing.  He writes short stories, novels and screenplays.  You can learn more about him at http://www.demontheory.net/. 

When did you first recognize yourself as a writer?
The easy answer's the first time I got a check for something I'd written. Which would have been a contest I won in undergrad days, I guess. But, really, the next check, it was for a story I actually submitted, an unlikely story that had to fight its way upstream, find some room in the Black Warrior Review. Too, when that editor called, I distinctly remember there was a full moon, and my hand was still on the phone then—this was 1995, when my phone had a cord—because I'd just got news that my mom had been in a head-on crash right in front of the hospital I was born at. So then, this editor talking to me, saying he liked the story could he have it we can pay, all that, it was like he was at the end of some long tunnel. But I said yes. However, my first publication, I remember that too. I was in elementary, fourth or fifth or sixth grade, and my little brother had forgot to do his homework, so I did it for him over cereal: make up a myth, an origin story. Seemed like nothing, except then he won some contest with that, got published in the paper. His name on it, not mine, but so it goes. About that same time, too, I read Where the Red Fern Grows—this is probably the real answer—and the way that rusted axe head's planted in that tree at the end, that lantern hanging from it, I remember I closed the book, nodded, said to myself that I can do that. I think that's when it started.
What draws you to speculative fiction?
It's that it can make the reader feel like she's ten years old. Some stories, they're so alien, so out there, yet so easy to identify with, so hard not to engage, that at the same time you're seeing yourself in the story and wondering if this story's even remotely possible. The world becomes bigger, I guess I'm saying. Speculative stuff can make it bigger, make you feel like you're in a balloon that's being inflated. Everything's changing all around you. It's the best feeling, I think. And, man, to share that with a reader, to get the chance of sharing that with thousands of readers, some themselves remote in time already, centuries away still—if that's not magic, I don't know what is.
Is there a piece of writing advice you've never followed?
Yeah, that 'make a schedule and stick to it'-one. But all the established writers seems to make it work, I guess. Maybe I should get established too. I guess I also suck at the 'write what you know'-one. I mean, I like to write about werewolves, about civilizations in other galaxies, and, got to say, I'm making some of it up, anyway. But, too, I firmly believe the writer can render no emotional landscape he hasn't to some degree walked through himself. So, no, I've never been nor never known—so far as I know—a werewolf, but I have gone through several transformations, I suppose. As we all have. From kid to not-kid. From son to dad. From lost to found. But those stories tend to be completely boring to listen to, as we all start overwriting them with our own halfway through, so just really needed the story as a triggering device, not as something to lose ourselves in. Condense that experience down, though, give it fur and fangs, and then you've got something. And, if you're lucky, it'll make you reluctant to turn the lights off at night. The best stories make you feel the most alive, and you're never more alive than when you're terrified.
In the June 2009 issue of Niteblade, Rhonda chose to publish your story, "Monsters."  Is there a story behind how the story came about?
That's one (more) of the stories I sat down to write with the stupid, destructive, shoot-myself-in-the-foot pie-in-the-sky idea that I was just going to do something small and Chekhov. That, since I so resist kiddie first-kiss stories—which really probably means I love them, I know—I should crawl inside one, see what the allure is, and try try try to keep it as boring (and Chekhov) as possible. So I could do characters instead of 'cool stuff,' which, cool stuff, that's always my first impulse. Why write about a cousin when you can write about a pirate, right? Why set it on Earth when you can float it off into time? So, with "Monsters," I tried, anyway. But then there was this dog that could smell dead people, and, I mean, what use is a dog in a story like that if there's no dead people to smell, right? Story kind of just wrote itself after that.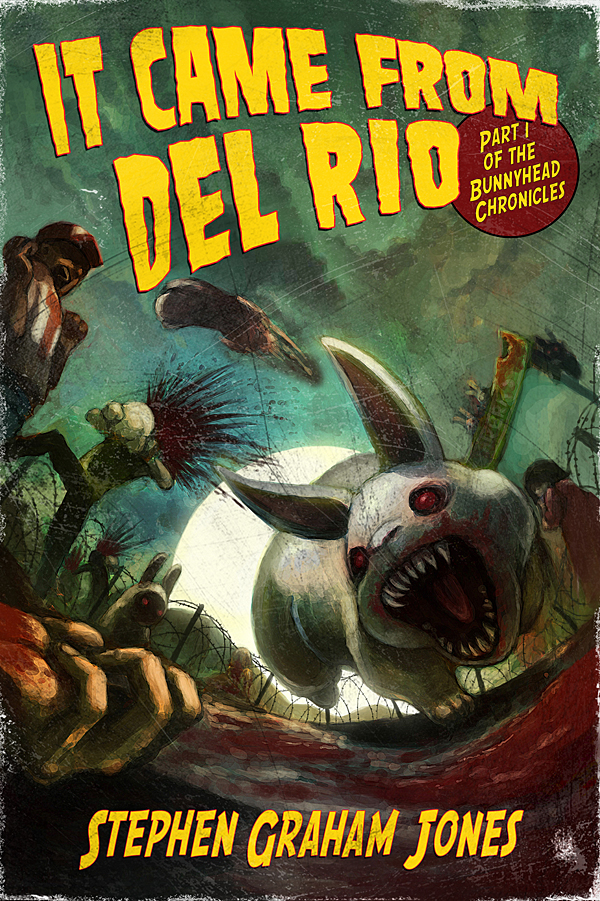 What have you been working on lately?
Just had two books come out. It Came from Del Rio(Trapdoor Books), a bunny-headed zombie novel (with chupacabras, of course; they're the essence of 'cool stuff') and a collection of horror stories from Prime, The Ones That Got Away ("Monsters" is in it). Each beautiful books, anyway, though of course you can't trust what I might try to say about the writing. And, now: just wrote a short film script this weekend for a director friend, to make the festival circuit. It's horror, of course. Way bloody. Why write something if there's not a knife in it, right? And why have a knife if it's not going to cut just a lot of people? It's simple, yet so many people keep missing it. And, I got hit up to do a baseball story, so I'm doing a baseball zombie story, because zombies make everything better. And, I'm currently on draft three of this zombie novel I love love love, The Gospel of Z. Trying to make it perfect. We'll see. Then have a couple more novels coming out (from Dzanc), Flushboy—lonely kid working the window of his dad's drive-thru urinal place—and Not for Nothing, a small-town, second-person noir. Hopefully a book or two before them, though. I need to kick out the second Del Rio, really.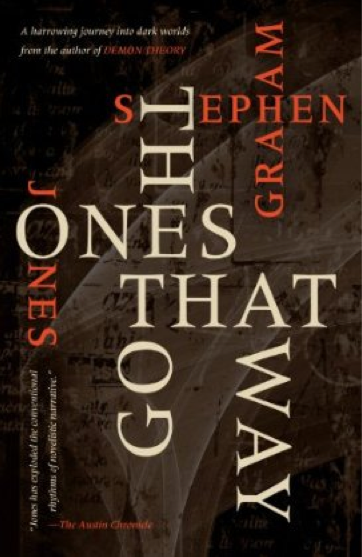 Is there anything else you'd like to share with Niteblade's readers?
Just that they're reading the good stuff, the stuff that matters. And probably writing some of it as well. But they don't need me to tell them that. Um, um, I know: Engage. Make it so. First star on the left and straight on till morning.
In the coming days we will be introducing a new feature here on the blog, interviews with Niteblade contributors. Our in-house interviewer, Amber Stults, will be interviewing people who have contributed to past issues of Niteblade and sharing those with us here every other week. I'm looking forward to getting to know more about the people behind Niteblade, and I hope you are too.
One of the perks to doing interviews with authors for Niteblade is learning about their work and sharing it with you.  Today, Niteblade readers, is a lighthearted  interview with Jeremy C. Shipp.  Jeremy is a Bram Stoker Award nominated author.  He lives in Southern California and his newest book, Fungus of the Heart, went on sale this month.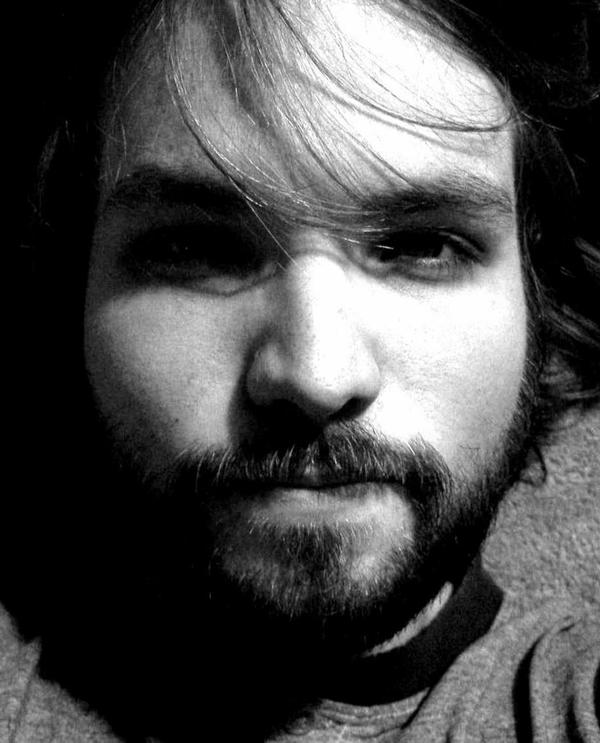 You've been writing novels since you were 13 and had one of your short stories published when you were 18. Do you remember when you first considered yourself a writer?
The first time I considered myself a writer, I was a baby, writing a hieroglyphic-style story about two-headed dragon on the living room wall. Then, in 4th grade, I felt like a writer once more when I wrote my first rather long short story. At 13, after I finished my first novel, I thought, "Now I'm a writer." And then, at 18, when my first short story was published I thought, "Now I'm definitely a writer." And finally, in 2007, when my first novel was published I thought, "Now I'm a writer for sure!"
In 2009 you received a Bram Stoker Award nomination with your novel, Cursed. Writers often work in vacuums and don't always hear from their readers. Was it validating to be nominated by your peers?
It was definitely a touching moment in my career to be honored by my fellow horror writers. I was as excited as Atreyu when he rode Falkor for the first time.
How do you pick the titles for your books?
First I pull Scrabble tiles out of a magic yard gnome hat and use those letters to come up with possible titles. After that doesn't work, I put on my thinking cap and come up with an appropriate title. I ended up using "Fungus of the Heart" as the name of my newest book because I find the image and concept to be emotionally evocative and thematically fitting.

I understand your newest collection of short stories, Fungus of the Heart, goes on sale this month. Did you write the stories specifically for the collection or did you select them because they were connected in some way?
I wrote most of the stories with the collection in mind. I also included three older tales that meshed well with newer stories. Each story in this collection is a unique world, but the worlds are all orbiting the same thematic sun. And while that doesn't make any sense, it's true.
What are you working on now?
I'm writing a middle grade fantasy novel as well as a new horror story collection. There's also a musical stage play in the works based on my short tale "Nightmare Man." In addition, I'm trying to build a giant robot that looks like Mr. Belvedere. I can't remember why.
You live with yard gnomes and attic clowns.  Do you ever think they will wage a war for more territory?
Attic clowns find war to be hilarious, and they might attempt to kill all the yard gnomes in my garden as a joke. However, the gnomic shamans wield magical sporks that can transform clowns into Skittles. And so, the war wouldn't last very long.
Is there anything else you'd like to share with our readers about Fungus of the Heart or your other works?
You can read one of the stories from Fungus of the Heart here: http://www.dharlanwilson.com/dreampeople/issue34/excerptshipp.html
You can also check out more free stories of mine here: http://jeremycshipp.com/onlinestories.htm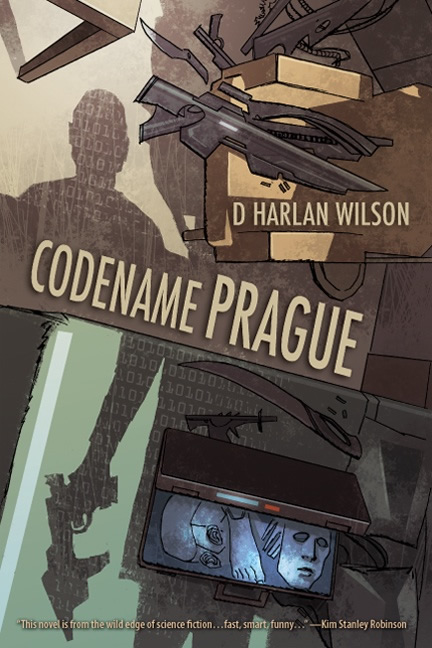 D. Harlan Wilson is a busy man. He edits The Dream People, teaches full-time at an Ohio university, and still manages to have a life unrelated to writing.  He took the time to answer my questions about his work and allow the Niteblade readers to learn more about him.
Looking over your biography, I noticed you received your M.A. in Science Fiction Studies from the University of Liverpool. I honestly thought you made it up until I visited the university's website. What was that experience like?
 The Science Fiction Studies M.A. was a wonderful experience and seminal to my growth as a literary critic and fiction writer. I owe it all to Bob Crossley, my advisor at UMass-Boston, where I did my M.A. in English (1995-97) before the ULiverpool program (1997-98). When I started at UMass-Boston, I wanted to be a Medieval or Elizabethan scholar, but I met Bob in an apocalyptic literature course I took with him, and he turned me on to science fiction. Under Bob's guidance, I did my UMass-Boston M.A. thesis on science fiction, a linguistic analysis of the novels Neuromancer, Riddley Walker, and A Clockwork Orange, for which I won an award. Bob encouraged me to pursue another M.A. degree at ULiverpool, one of the only SFS programs in the world at the time. I didn't feel like I was ready for the rigors of a Ph.D. yet, so I did it.
In addition to immersing myself in a different (English-speaking) culture – I lived in downtown Liverpool across from the central train station in a flat over a fish and chips shop – I got to read scores of cool sci-fi books and talk and write about them extensively in an intimate professor-student setting. Basically we met twice a week for two hours at a time to discuss a particular text, usually a novel, and then the rest of the time the onus would be on me (and the four other students in the program) to do research, meet with our advisors, and produce criticism. And in the end we had to write a 40 or so page thesis. Mine was a study of the influence of Romanticism (especially Keats' work) on Dan Simmons' Endymion quadrilogy. Not publishable stuff, but instrumental in my future Ph.D. studies at Michigan State University and the book of literary theory and criticism that resulted from it: Technologized Desire: Selfhood & the Body in Postcapitalist Science Fiction.
Aside from my studies, I fondly remember my trips to the Lake District, about two hours north from Liverpool by train.  That's where all the Romantics hung out – Wordsworth, Coleridge, Keats, etc. I went up there whenever I could, and I go back whenever I can. I think it's my favorite place in the world. The landscapes, the air itself, is inspiring in so many ways.
Your fiction works have been described as Bizarro or irreal fiction. How do you describe your work to someone not familiar with it?
I've more or less given up trying to describe it, or I deflect and redirect the question whenever it's put to me. Categories are useful for marketing purposes, and it's human nature to categorize things, but otherwise calling something this or that ultimately belies what it is in its totality. In the past, I've called my writing "offbeat" or simply "weird" in casual conversation. I like the term "irreal," which exhibits absurdist, existential, and/or dreamlike elements. Irreal fiction usually denotes a certain literary quality (à la Kafka, Borges, Gogol, etc.), but the term "literary" is problematic, too, and can mean different things to different people. As with anything, really; the specter of subjectivity is a formidable monster.
Bizarro is an increasingly slippery category, mainly because there are so many different kinds, although most if not all Bizarro fiction seems to relish in the absurd and out-of-the-ordinary. I certainly do that. Bizarro has received as much criticism as it has praise and outright fanaticism, and all publicity, negative or positive, is good publicity. The fact is Bizarro continues to gain momentum and popularity; some readers really get into it, whereas other just want to see what it's all about. I like the category in that respect. And I like some Bizarro fiction. There's good and bad, but that's the case with any type of writing, or art in general, and my version of good and bad of course differs from other versions.
Categories aside, I hope my writing does two main things: edify and entertain. I want people to laugh, but I also want them to think about the nature of narrative, reality, language, history and the future. Especially in my novels, where I almost invariably blend the genres of science fiction, fantasy, horror, and film and literary theory. These speculative and critical realms were once perceived as outside the purview of basic human ontology. I believe they are at the center of twenty-first century mediatized life.
In previous interviews you've expressed the wish to re-edit some of your earlier works. How do you think your style has changed over the years?
My style has changed significantly over the past 15 or so years since I started writing fiction, as it does for most writers. For me, it had to do with developing a wider lexicon and command of language, which I'm always trying to improve upon. I began writing novels – bad ones, although I thought they were good at the time. I remember feeling more and more insecure and uncomfortable as each novel unfolded. I didn't really know what the hell I was doing, or wanted to do. Other than to become a famous author, right? Once I started writing shorter pieces, though, particularly flash fictions, I got better, grew more confident with my narrative voices, rhythm of prose, word choices, execution of dialogue, etc. Nowadays my fiction tends to be rather theoretical, i.e., I often fuse elements of fiction with film, literary and cultural theory. It's not that I want to return to my old stuff and theorize it, per se. I just want to clean up what in retrospect looks like crappy prose to me. And of course my interests have changed as I've gotten older. Many themes in my earlier fiction are pretty boyish and juvenile compared to now. Naturally – I started writing in my early twenties, and now I'm almost forty.
Do you have specific writing habits which contribute to your success?
No. I've never had any habits that fueled my writing, other than smoking, but I haven't smoked while writing for years. I write most efficiently in the morning, in my basement library, with coffee, when my mind is clearest. But I teach fulltime and have service responsibilities at my university, and I have a family (a wife and two daughters), so usually I have to write whenever I can, whenever I find cracks in my schedule. I still write every day, if only for 15-30 minutes.
I feel I have to ask an obvious question to the author of Peckinpah: An Ultraviolent Romance – If you could time travel and spend the day with Sam Peckinpah what would you do?
If I was younger, I suppose we'd go out and party or something – he was a wildman, did tons of drugs and drank his ass off; at one point he claimed that he couldn't direct effectively unless he was shitfaced. I try to keep my partying to a minimum these days, with moderate success most of the time, so I guess I'd probably sit there and listen to Sam ramble on. He was a big talker, according to his biographies. Despite being an addict, and an asshole, he was a brilliant guy, filmmaking aside. But eventually I'd get sick of him. I usually get sick of everybody, preferring humanity in small, controlled doses.
I understand you're working on a cultography of John Carpenter's They Live. How does one prepare for such an undertaking?
Lots of research in many different areas, including my personal history as well as film criticism, literary and film theory, the cultural history of the 1980s, and the biographies of John Carpenter and Roddy Piper.  The cultographies series is a recent venture for UK publisher Wallflower Press, which is distributed in the US by Columbia University Press. It's a cool project in that I'm asked not only to analyze the film but to write about my personal relationship with it, i.e., how it influenced and enlightened me in its (and my) historical context. I've completed the research portion of the book and I've written about a third of it, so it's well underway.
Writing my first book of criticism, Technolgized Desire, was a totally different experience, fraught with anxiety and uncertainty. I was still finding my way as a neophyte critic, and I had to satisfy the demands of my Ph.D. dissertation committee. I spent three years revising the book after I received my Ph.D., without guidance, and that was kind of traumatic, too. The They Live book is a different experience altogether. I know what I want to do and I'm having so much fun writing it. That's what writing criticism should be like. Nobody really reads it except for professors and scholars and grad students. This wasn't always the case, but nowadays I can always tell if books of criticism were written under the pressures of The Academic Thumb. It's nice to get to a point where you can have fun while at the same time produce compelling and dynamic criticism. I've only crossed that threshold recently.
From November 2010 to March 2011 you'll be on an international book tour to promote the release of Codename Prague. The venues aren't all bookstores and universities. How did the tour come together?
The Zero Degree of Meaning Tour, as I call it, a reference to the theory of Deleuze and Guattari, which informs Codename Prague, has been a long time in the making. Codename Prague has been finished for about two years, so my publisher, publicist and I have had ample time to plan the tour and scope out unique venues. I didn't want to do readings/signings at a bunch of megabookstores like Barnes & Noble, Borders, etc. I'm a big supporter of independent bookstores, and presses for that matter, who are interested in unconventional literature that pushes boundaries and tries to do new things. So that was my main focus. I also focused on other, more esoteric venues – bars, drug stores, stadiums, fitness centers, old school theaters, sex shops, fish and chip shops, celebrity households, the streets … A number of people worked on setting up readings/signings for me, but I owe most of it to Stanley Ashenbach, my publicist, and also my primary financial sponsor and backing. This'll be the biggest tour I've ever done for a book and it wouldn't be happening without his encouragement and hard work. Stan and I have been together for years and I wouldn't be the writer I am today without him.
I can't say whether or not the tour will be a success, i.e., that it will produce the proverbial buzz that authors and publishers need to sell books. This ain't Newyorktimesbestsellerland, after all. I have received several good preliminary blurbs for Codename Prague from the science fiction literati, among them Kim Stanley Robinson, John Shirley, Pat Cadigan, and Mike Resnick. That will get the book some attention, I hope, but ultimately the book must speak for itself. Whatever the case, I'm looking forward to scurrying like a vermin around the world for a few months.
What is the most unusual experience you've had at a book signing?
Most of the signings and readings I've done have been uneventful. One incident stands out. I was at an independent bookstore somewhere in West Virginia. Can't remember the name of the store, but I was signing copies of Dr. Identity in 2007. At some point, a goddamned porcupine got into the store and started raising hell, running all over the place, knocking over bookshelves, and even firing its quills at people. I remember the manager of the store staggering around trying to catch the thing in a garbage bag. That didn't work, obviously. In the end, some guy – might have been a cop, but maybe not – shot it with a handgun. Like, a Dirty Harry handgun. Huge. Loud as hell. I couldn't believe it. But it didn't seem to bother most people. The guy calmly picked the porcupine up by its tail and carried it outside like Medusa's head. Crazy. Then I went back to signing books.
Your writing interests are all over the place – novels, flash fiction, screenplays, criticism – what do you do in your free time?
Along with family stuff, I watch TV and movies, and I work out. Lately, in the last three or four years, I've been getting more and more into bodybuilding. I have a gym in my basement and lift weights 60-90 minutes a day, five days a week, plus cardio, and I watch my diet carefully, counting calories, measuring proteins and carbs and fats, and allowing myself one cheat day per week during which I eat whatever I want. My metabolism is such that muscle doesn't come easy to my body, so it's a challenge, but a much needed challenge, one that speaks to all aspects of my life, if only in that the release of endorphins into my system keeps me on the level – I'm sort of wound up. Anyway, I can't say things are that exciting right now. But that's ok. I'm enjoying a relatively tame family and academic life. For now. When my girls get older, my wife and I have plans. She's a writer too and we're always mapping out the future.
Anything else you'd like to share with our readers?
I'll simply to encourage folks to visit me online at www.dharlanwilson.com and www.dharlanwilson.blogspot.com. Thanks Amber!