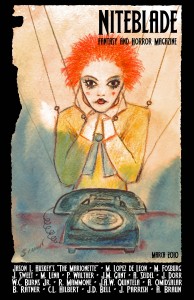 Issue 11 is out and it is fabulous! I know I say this every time, but it's true, every time. This is the best issue yet! Haunted hospitals, dancing skeletons, goddesses, a deeply disturbing play and retold fairy tales are but a few of the pieces we've got waiting for you. Check this out, you won't be sorry, I promise.
Poetry:
Daughter by Miguel Lopez de Leon
My Own Ending by Michael Fosburg
Words of the Unprofound by Joseph M. Gant
The Note Found on the Person of the Dead Wizard Skewered From Above by Alexandra Seidel
The Marionette by Jason L. Huskey
Newport Memorial by Jason L. Huskey
Second Chance by James Dorr
Goddess in Training by WIlliam C. Burns, Jr.
Fiction:
Sickeningly Sweet by Maia Lena
The Night The Cricket-Man Came by Alejandro Omidsalar
Bride of Neanderthal by Jonathan Sweet
The Devil at Your Heels by Robert Mammone
AutoCanniBioTech by Joseph A. W. Quintela
Happy Halloween, It's a Bloody Puppet Show by Bill Ratner
Judas Dances by Paul Walther
Finally Never Again by Crystal Lynn Hilbert
Cats in the Backyard by J. David Bell
Reviews:
Around a Dark Corner Reviewed by Alan Braun
The Field at the Edge of the Woods Reviewed by Jonathan Parrish