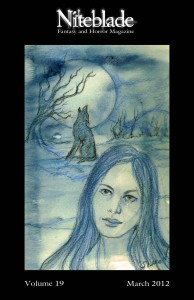 The best cover design so far if you ask me. I love our clean new look, inside and out, and the content on this one just cannot be beat. Sincerely.
You know how every issue I say is the best one yet? Well, guess what? This one is the best issue yet! Fer realz. We have epic fantasy featuring two children trying to escape poverty and the horrors that come with it, a wedding with a ghostly groom, a fungus that takes over people's brains, a story about stolen love, gambling, a group of musicians that may seem familliar… at first, and SO much more.
This was the first issue with Alexanda Seidel as poetry editor and she chose to publish poems by Dan Campbell, Patrice Wilson, Sonya Taaffe, Stephanie Smith and J.S. Watts. It was also the unveiling of a whack of changes BD made to the website. Many of them are behind-the-scenes but I'm sure you'll agree that the site looks phenomenal.