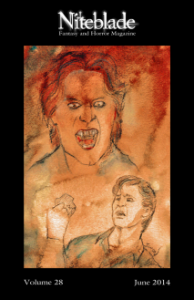 It begins with a subtle titillation of curiosity…
groaning floorboards at the dark end of the hall…
the rising musk of something savage…
cloven hooves on cobblestones…
a quivering chill…
And then there's no going back!
From the mists of antiquity to the edge of madness, the handpicked original fiction of Niteblade Magazine spans the finest reaches of Horror and Fantasy writing. Each issue features short stories and poems that intrigue, terrorize, inspire, and do not let you go!
June's issue is a riveting mix of selections that soothe with a feather's touch and wrench you back around with white-knuckle intensity. It's the full experience and the full release of horror and fantasy at its most compelling.
This issue contains:
Clotho by L.S. Johnson
The Summer I Fell In Love by Aaron Polson
A Means for the Journey by Erin Cole
Monstrovarious by Adam Armstrong
Stone City Old as Immeasurable Time by Kelda Crich
The Bitter Gourd's Fate by Anne Carly Abad
Looking-Glass Lover by Sara Norja
Labyrinth of Sand by Sandi Leibowitz
My Siren by Amelie Daigle
You can check out the teasers on our website right now. The full stories and poems will be available once we reach our sales/donation goal of $50 for this issue. If you just can't wait (and who could blame you), you can pick up a downloadable version of this issue right now for $2.99. Not only will that place a full digital copy in your possession immediately, it will push us closer to our goal so other people, not able to purchase their own copy, will be able to read it online for free sooner rather than later. Win/Win 🙂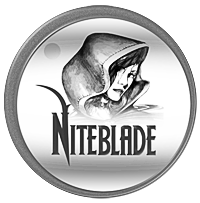 Issue #31 is going to be a special theme issue — Dark Fairy Tales.
For this special issue Niteblade is looking for fairy tales, and not just any kind of fairy tales, we want them dark — Grimms' grimmest. Surprise us with the shadows of "happily ever after." What price did the princess pay for her royal marriage? What beauty might be born from curses? What if the witches and evil fairies had the right idea all along? As always we'll be looking for stories and poems that offer us something new and unusual so even though we'll accept retellings we preference will be given to original fairy tales.
Submissions are open now and we'll be responding to them as they come in (not asking you to wait until after the deadline has passed). Please read and follow the submission guidelines found here.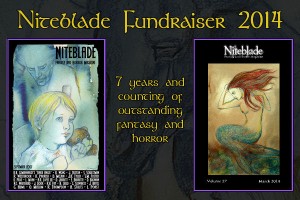 Yay!
Thanks to you our 2014 fundraiser was a success! We raised $510 which will all go directly to paying our writers and artist. Thank you, thank you, thank you!
Over the next couple weeks I will be busy getting in touch with each donor about their perks and sorting out all that fun stuff, and then we'll dive right into producing the June issue of Niteblade (which is going to be awesome!).
Thank you again for all your support, you are amazing!
It's that time again! Our third annual fundraiser for Niteblade is currently up and running on IndieGoGo! We have got some amazing perks this year too, check this out:
Submission feedback on your next Niteblade submission
Interior art from our past issues
Critiques by fabulous Niteblade authors and editors

Aaron Polson
Damien Angelica Walters
Alexandra Seidel
Rhonda Parrish
Suzanne van Rooyen
Pete Aldin
Sara Cleto

Survival Colony Nine by Joshua David Bellin
Hysteria by Stephanie M. Wytovich
Handmade bookmarks from Beth Cato
Yoga cookies from Anna Sykora
Cover Art
Bill Ratner will record your outgoing voice mail message as Flint from GI Joe
Pick the theme for our March 2015 issue
And more!
Plus, our fundraisers are the only time you can purchase subscriptions and have the next four issues arrive in your inbox upon release (and at a discounted rate)!
Check out our IndieGoGo campaign, see how you can claim some of these fantastic rewards for yourself, or help us spread the word to all your friends — whatever you can do to help support Niteblade's efforts in the coming year we greatly appreciate it. Thank you!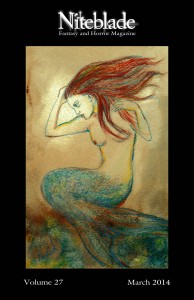 I always think each issue we produce is better than the last, and this is no exception. Issue #27: The Mermaid at Sea World is definitely one of the strongest line-ups we've ever put together. You're going to love this one, I guarantee it!
What if you had power over death? Or, if bleeding could transform you into something new altogether? From dryads to mermaids to lycanthropes to zombies, the stories and poems contained here offer musings on these creatures and much more. So sit down with a cup of tea, a warm blanket, and a book light—these tales will transport you to far-off fantasy worlds and into the forgotten corners of the darkest minds. It is Niteblade, where the strange and unusual lay down their roots.
Includes:
Bird Girl by Beth Cato
Godfather by Megan Arkenberg
The Dryad to the Woodcarver by S. Brackett Robertson
Hunt of the Damned by David Stegora
The Mermaid at Sea World by Ada Hoffmann
Crossing the Veil by Jamie Lackey
the queen's pauper by Anna Sykora
You Kill Me by Milo James Fowler
Braiding by Sandi Leibowitz
Hold My Hand by K. A. Mielke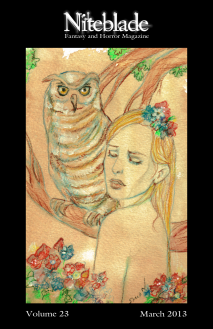 Issue #23: Blodeuwedd has been free to download from our website here, and from Kobo Books for a very long time. Unfortunately it's not free on Amazon. I'd like for you to help me change that.
I made Issue #23 free because I want people to be able to see how high quality our downloadable issues are. I want people who don't come to our website to find Niteblade, read it, become hooked and seek us out to read more. No matter how you feel about it, Amazon is key to getting noticed in this business, key to being read. If we could get Amazon to list our issue #23 for free it could go a long way toward increasing our exposure to the world. That is good for everyone.
Please go to the Amazon listing for Issue #23: Blodeuwedd.
If you scroll down to the Product Information you will see a link which says 'Tell us about a lower price'.
Please click that link and fill out the information. When it asks you where you saw the lower price, please tell them it was a Kobo Books –> http://store.kobobooks.com/ebook/blodeuwedd
Submit the form.
Once you've done that, please email me at rhonda @ niteblade.com and I will be happy to send you a downloadable copy of our most recent issue, Niteblade Issue #26: A Fixer-Upper as a way of saying thank you. Be sure and tell me, in that email, what format you prefer (.pdf, .ePub or .Mobi).
And thank you. Thank you very much.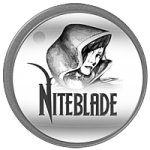 Niteblade Magazine is looking for a couple new slush readers. If you're interested here are a few things you should know:
This is a volunteer position. You will be paid in gratitude and an electronic copy of each issue you read for but sadly, not money
Our slush readers read and vote (yes, no or maybe) on all the stories which are submitted to us via the Submittable system
The work load isn't huge, we ask you to read 5 to 7 stories a week
While you are working as a slush reader for Niteblade you will not be allowed to submit to us
You will need to be familiar with Niteblade Magazine and the kind of stories we publish
If you're interested in getting a sneak peek behind the curtain here at Niteblade, the chance to help us out and read great fiction before it's published, please email rhonda@niteblade.com. In that email please tell me a little bit about yourself and also about your favourite story Niteblade has published in the past year.
Thank you.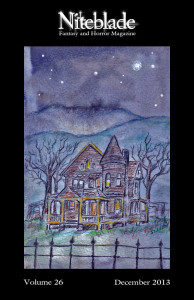 Issue #26 of Niteblade is a theme issue. Earlier in the year we held a fundraiser and one of the perks donors could choose was to pick the theme for our December issue. An generous donor who would like to remain anonymous, donated $100 to Niteblade for the chance to pick the theme for this issue and they chose 'Ghost Stories'. They especially wanted winter ghost stories, but were open to any type of haunting tale.
After reading through a great many submissions the poetry editor, Alexandra Seidel, and myself (with the help of our fabulous fiction slush readers Alexis and Samantha), have put together a fantastic line up of ghostly verse and stories. This is a big issue packed full of spooks, spectres and all manner of things that will send chills up your spine.
Table of Contents:
House 5 by Adele Gardner
Memory Walking by KB Lawrence
A Fixer-Upper by Amanda C. Davis
Soldier's Return by Robert Dawson
Envying the Dead by Francis W. Alexander
The Isle of Skye by Adele Gardner
Hot Biscuits by Elizabeth Archer
Hanashi Ukemi by Kenneth Kao
A Voice, Independent by Christos Callow Jr.
Dead Letters by Sandi Leibowitz
Heaven & Earth by Adrienne J. Odasso
Pushed Out by Jay Wilburn
Wintery Silence by Shari Jo LeKane-Yentumi
I have a love/hate relationship with the Pushcart Prize. I love that I get to nominate six works every year for this extra recognition and the chance to win. I hate that I only get to nominate six works every year for this extra recognition and the chance to win. Still, rules are rules, so each year come November I re-read each of our issues and pick six works to nominate.
I dropped the package in the mail today, so it's official. This year, on behalf of Niteblade Magazine I have nominated the following works for the Pushcart Prize:
Infectious by Lilah Wild (March 2013)
before by Lynn Hardaker (March 2013)
Compassion, During and After the Fall by Cory Cone (June 2013)
Not Too Bold by Shira Lipkin (September 2013)
Pushed Out by Jay Wilburn (December 2013)
Memory Walking by KB Lawrence (December 2013)
Congratulations to all the nominees, and good luck!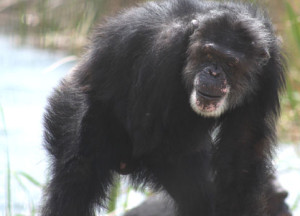 Rufus
©2010 Save the Chimps
www.savethechimps.org
This is Rufus. Due to the generosity of many of Niteblade's authors and poets, we were able to "adopt" Rufus from Save the Chimps last month. As described in this Miscellanea blog post, contributors are given a choice of being paid via paypal or of donating their payment to Save the Chimps. I had hoped that maybe we would be able to adopt a chimp every 18 months or so, but I was blown away by the number of people donating their payment. We reached the $75 goal quite some time ago and then had a bit of a vote to decide which chimp we'd adopt. Rufus won by a landslide.
You can learn more about Rufus (and see more photos of him) right here — All About Rufus.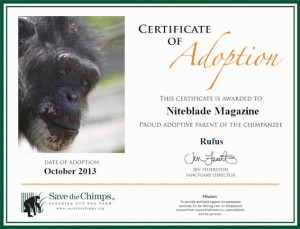 The reason I'm just blogging about our adoption of Rufus now is that I must have made a mistake when I filled out the paperwork to adopt him. The original certificate (which exists solely for bragging rights) listed me, personally, as the person who adopted Rufus (though I'd said in the papers that it was on behalf of Niteblade Magazine). I emailed Save the Chimps to see if they could provide me with a certificate that more accurately reflected reality but so far I haven't heard back (no doubt since they are busy helping chimps). So what you see above is a copy of the certificate which I edited to give credit where it belonged.
Thank you to everyone who donated their payment to support Save the Chimps, and to everyone who voted to help us decide which chimp to adopt! It's a small thing we've done, but because of you, Niteblade is changing lives and helping to make the world a better place, and how awesome is that?