Because of the phenomenal generosity of our authors Niteblade is going to support Save the Chimps by adopting a chimp!
I'm super excited. This is a cause that is close to my heart and it means more than I can say to have so many of our authors choose to donate their payment to support these chimps.
In reality all the chimps will benefit from our donation, but to make it more personal we get to choose which of twenty chimps we want to adopt.
Please pop over to the Adopt a Chimp page and take a look around. If you click on a chimp's portrait their bio (and more photographs) will open up in a new window. When you've picked which one you'd like for us to adopt come back here and leave a comment with the name of the chimp you'd like to adopt. I already have my favourites, but I don't want to bias you 😉
I will tally up the votes at the end of the month and come the beginning of October Niteblade will adopt a chimp.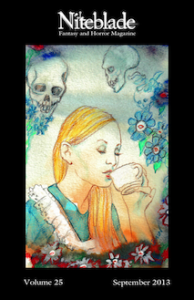 Issue #25: Alice Underground gets its title from a phenomenal poem by Brittany Warman and sports one of my favourite covers of all time! We certainly aren't growing complacent as we grow older here at Niteblade, this issue packs a hell of a wallop:
Lady Mary Speaks of Dreams by Sandi Leibowitz
With The Band by Carl Barker
Bitter Mnemosyne by Sara Norja
Jonesy by Evan Purcell
Alice Underground by Brittany Warman
Starry Night by David Luntz
Le Cirque by Jess Simms
the moon, so low by Dan Campbell
The Kiss of Legend by T.H. Lee
This man by Erik Amundsen
Empire of Ash by Cameron Johnston
Not Too Bold by Shira Lipkin
You can purchase your copy of our latest issue directly from the Niteblade Store, or Amazon (coming soon to Kobo).
In other exciting news, due to the generosity of our authors we have raised enough money to adopt a chimp from Save the Chimps. I will make a post about that next week and we will hold a vote to pick exactly which chimp we'll be adopting.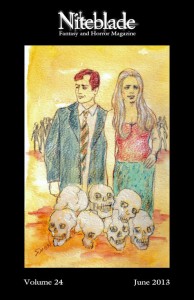 June 2013 brings us issue #24 of Niteblade. This one is entitled, Forbidden Island, and it's pretty fabulous. Check out this ToC:
Compassion, During and After the Fall by Cory Cone
Forbidden Island by J.A. Grier
The Imago by Carly Berg
The Travelling Dead by Keith Kennedy
The Peculiar Fruit of the Savage Chinchilla by Kate Duva
Where We Died by Shira Lipkin
Little Stitches by M. Shaw
An Unexpected Review by Michele Bannister
Shifting Sands of Blood by Rebecca Harwell
We seem to have ended up with a bit of a zombie theme for this one, but that is certainly not all you'll find. We've also got exotic places, tiny people and bizarre pets. There's something inside for every fantasy and horror lover. If you don't believe me check out the teasers we've got waiting for you.
You can pick up a copy of this issue at our Store where you can purchase Forbidden Island in several formats (.pdf, .mobi or .epub). It will also be coming soon to the Amazon page for Kindle as well as to Kobo. If you'd rather read it online, you can make a donation (from the sidebar on almost every page on this site) and once we reach our sales/donation goal of $40 we will release the website version for free to everyone.
What's more our generous authors have donated a total of $25 this issue, added to the $35 from our previous issue that brings our current total earmarked for Save the Chimps to $60. Once it reaches $75 I will match that donation and Niteblade will "Adopt a Chimp". It looks like that will be a reality very soon.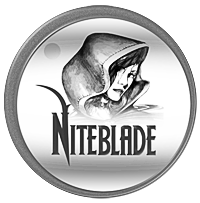 We want your spooky stories about spectres, poltergeists, shades, shadows, spirits, spooks, wraiths and things that go bump in the night. In short, we're looking for ghost stories (and poetry).
Our December issue this year is going to have a ghostly theme so we're looking for your best ghostly fiction to fill our pages. Because it's the December issue we'll also be giving extra consideration to stories that take place in winter time.
All our submission guidelines, payout rates and such remain the same as for usual issues, just make sure you choose the correct category when you submit via our submissions form.
Submissions are open now and close on September 30th, 2013.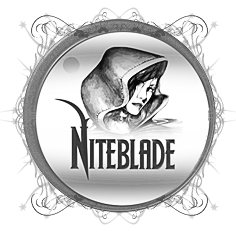 Would you like to know a secret?
When I set up our 2013 fundraiser on IndieGoGo this year I'd hoped to raise $300. I set the goal at $500 because, well, that was the minimum amount that Indiegogo would let me choose. Well, boy did you guys teach me a lesson. Not only did we raise more than $300 we raised more then $500. In the end we raised $604!
Let me say that again in case you missed it — Together we raised $604!
Now, for some presses that would barely put a dent in their budget. For Niteblade, however, that is freaking huge. Huge. And I can't thank you enough.
Thank you for donating things for use to offer as perks and stretch goals. Thank you for spreading the word, telling your friends, family and followers about Niteblade and saying we're a worthwhile destination for their hard earned dollars. And of course, thank you for your donations. Each dollar matters. It really and truly does. So thank you. Thank you. Thank you.
I use the annual fundraiser when I'm doing budgets for the following year and, judging by how well this one went, I suspect this is going to be Niteblade's best year yet.
Hang on tight, we're going to be in for a hell of a ride.
I'm excited. I'm excited for a couple reasons. The first is that our IndieGoGo fundraiser has currently raised $179. That means we've already made more than we did last year (about $108) and there are still loads of awesome perks available 🙂
The second reason I am excited is because thanks to the efforts of M.B. Ryther Niteblade is now available for the Kindle. We started with the most recent issue but will be working backward to convert all the back issues we are able.*
If you have read Blodeuwedd, we would really appreciate your review on Amazon… just sayin' 😉
It's exciting times around here, for sure 🙂
*Unfortunately we cannot do all our back issues because of differences in author agreements over the years.
It's that time of year again. Our second annual fundraiser 🙂 This year we're doing things a little differently and running the fundraiser on IndieGoGo:
One thing that is the same as last year is that our writers have been extremely generous in donating amazing things for us to use as perks. We have everything from art to cookies, handicrafts to critiques. We've raised $50 and a couple perks have already been claimed so be sure and hop on over and pick out what your dream perk is. And even if you can't support us financially, pop over anyway. There are loads of sharing tools on our campaign page that will help you spread the word about our fundraiser, which is an awesome way to help without spending a dime 🙂
One perk that everyone gets to take advantage of is that since we've raised $50 already, we also released the web version of issue #23 today. Yay! Check that out… after the fundraiser 😉
Issue #23 is looking fabulous! I'm sure you'll agree 🙂
This quarter we have five poems and five stories and each is better than the last.
Table of Contents
Gathered Augury by S. Brackett Robertson
Infectious by Lilah Wild
Blodeuwedd by Virginia M. Mohlere
For the Dead Travel Fast by Ramón Paso
The Storm Rises by Dan Campbell
Locket by Kristi DeMeester
Destination by Ken Poyner
The Whipping Tree by Pete Aldin
before by Lynn Hardaker
Letting Go of the Children and Moving On by kaolin fire
As mentioned before in our Miscellanea update, this year rather than offering our writers the option of donating their payment to Duotrope we gave them the option of payment via Paypal or a donation to Save the Chimps. So far we have $35 worth of donations heading toward the chimps. Once that number reaches $75 I will match it and Niteblade will adopt a chimp.
As of right now, all poetry slush has been cleared, final selections for the March Issue have been made (a strong issue, if I do say so myself).
Three poems are being held for further consideration, and those authors should be able to see that the status of their submissions is listed as In-Progress in Submittable, there should also be a note in the system letting you know that the pieces are still under consideration (though if in doubt, query).
On a related note: it is only February, and there are only 13 spots for poems left to be filled for the rest of the year, that is how strong the competition was this spring, and I am definitely looking forward to seeing more good stuff!
J.S. Watts writes fiction and poetry. 2012 brought the publication of a novel and a poetry sequence.
When did you first recognize yourself as a poet?
I'm not sure I really know the answer to this question. I started writing poetry at an early age (I can remember doing well in a poetry competition in junior school), but at the time I didn't think of myself as a poet. Even when I was writing poetry as an adult, I don't remember thinking of myself as a poet. Somewhere along the line, my poems started to get published in magazines and I suppose the word "poet" raised its head then, but I was more likely to describe myself as someone who wrote poetry, than a poet. Now, with two poetry books to my name, I guess I'd use the word "poet", but I still tend to deflect it a little and refer to myself as a writer and poet. Why's that?  I think of poets as people like Keats, Plath, Hughes or Anne Sexton – people who are defined by their poetry and who devoted their lives to it. I don't fall into that category, so labeling myself as a poet feels a trifle posy, but it's what I am, I guess.
What draws you to speculative fiction?
I like to think that the fantasies we create mirror elements of ourselves back at us. It's as if the act of creating original fantasy, producing something out of nothing, beginning with a totally blank page, and putting absolutely whatever we want on it, allows us to project ourselves, our humanity if you like, onto our brand new creation. I find that fascinating and enticing and the world of speculative fiction gives me plenty of scope to explore possibilities. It's writing without boundaries: writing where anything is possible.
Is there a piece of writing advice you've never followed?
"Give up on trying to publish a novel if you've had more than thirty rejections". I had a lot more than that, but the novel was published.
In the March 2011 issue of Niteblade contained your poem, "Lycanthropist".  Is there a backstory on how it came about?
As with many of my poems, there's no one story. Rather it's a case of lots of different things coming together to make a single thing. In the case of "Lycanthropist" there was my own fascination with the beauty of the full moon, a sleepless night or several, a less than happy love-life at the time and a passing observation that nine out of ten werewolves in films and books seemed to be men. I decided to even the balance of things. I also liked the idea of juxtaposing the wild passion of werewolf stories with the more mundane and domestic passions of a daily relationship.
What have you been working on lately?
Poetrywise, I have had a second publication out this year. My first poetry collection was "Cats and Other Myths" which explored fantasy and legend with modern eyes and looked at the modern world through the lens of fantasy. "Lycanthropist" came from that collection, which was published by Lapwing Publications. The second publication is "Songs of Steelyard Sue", which is also published by Lapwing. It's a pamphlet-length poetry sequence exploring the life and times of an eponymous, everyman character, "Steelyard Sue". Sue just happens to be a robot living on a world turned junk-heap, so there is a strong SF feel to these poems. There have been some nice reviews of "Songs of Steelyard Sue", so I'm feeling quite chuffed with it.
Is there anything else you'd like to share with Niteblade's readers?
2012  has been a busy year for me. I've had two new books published. The first was the SF poetry sequence, "Songs of Steelyard Sue". The second was my first novel, "A Darker Moon" which has been published by Vagabondage Press. "A Darker Moon" weaves echoes of myth and legend with literary fiction and psychological mystery to create "a dark, psychological fantasy".
The main story focuses on anti-hero Abe Finchley, who is struggling to come to terms with his own existential darkness, a strangely ragged memory and a revealed dark and violent family history that spans generations into humanity's deepest past. Sometimes the blackness lies in what we remember, sometimes in what we cannot help but forget. The old myths and legends that "A Darker Moon" draws on, as well as its elements of original fantasy, illuminate Abe's story, and maybe reflect a little bit of light back on ourselves. Or perhaps it's the dark that is reflected back. I probably ought to point out that the promotional tag line to the book is: "A mythical tale of light and shadow and the unlit places where it is best not to shine even the dimmest light."
Finally, I should probably do the time honoured thing and mention that I have both a Facebook page  www.facebook.com/J.S.Watts.page and a website www.jswatts.co.uk , should anyone want to know more about anything.