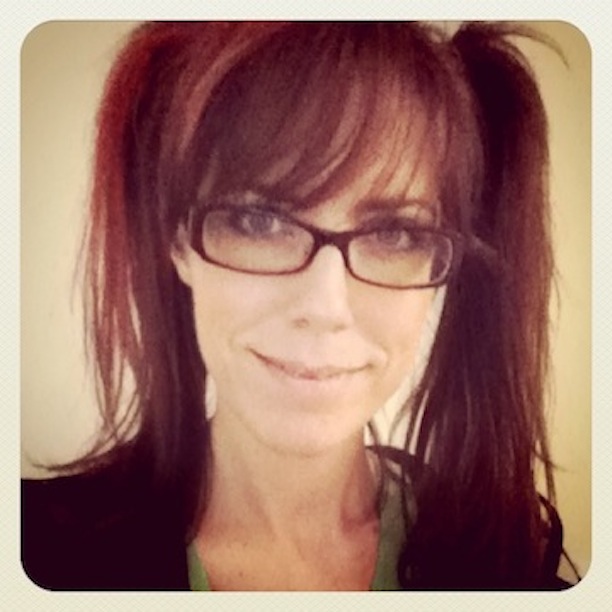 Amber Keller is a writer who delves into dark, speculative fiction, particularly horror and suspense/thrillers. She has been fortunate enough to be included in various anthologies, and features short stories on her blog. A member of the Horror Writers Association, she also contributes to many websites and eMagazines, including providing horror and science fiction movie reviews. When not at her laptop, she can be found looking for things that go bump in the night.
We're fortunate Amber was able to find time in her schedule to answer a few questions.
You've mentioned on your blog you wrote for the high school newspaper and majored in English in college. When did you figure out the direction you wanted to take your writing?
I started taking my writing more serious in college when I saw my dark poetry published. It all basically happened on a whim. I saw a call for submissions in the hall as I waited for English Lit class one day, sent one of the poems I had finished and honestly never expected anything to come of it. Then I received the acceptance letter. I did a full-fledged Snoopy dance in the middle of the college post office. I think it helped to show me that others liked my work, and gave me the confidence to submit more in the future. My work has mostly been in the dark fiction area. But to be fair, I have always loved horror. Books, movies, anything I could get my hands on. So it was a natural progression. Along the way, my work has deviated to the thriller and speculative fiction side, as well.
What do you find most appealing about horror and dark fiction?
The adrenalin rush. The feeling that accompanies reading a very scary scene and wondering if something is just around the corner, waiting to jump out at you. It's fear in its most basic form. Give me raw, intense, suspenseful moments any day and I will be yours forever. Also, these genres really deal with the human condition. Humans are propelled by fear, and even tailor their lives around it, mainly to avoid it. We don't like to step out of our comfort zone, as a general rule. I am a very visual person, so horror feeds my creative side, bringing me the monsters and worlds that I can see, feel and almost touch at times. I say what's not to love about horror.
You tackled paranormal/supernatural creatures and elements on your blog during last year's Blogging from A to Z Challenge. Is there a creature you'd like to write about but haven't gotten to it yet?
Hmm, I don't believe I've written about the kraken and Cthulhu. As far as the monsters I write, the way it works for me is that when I find a creature lurking up in my gray matter and bring it to life in words, just as soon as I finish the story there are many more waiting in line to take its place. There is a type of primordial ooze in my brain that these frightening creatures crawl from, just waiting to kill, maim and otherwise cause chaos. And I love them each dearly.
You're off to a great start to the publication year. In January 2012 Blood Bound Books released Night Terrors II edited by Theresa Dillon and Marc Ciccarone which included your story "Forbidden Fruit". What is it about?
First off let me say that I am very honored and grateful for all of the publication opportunities. Each time I receive an acceptance, I am still ecstatic. "Forbidden Fruit" is a story that's about both deep desires and ancient worlds; a place where reality meets dreamscape. A man locked in his own horror finally becomes freed, but at a hefty price. The story is about things we want that we can't have, and ultimately the consequences involved. When I wrote this story, I had a great visual that went with it. I really wanted to convey what I was seeing in my head along with the surreal atmosphere.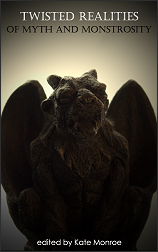 Later this month the mythological horror anthology, Twisted Realities: Of Myth and Monstrosity edited by Kate Monroe, will be released by Sirens Call Publications. Which myth and monster did you decide to tackle and why?
I went with Hades. I know that Hades isn't really that bad of a guy, but I decided to give him a mean streak, bring him to New York City, and have some fun. He also employs his pet of sorts, a Hydra, to assist him. Using Hades, I had the opportunity to describe his kingdom, Hell, and just a few of the horrors that I envisioned there. Also I wanted to show two sides to Hades – an evil, fun loving, mischief-maker, and a little bit of a softie. I had a lot of fun writing this one.
"Seeing is Believing" will be included in Childhood Nightmares: Under the Bed edited by Kate Monroe. The title alone makes me want to turn on all the lights upstairs before going to bed. In your opinion, is the imagined more horrifying than what can be seen?
Absolutely! I know that my imagination has supplied me with endless monsters and creatures, and some of them I still haven't come to terms with unleashing into a story. When I watch a horror movie, I tend to like the one's where they don't show as much because my mind can make up monsters that are way worse than the ones they're giving us. In "Seeing is Believing" I gave the reader a glimpse of what might happen if the monsters that live in our imaginations were real.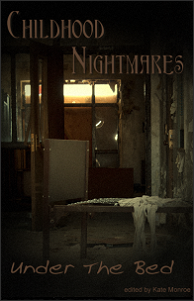 An upcoming piece will be included in the zombie anthology, Zombies Gone Wild. Have you participated in a zombie walk? What are your thoughts on the recent popularity of zombies?
I have not participated in a zombie walk – yet. I would love to, and hopefully I can soon. Personally, I have always loved zombies and their endearing shuffle, moans and smelly, rotting flesh. George A. Romero's "Night of the Living Dead" was always one of my favorite horror movies. Zombies have found a new resurgence in popularity due to more mainstream exposure, such as the AMC hit television show, "The Walking Dead". There have also been many popular movies made in the last few years that feature zombies like "Zombieland", the "Resident Evil" franchise, "Dawn of the Dead", "28 Days Later" and "Shaun of the Dead" to name a few. Along with video games, comic books and novels, it is a multi-million dollar industry. People do love their zombies.
Is there anything else you'd like to share with Niteblade's readers?
Recently I had a short story, "It Came from the Sky", in Sirens Call E-Zine, Issue #2, The Observer (  http://www.sirenscallpublications.com/ezine.htm ). It is the tale of a man who is abducted by a particularly nasty race of aliens, sees what they intend to do to him and how he is helpless to do anything about it. Also, if you are interested to see more of my work, you can find some of my short stories on my blog at: http://adiaryofawriter.blogspot.com. Come follow me on Twitter @akeller9.
I'm pleased to announce the table of contents for our upcoming June issue:
Black Marker by Clyde Haley
The Missing Red Book by Sarah Gunn
In the Hours Before Dawn by Alexandra Fresch
Dragons of Fire by Alexis Hunter
The Surrogate by Mark Rigney
Carnivoyeur by Rebecca Hodgkins
Castle Lanes by Lisa M. Bradley
for two by Dan Campbell
Red Eye by Lisa M. Bradley
Silent Energy by J.A. Grier
Looking forward to it? Me too! Mark it on your calendar and start spreading the word 🙂