Archive for the 'Interview' Category
J.S. Watts writes fiction and poetry. 2012 brought the publication of a novel and a poetry sequence.
When did you first recognize yourself as a poet?
I'm not sure I really know the answer to this question. I started writing poetry at an early age (I can remember doing well in a poetry competition in junior school), but at the time I didn't think of myself as a poet. Even when I was writing poetry as an adult, I don't remember thinking of myself as a poet. Somewhere along the line, my poems started to get published in magazines and I suppose the word "poet" raised its head then, but I was more likely to describe myself as someone who wrote poetry, than a poet. Now, with two poetry books to my name, I guess I'd use the word "poet", but I still tend to deflect it a little and refer to myself as a writer and poet. Why's that?  I think of poets as people like Keats, Plath, Hughes or Anne Sexton – people who are defined by their poetry and who devoted their lives to it. I don't fall into that category, so labeling myself as a poet feels a trifle posy, but it's what I am, I guess.
What draws you to speculative fiction?
I like to think that the fantasies we create mirror elements of ourselves back at us. It's as if the act of creating original fantasy, producing something out of nothing, beginning with a totally blank page, and putting absolutely whatever we want on it, allows us to project ourselves, our humanity if you like, onto our brand new creation. I find that fascinating and enticing and the world of speculative fiction gives me plenty of scope to explore possibilities. It's writing without boundaries: writing where anything is possible.
Is there a piece of writing advice you've never followed?
"Give up on trying to publish a novel if you've had more than thirty rejections". I had a lot more than that, but the novel was published.
In the March 2011 issue of Niteblade contained your poem, "Lycanthropist".  Is there a backstory on how it came about?
As with many of my poems, there's no one story. Rather it's a case of lots of different things coming together to make a single thing. In the case of "Lycanthropist" there was my own fascination with the beauty of the full moon, a sleepless night or several, a less than happy love-life at the time and a passing observation that nine out of ten werewolves in films and books seemed to be men. I decided to even the balance of things. I also liked the idea of juxtaposing the wild passion of werewolf stories with the more mundane and domestic passions of a daily relationship.
What have you been working on lately?
Poetrywise, I have had a second publication out this year. My first poetry collection was "Cats and Other Myths" which explored fantasy and legend with modern eyes and looked at the modern world through the lens of fantasy. "Lycanthropist" came from that collection, which was published by Lapwing Publications. The second publication is "Songs of Steelyard Sue", which is also published by Lapwing. It's a pamphlet-length poetry sequence exploring the life and times of an eponymous, everyman character, "Steelyard Sue". Sue just happens to be a robot living on a world turned junk-heap, so there is a strong SF feel to these poems. There have been some nice reviews of "Songs of Steelyard Sue", so I'm feeling quite chuffed with it.
Is there anything else you'd like to share with Niteblade's readers?
2012  has been a busy year for me. I've had two new books published. The first was the SF poetry sequence, "Songs of Steelyard Sue". The second was my first novel, "A Darker Moon" which has been published by Vagabondage Press. "A Darker Moon" weaves echoes of myth and legend with literary fiction and psychological mystery to create "a dark, psychological fantasy".
The main story focuses on anti-hero Abe Finchley, who is struggling to come to terms with his own existential darkness, a strangely ragged memory and a revealed dark and violent family history that spans generations into humanity's deepest past. Sometimes the blackness lies in what we remember, sometimes in what we cannot help but forget. The old myths and legends that "A Darker Moon" draws on, as well as its elements of original fantasy, illuminate Abe's story, and maybe reflect a little bit of light back on ourselves. Or perhaps it's the dark that is reflected back. I probably ought to point out that the promotional tag line to the book is: "A mythical tale of light and shadow and the unlit places where it is best not to shine even the dimmest light."
Finally, I should probably do the time honoured thing and mention that I have both a Facebook page  www.facebook.com/J.S.Watts.page and a website www.jswatts.co.uk , should anyone want to know more about anything.
Joseph M. Gant's "Words of the Unprofound" appeared in one of the first issues of Niteblade. Since then he's published a poetry collection titled Zero Division. In addition to writing he's also editing.
When did you first recognize yourself as a poet?
I have been writing poetry since my early teens. I wanted to be a singer/songwriter, and my writing took off proportionally to the amount of time I spent with the guitar. Unfortunately, I can't sing. Having made this realization early, I quickly separated my endeavors and wrote poetry more for the page and played lead guitar with my shy back to the crowds.
What draws you to speculative fiction?
Authors like Lovecraft, Huxley, and Poe kindled my early love for literature. Kafka can even be said to have written some speculative material, I believe. I don't tend to read by genre, but rather find myself drawn to works of great integrity or plain personal interest.
Is there a piece of writing advice you've never followed?
I don't write daily nor try to live by that mantra. This exercise works for many, but I find the words either flow for me and need to come out or it doesn't. When I force them, bad things happen and I am never pleased with the result.
In the March 2010 issue of Niteblade, Rhonda chose to publish your poem, "Words of the Unprofound".  Is there a story behind how it came about?
"Words of the Unprofound" was born of its own finish. A tiny bit of language regarding a suicide's advice to another was churning in my head until I decided to put a full poem behind it so I could write the ending. I do consider it a speculative piece because, for a poem, it is not very personal and was conceived in the womb of fantasy.
What have you been working on lately?
Since Issue 8 I have been Poetry Editor for Sex And Murder Magazine. We publish mostly fiction of the horror and splatterpunk type. Recently we, at the magazine, have launched S A M Publishing, and I have finished editing the first full-length poetry collection under that label.
Also, my own full-length poetry collection was recently published through Rebel Satori Press. Titled, Zero Division, I am quite pleased with the book, and I am working on a follow up book which is very similar in style but more refined.
Is there anything else you'd like to share with Niteblade's readers?
Hepatitis C . . . lol. Seriously,  read, and share what you enjoy with others.
Happy book birthday to Damien Walters Grintalis! Her debut novel, Ink, from Samhain Publishing hits bookstores today. Damien Walters Grintalis lives in Maryland with her husband, two former shelter cats, and two rescued pit bulls. She is an Associate Editor of the Hugo Award-winning magazine, Electric Velocipede, and her short fiction has appeared or is forthcoming in Strange Horizons, Beneath Ceaseless Skies, Daily Science Fiction, and others. You can follow her on Twitter @dwgrintalis.
When did you first recognize yourself as a writer?
When I was in grade school, I wrote a few illustrated books and tried to sell them to the kids in the neighborhood. I'm certain I called myself a writer then, but I didn't feel like a real writer until I started selling my work.
What draws you to speculative fiction?
I like the what-if of speculative fiction. It's an immense playground of possibility limited only by a writer's imagination.
Is there a piece of writing advice you've never followed?
I do my best not to follow the bad advice.  😉
In the March 2011 issue of Niteblade included your story, "Running Empty in a Land of Decay". Is there a story behind how it came about?
The folks at Shock Totem hold a prompted flash fiction contest several times a year. One of the prompts was a pair of shoes, tied together via the laces, hanging over a power line, but what struck me most about the photo was the emptiness of the street and the houses lining it.
And from the strange dark little place where stories come from, I envisioned a man running down the center of the street and the echoes of his footfalls in the quiet. From there, the story just grew.
What have you been working on lately?
I recently finished edits for my agent on another novel called Paper Tigers, the first draft of yet another one called This Delicate Poison, and I'm working on a few new short stories.
Is there anything else you'd like to share with Niteblade's readers?
If you read a story you like, tell someone. Recommend it to a friend. Spread the word. And if you're a writer? Read the guidelines. Then read them again, just to be sure.
Jami Gray is the author of the urban fantasy series, The Kyn Kronicles. The second book in the series will be released later this week. Read on to get to know her and the Kyn better.
When did you start writing?
On paper or in my head? The first time I decided to create my own character and re-write an existing story line was right after watching George Lucas's Star Wars at a drive-in theater.  At the time, it was a double feature with, I think, Cars—and not the Pixar one either. I wasn't a big fan of Princess Leia, Luke was okay, but man did I dig Han Solo.   I felt he needed a stronger partner so I came up with a female bounty hunter who could fight better than Luke and didn't need rescuing like Leia.  Sometime around junior high I started putting the voices running through my head on to paper.  To this day, I truly believe that writing is what keeps me from having to model a white jacket with buckles.
Have you always written urban fantasy?
Nope…the very first story I ever started was back when I was thirteen.  It was a young adult fantasy, similar to Susan Cooper's The Dark is Rising series.   I have over two hundred handwritten pages tucked away that will never see the light of day.  Okay, I take that back. I dragged it out to share with my critique group, the 7 Evil Dwarves, during one of our annual retreats, and we all had a good laugh over it.  I tried my hand at romance, but couldn't really dig into it.  When I finally realized that Urban Fantasy was an actual genre, I was thrilled.  For years I loved Anne McCaffrey, Terry Brooks, Lloyd Alexander, and Piers Anthony, so my stories tended to fall along the lines of "What if there was magic in the real world? What would that be like?" Voilà, I arrived at Urban Fantasy!
Your series, The Kyn Kronicles, feature Raine McCord as the main character. How many books are currently planned for the series?
I have a possibility of six to eight books planned for the series because I have always seen Raine's story having a solid beginning-middle-end story arc. However, I'm finding that some of the secondary characters are piping up and demanding their own spotlight.
I'm currently working on the third book, Shadow's Moon, which actually focuses on Xander Cade and Warrick Vidis, who you meet in Shadow's Edge. You get to see more of them in Shadow's Soul in June and they just wouldn't leave me alone, so they are ending up with their own story.  Never fear, Raine will be stopping in!
Book four will go back to Raine and Gavin.  After Shadow's Soul, I felt Raine deserved a bit of a break, so when Xander stepped up, I took her up on her offer!
The Kyn world is chalk full of really intriguing characters so occasional spin-offs maybe be lurking in the wings.
Can you tell us who the Kyn are?
The Kyn are a conglomerate of all the magical races divided into four Houses: the Fey, the Lycans, the Magi (witches and wizards), and the Amanusa (demons).  They've existed since the very beginning and are the realities behind mortal stories of magic.  As humanity moved into science and reasoning, the Kyn drifted into the background, content to stay in the shadows.  Yet as things go, you can't stay hidden forever and mortal governments became aware of their existence during the two World Wars.  Hard to hide when your homelands are being torn apart.  So, although the general human population hasn't a clue, the powers that be do and they are more than happy to use and abuse that knowledge.  For the Kyn, keeping their existence as quiet as possible is key, but they still feel an obligation to keep both mortals and Kyn safe from the monsters-both human and Kyn.  Now as the world becomes smaller due to technology and information sharing, the veil of secrecy is slowly being eroded.
The first book, Shadow's Edge, was released last year. What was your favorite part about writing it?
The best part of writing this book was getting to know Raine, those around her and the world she lived in.  I've heard it from various writers, but never understood until it happened to me, but sometimes the writer has an end point in mind, but the characters take them in a completely different direction.  Raine did that for me, numerous times.  One of the most enjoyable things about writing is that I'm discovering the story as I go and it's never boring!
Raine works for Taliesin Security as part of an elite team. Did you do any research on weapons or combat techniques to inform your writing of the action scenes?
I did.  I kept waiting for the Men in Black to come knocking on my door due to my internet searches, especially on the weapons front.  For me, it's important to have the right tools for your intended outcome.  On the fighting scenes, my research was much more hands on.  My sons and I had been taking various forms of martial arts through-out the years, and when I was writing the final draft of Shadow's Edge, I was fully immersed in Krav Maga.  I loved it! Plus my instructor (ex-military, lifelong martial arts expert) was fabulous.  My questions never seemed to throw him.  I could ask him specific ways in which a knife could be used to kill if your intended victim was taller than you, if you were grabbed from behind, if you found yourself on your back on the ground, all of it, he was great.  He was a great resource for how military groups operated as well.  Plus he'd even partner with me as we re-enacted fight scenes a step at a time so I knew exactly what Raine would be seeing/feeling/experiencing.  There's nothing like a real life demo to get you heart rate skyrocketing.  As far as I know he never made an anonymous phone call to the authorities about his demented student.
Although the Kyn tend to use claws, magic, and sharp edged weapons since guns tend not to be reliable around them, they aren't out of the picture yet.  This is my year to hit the shooting range to start checking out the wide world of firearms.
Shadow's Soul is set for release on June 23rd. Are the stakes any higher for Raine this time around?
Oh yes, because what good's a continuing story line if you don't challenge your characters? Raine faces multiple challenges in Shadow's Soul—a bigger, badder villain, some startling emotional revelations about herself and Gavin, only to begin realizing that the threat she thought she was facing, is a bit more daunting than she expected.   My fictional worlds tend to mirror reality in that life is never neat.  Instead life will throw you various challenges, then sit back and watch you clamor clumsily through them.  Sometimes it will cut you a break so you can enjoy it, before doing it all over again, with more oomph.
Thank you so much for stopping by, Jami. Is there anything else you'd like to share with Niteblade's readers?
Just a huge "THANK YOU!" for having me here today and to your readers for being willing to take chances on new authors, readers have no idea how big of a role they play for writers.  Let me share.  A little while back I hit that wall that pops up every now and then.  You know it, it's that one that likes to smack you around and mock you for thinking that following your passion was a "good idea".  I was getting my butt handed to me by the aforementioned wall, when out of the blue, I received the best text from a reader.  She was so sweet and so excited about the pending release date of Shadow's Soul.  And right behind her was another awesome reader who took time out of her very busy life to thank me for writing my book.  Seriously? She was thanking me? I was humbled.  She was the one who deserved the thanks. Readers are the greatest peeps out there, and so I don't miss a chance to thank them for all their support.  So, yeah—thank you!
Information about Jami Gray
Growing up on the Arizona-Mexico border, Jami Gray was adopted at the age of 14 and suddenly became the fifth eldest of 37 children. She graduated from Arizona State University with a Bachelor's in Journalism and three minors-History, English, and Theater.  Shortly after marrying her techie-geek hubby (who moonlighted as her best friend in high school) she completed a Masters in Organizational Management from University of Phoenix Oregon.
Now, years later, she's back in the Southwest where  she's outnumbered in her own home by two Star Wars obsessed boys, one Star Wars obsessed husband, and an overly-friendly, 105-pound male lab.  Writing is what saves her sanity.
Chris Lewis Carter stopped by to discuss his story "The Cord" and let us know what he's been up to these days. I hope you enjoy the interview!
When did you first recognize yourself as a writer?
In fourth grade, when I begged one of my teachers to let me stand in front of the class and read my latest masterpiece. I forget what it was called, but it was about a little girl who was in the hospital, and I'm 99% positive that I ended a chapter with, "Then everything went black." The weird part, though, is that I'm fairly certain this didn't take place in english class. I think it was actually math. Looking back now, it was clear that even Ten-Year-Old-Chris was more interested in telling stories than solving equations.
What draws you to speculative fiction?
I think it's because most speculative fiction strikes the perfect balance between "Anything Goes" and "Show Your Work." By that, I mean it gives a writer the opportunity to let their imagination run wild, while at the same time allows them to ground their crazy ideas in some form of real-world fact. I've always found that the best stories are the ones that don't just entertain, but also teach you something new. It doesn't need to change your world view or anything, just slip you a little factoid of information that makes you say, "Huh… I didn't know that."
It's like watching the TV show, "Fringe." They'll introduce a character who can make someone's head explode just by looking at them, and then proceed to explain the ability by extrapolating on some basic science. But by the end of the explanation you're always fully on board, like, "Hmm…well, I guess if sharks can smell blood up to a mile away… this makes sense, too!" I love that.
Is there a piece of writing advice you've never followed?
"Write what you know." I've always felt that to be an incomplete expression. The real piece of advice should be, "Write what you know you love." Take my story from Niteblade, for example. I'm by no means an authority on Cordyceps Fungi (although I'm sure a title like that would make me a hit at parties), but I fell in love with the idea. Besides, my good friend Google is always there to make sure I've got my facts straight. I mean, that's kind of the point of writing fiction, isn't it? To immerse yourself in the unfamiliar. If not, we'd all be writing technical manuals.
Your story, "The Cord", appeared in the March 2012 issue of Niteblade. Is there a story behind how it came about?
My wife and I were watching an episode of the documentary series, Planet Earth, when they started a segment about Bullet Ants in the African jungle being infected by a parasitic fungus. The footage was simultaneously the most amazing and flat-out horrifying thing I had ever watched in my life, and by the end I had to pause the DVD to frantically jot down all of my ideas on what might happen if this was able to occur in humans. It was just one of those concepts that gets inside your head and says, "Okay, you're doing something with this, and I'm not leaving until you do." Then again, it might just be The Cord talking… Dun dun dun!
Oh, and I've managed to track down the Planet Earth segment on Youtube for your viewing pleasure:    http://www.youtube.com/watch?v=XuKjBIBBAL8 – sweet dreams! 🙂
What have you been working on lately?
I'm glad you've asked. Right now I'm in the final weeks of a kickstarter campaign for a new YA series called Camp Myth, which is about a summer camp for young mythological creatures. Each book will feature the main characters attempting to earn a merit badge based on such things as Phoenix Watching, Kraken Fishing, or Golem Building. It's basically a combination of mythology and the Boy Scouts. If that sounds like something you or a family member would be interested in, you can visit: http://kck.st/JfqrpP to show your support. Thanks in advance to anyone who does! 🙂
Is there anything else you'd like to share with Niteblade's readers?
Well, I'm also the lead writer for an upcoming video game called, "Rival Threads: Last Class Heroes," an absolutely gorgeous RPG that will be released on iOS devices this summer. The guys and gals I'm working with at Studio Kontrabida are absolute superstars, and (speaking as a lifelong gamer) I guarantee this is going to be something special. You can find out more about the project at www.kontrabida.ca.
You can visit my website, www.chrislewiscarter.com for the latest news, interviews, and links to my available work.
Oh, and to anyone out there thinking about submitting work to Niteblade… DO IT! This is, without a doubt, one of the nicest, friendliest, most professional magazines that I've ever had the pleasure of working with. To everyone else, if you enjoy the content you read here, remember to keep showing your support. Lit mags aren't in it for the big bucks. They're a labour of love for all those involved, but they won't be around to showcase the latest up-and-coming authors without a little fan generosity.
Thanks so much for having me here, Amber. This was a blast!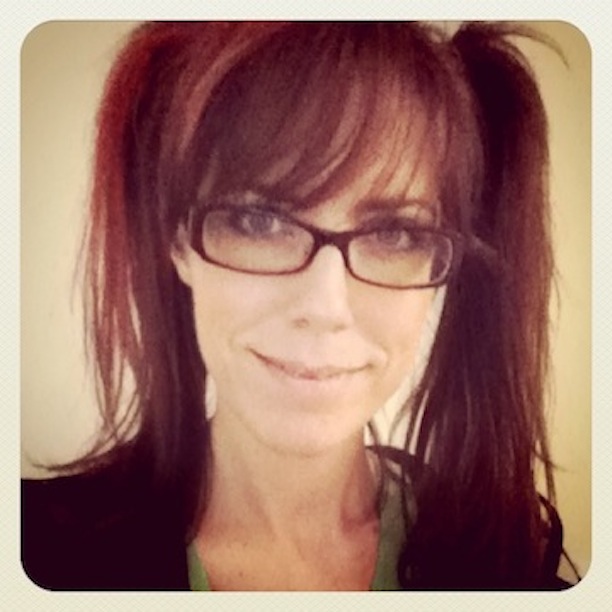 Amber Keller is a writer who delves into dark, speculative fiction, particularly horror and suspense/thrillers. She has been fortunate enough to be included in various anthologies, and features short stories on her blog. A member of the Horror Writers Association, she also contributes to many websites and eMagazines, including providing horror and science fiction movie reviews. When not at her laptop, she can be found looking for things that go bump in the night.
We're fortunate Amber was able to find time in her schedule to answer a few questions.
You've mentioned on your blog you wrote for the high school newspaper and majored in English in college. When did you figure out the direction you wanted to take your writing?
I started taking my writing more serious in college when I saw my dark poetry published. It all basically happened on a whim. I saw a call for submissions in the hall as I waited for English Lit class one day, sent one of the poems I had finished and honestly never expected anything to come of it. Then I received the acceptance letter. I did a full-fledged Snoopy dance in the middle of the college post office. I think it helped to show me that others liked my work, and gave me the confidence to submit more in the future. My work has mostly been in the dark fiction area. But to be fair, I have always loved horror. Books, movies, anything I could get my hands on. So it was a natural progression. Along the way, my work has deviated to the thriller and speculative fiction side, as well.
What do you find most appealing about horror and dark fiction?
The adrenalin rush. The feeling that accompanies reading a very scary scene and wondering if something is just around the corner, waiting to jump out at you. It's fear in its most basic form. Give me raw, intense, suspenseful moments any day and I will be yours forever. Also, these genres really deal with the human condition. Humans are propelled by fear, and even tailor their lives around it, mainly to avoid it. We don't like to step out of our comfort zone, as a general rule. I am a very visual person, so horror feeds my creative side, bringing me the monsters and worlds that I can see, feel and almost touch at times. I say what's not to love about horror.
You tackled paranormal/supernatural creatures and elements on your blog during last year's Blogging from A to Z Challenge. Is there a creature you'd like to write about but haven't gotten to it yet?
Hmm, I don't believe I've written about the kraken and Cthulhu. As far as the monsters I write, the way it works for me is that when I find a creature lurking up in my gray matter and bring it to life in words, just as soon as I finish the story there are many more waiting in line to take its place. There is a type of primordial ooze in my brain that these frightening creatures crawl from, just waiting to kill, maim and otherwise cause chaos. And I love them each dearly.
You're off to a great start to the publication year. In January 2012 Blood Bound Books released Night Terrors II edited by Theresa Dillon and Marc Ciccarone which included your story "Forbidden Fruit". What is it about?
First off let me say that I am very honored and grateful for all of the publication opportunities. Each time I receive an acceptance, I am still ecstatic. "Forbidden Fruit" is a story that's about both deep desires and ancient worlds; a place where reality meets dreamscape. A man locked in his own horror finally becomes freed, but at a hefty price. The story is about things we want that we can't have, and ultimately the consequences involved. When I wrote this story, I had a great visual that went with it. I really wanted to convey what I was seeing in my head along with the surreal atmosphere.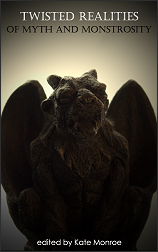 Later this month the mythological horror anthology, Twisted Realities: Of Myth and Monstrosity edited by Kate Monroe, will be released by Sirens Call Publications. Which myth and monster did you decide to tackle and why?
I went with Hades. I know that Hades isn't really that bad of a guy, but I decided to give him a mean streak, bring him to New York City, and have some fun. He also employs his pet of sorts, a Hydra, to assist him. Using Hades, I had the opportunity to describe his kingdom, Hell, and just a few of the horrors that I envisioned there. Also I wanted to show two sides to Hades – an evil, fun loving, mischief-maker, and a little bit of a softie. I had a lot of fun writing this one.
"Seeing is Believing" will be included in Childhood Nightmares: Under the Bed edited by Kate Monroe. The title alone makes me want to turn on all the lights upstairs before going to bed. In your opinion, is the imagined more horrifying than what can be seen?
Absolutely! I know that my imagination has supplied me with endless monsters and creatures, and some of them I still haven't come to terms with unleashing into a story. When I watch a horror movie, I tend to like the one's where they don't show as much because my mind can make up monsters that are way worse than the ones they're giving us. In "Seeing is Believing" I gave the reader a glimpse of what might happen if the monsters that live in our imaginations were real.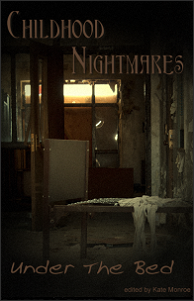 An upcoming piece will be included in the zombie anthology, Zombies Gone Wild. Have you participated in a zombie walk? What are your thoughts on the recent popularity of zombies?
I have not participated in a zombie walk – yet. I would love to, and hopefully I can soon. Personally, I have always loved zombies and their endearing shuffle, moans and smelly, rotting flesh. George A. Romero's "Night of the Living Dead" was always one of my favorite horror movies. Zombies have found a new resurgence in popularity due to more mainstream exposure, such as the AMC hit television show, "The Walking Dead". There have also been many popular movies made in the last few years that feature zombies like "Zombieland", the "Resident Evil" franchise, "Dawn of the Dead", "28 Days Later" and "Shaun of the Dead" to name a few. Along with video games, comic books and novels, it is a multi-million dollar industry. People do love their zombies.
Is there anything else you'd like to share with Niteblade's readers?
Recently I had a short story, "It Came from the Sky", in Sirens Call E-Zine, Issue #2, The Observer (  http://www.sirenscallpublications.com/ezine.htm ). It is the tale of a man who is abducted by a particularly nasty race of aliens, sees what they intend to do to him and how he is helpless to do anything about it. Also, if you are interested to see more of my work, you can find some of my short stories on my blog at: http://adiaryofawriter.blogspot.com. Come follow me on Twitter @akeller9.
Stephanie M. Wytovich is an Alumni to Seton Hill University where she was a double major in English Literature and Art History.  Amongst having numerous publications, the most recent being her poem "Body Suit," she enjoys painting and playing the piano. She is currently attending graduate school to pursue her MFA in Writing Popular Fiction, and is a nominee for the Rhysling Award for her poem "The Cheater." She plans to continue in academia to get her doctorate in Gothic Literature. Follow her on Twitter or stop by Stephanie's blog to say hello.
When did you first recognize yourself as a poet?
I recognized myself as a poet when I got published with a magazine that wasn't affiliated with my school, even though I had been writing poetry since I was about eight years old. When Eclectic Flash Literary Magazine published my piece "The Necklace," it gave me the confidence that I needed to start looking at writing as a full time job, and a career that was now possible, instead of just a dream.
What draws you to speculative fiction?
Speculative fiction calls to me because it allows me to create worlds and situations and then manipulate them to my liking. I can visit faraway worlds, bring back the dead, or fall in love with an alien, and no one can tell me that it can't happen. The possibilities are endless, and sometimes its good not to have boundaries because then your creativity can flow without fear. And while I love Fantasy and Science Fiction, Horror will always be my first true love because nothing gets my blood flowing like that feeling of pure, utter fear.
Is there a piece of writing advice you've never followed?
Write what you know. I hate that saying because why would I only want to focus on stuff that I've experienced or could relate too? There is a world of information and possibilities out there, and I want to explore every dark, mysterious corner that I can and sink my teeth into it until I figure it out.
In the December 2010 issue of Niteblade, Rhonda chose to publish your poem, "The Cheater".  Is there a backstory on how it came about?
I'm a big believer of using writing as a means of catharsis, so as you can probably guess, this piece was inspired by infidelity. It's ironic because while it was a really bad time in my life, I got a lot of great material out of it because I didn't censor myself. I wrote what I was feeling no matter how angry or sad I was, and when "The Cheater" was finished, I felt like I could start to breathe again, because I had not only figuratively put an end to a bad situation through the poem, but literally shut the door on a very real and unhealthy relationship at the same time.
For those that have read it, the piece is about a character taking control of their situation after realizing that their partner was unfaithful. As a horror writer, I wanted to portray the confrontation scene with a level of high energy that matched the pain the narrator was feeling…so that's why he/she was given the chainsaw as their weapon of choice; it's loud, it's deadly, and it can rip you to pieces just like a bad relationship can.
There were a lot of tears that went into this poem…from both myself and the character that my protagonist murdered, but in the end, I think we both came out better from it, ha.
What have you been working on lately?
I'm currently working on a poetry series based around dark fairy tales, as well as my first novel (that is currently untitled). If I were to describe it, I would say that it's Rosemary's Baby meets The Exorcist meets Paranormal Activity. It's been a lot of fun to write, and I've met a lot of interesting characters along the way and I'm excited to see where it goes!
Is there anything else you'd like to share with Niteblade's readers?
Don't write what you know. Write what you want to know. Explore the nooks and crannies in the darkest places of your mind, and don't be afraid of what you find there. Writing is meant to take you places, and even if you're scared of where you're going, don't pass up the ride.
On this Halloween I'm happy to present you with an interview with Jonathan Pinnock. I hope you find Jonathan as engaging as I did.


When did you first recognize yourself as a writer?
I'm still working on it. But I think the point at which I began to think I might be able to recognize myself as a writer was when I heard I'd been shortlisted for an open competition (the 2007 University of Hertfordshire Creative Writing Awards).
What draws you to speculative fiction?
I think it's the freedom to go anywhere you want, so that you can take an interesting idea to its logical conclusion and then go a bit beyond that.
Is there a piece of writing advice you've never followed?
Loads. Particularly stuff to do with being disciplined and writing so many words every day, that kind of thing. I'm pretty chaotic about when I write and I tend to need a good deadline to focus my mind.
In the December 2008 issue of Niteblade, Rhonda chose to publish your story, "An Unsuitable Replacement".  Is there a story behind how it came about?
As it happens, there is. I originally wrote it during a charity write-a-thon I took part in back in late 2007. The way this worked was that a list of prompts were published every hour, on the hour, and you had an hour in which to write something based on a selection of those prompts.
I can therefore tell you quite precisely that "An Unsuitable Replacement" was written between the hours of 8PM and 9PM GMT on Thursday November 15th, 2007, using the prompts "I took my looks for granted" and "My body is wearing out".
Apart from changing the title (it was originally called "A Matter of Life and Death", I don't think I did a lot of further editing before submitting it to Niteblade.


What have you been working on lately?
My first novel "Mrs Darcy versus the Aliens" was published by Proxima Books, an imprint of Salt Publishing, on September 1st, so I've been spending a fair amount of time lately promoting that. I've also been writing a few short stories and working on a Big New Project that I'm going to keep under my hat until I'm sure it's going to fly.
Is there anything else you'd like to share with Niteblade's readers?
Well, here's the website for "Mrs Darcy versus the Aliens": www.mrsdarcyvsthealiens.com, and here's a spoof Wikipedia I've put together to give a bit of unreliable background information: www.mrsdarcyvsthealiens.com/wiki. Here's my writing website: www.jonathanpinnock.com, and you can follow me on Twitter as @jonpinnock. You can also follow Mrs Darcy on Twitter as @RealMrsDarcy.
Megan Arkenberg's stories and poems have appeared in multiple publications. She's a magazine editor too. I can't help but think she's somehow managed to add an extra ten hours into the day. You can visit her on the web at http://www.freewebs.com/meganarkenberg/.
When did you first recognize yourself as a writer?
I was in first grade. We were writing stories about superhero potatoes. My teacher was hard-core impressed by the phrase "as a tear rolled down her cheek," which I must have
picked up from a book somewhere. That was the day I declared myself "good at writing."
I didn't become serious about being a writer until junior high, when we were required to take keyboarding classes. Suddenly, drafting stories stopped being a frustrating rush to record my ideas before I forgot them completely; for the first time, I could get words on "paper" as quickly as they sprung into my head. I'm sure I annoyed everyone around me with my insistence that I was an "author" and my lengthy descriptions of my novels-in-progress until my sophomore year of high school, when my stories finally started getting published.
Ironically, though learning to type was what made me confident about writing in the first place, I've recently returned to drafting with pen and paper—it forces me to slow down and pay attention to my sentences!
What draws you to speculative fiction?
Something's a little screwy in my brain's wiring, I think. It never comes up with ideas like "high school athlete loses scholarship after drunken party results in manslaughter charge." No, it suggests things like "girl trains ravens to attack zombies," or "woman is murdered on page 217 of an obscure poet's biography."
I also like the way secondary worlds can reject the historical second-class place of women, people of color, and people who live outside of accepted gender norms. Real Victorian women may have been encouraged to stay in the home, but there's no reason my female steampunk hero has to put up with that kind of nonsense! Sometimes, I just want to enter a safe space, where I can play dress-up with historical settings without dealing with depressing historical mind-sets. Secondary world speculative fiction lets me do that.
Is there a piece of writing advice you've never followed?
I've never understood the general animosity towards adverbs. Some writers claim that all adverbs can be replaced by stronger verbs, but I think that's nonsense. There's a world of difference between "whispering" and "speaking quietly." "Running" and "walking briskly" are two different actions. There is no good verb for "fiercely unhooking her necklace." Of course, it is possible to use too many adverbs, just as it's possible to use too many adjectives, or too many nouns. But stripping a story to the bare minimum of
adverbs isn't always necessary or desirable.
In the September 2010 issue of Niteblade, Rhonda chose to publish your story, "Rosewinter".  Is there a story behind how it came about?
I read a story in an anthology—I don't remember which, and to be honest, I'd prefer not to remember—about a girl who received a magical rose from her magical
adventuring lover every winter. This irked me incredibly. He's off having marvelous adventures, and she (and the reader) is stuck at home, waiting for a silly rose! If they missed each other so much, why couldn't she go adventuring with him?
That became the core idea of "Rosewinter"—why might one lover hide her adventurous life from the other? What dark secrets could that innocent gift, a winter rose, be hiding?
I wish I could remember where I got the idea for the braided chronology, past-present-past-present-future-present-future. I've always enjoyed playing with the way I tell my stories; this is most obvious in "Rosewinter" and in one of my other favorite short stories, "The Copperroof War."
What have you been working on lately?
The combined influence of John Milton and the Book of Enoch has resulted in a lot of angel-and-demon stories recently. For some reason (I blame my screwy brain-wiring), these same stories also include a lot of heavy machinery: trains, wind turbines, warships and dirigibles. I also find myself writing more present-day stories, populated by people in jeans and tee-shirts instead of corsets and waistcoats, though most of these stories still have otherworldly settings—places ruled by tribes of zombies or metal angels, trains that run by themselves or hoard treasure like dragons.
Is there anything else you'd like to share with Niteblade's readers?
I love getting feedback—I think most beginning writers do. Even if it's just "funny story" or "I liked the part where the guy choked on a fishbone" or "I still don't understand why Susan married the goldfish," it tells me someone actually read and paid attention to the story. My e-mail address is markenberg@yahoo.com –I promise I don't bite!
I'd also like to plug my two e-zines, Mirror Dance (fantasy of all flavors!) and Lacuna (historical fiction, alternate history, and speculative fiction with a historical setting).
Today's interview is with Jacinta Butterworth, a short story writer, who is someone you should keep your eye on. She's been nominated or short listed for several prizes and I'm certain we'll be hearing more about her work.
When did you first recognize yourself as a writer?
I don't think I do. I was first published in 2006. After all this time I still tend to think of myself as somebody who writes, rather than a writer. Not that  there's really a difference. It's just that when I think of a writer I think of  somebody who writes all the time or has had a book published or gets paid  decently for their work. Maybe I'm just scared of taking myself seriously because then I can actually fail. Not that I can't fail anyway. (In the back of my head there's always this little voice whispering if I don't believe I'm a  writer I'll never be one. Too much Oprah I guess.)
What draws you to speculative fiction?
Speculative fiction lets me write about the real world in a creative way. For me, the best speculative fiction is written for young adults. I love The Hunger Games by Suzanne Collins, The Forest of Hands and Teeth by Carrie Ryan and Shiver by Maggie Stiefvater.
Is there a piece of writing advice you've never followed?
Never use the second person. There was a time when I was obsessed  with it. In fact, my mantra was always use the second person. What else? Research publishers and publications fastidiously before you submit your work. Obviously I believe in researching publishers and publications generally but I try not to set my heart on one in particular before I submit my work. I'm a fan of the 'shotgun approach' – sending my work out far and wide with the belief I'll get a hit sooner or later.
In the December 2010 issue of Niteblade, Rhonda chose to publish your story, "Love Affair".  Is there a story behind how it came about?
"Love Affair" was the first story I ever had published. I wrote the story when I was about sixteen (I'm now twenty-four). I redrafted it and redrafted it before submitting it. I was super excited when cOck accepted the story for publication – not only was I going to be getting paid but the editors had  decided to use it to promote the anthology. The story later received an honourable mention in the best horror short story category at the 2006 Aurealis Awards. Finally, it was reprinted in Niteblade and nominated for the 2010 Pushcart Prize. I'm proud of it. It was a good first (and how often can you say that?).
What have you been working on lately?
I have been redrafting a handful of stories, writing a new one and looking forward to editing a young adult book I wrote last year.
Is there anything else you'd like to share with Niteblade's readers?
One of my horror short stories was shortlisted for the 2010 Wet Ink Short Story Competition. You can read it here:
http://www.wetink.com.au/assets/pdfs/reads/Issue_23/fence.pdf