Archive for September, 2012
You did it! You made it all the way through our blog train (or if you don't know what I'm talking about, start here.) Whoot!
I think the best way to end the blog train is by sharing the table of contents for our latest issue (released today!). Issue #21 is titled Seeds. That's a very intriguing way to begin our next five years don't you think?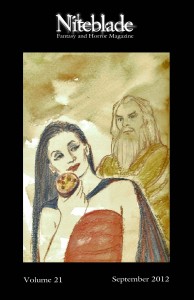 Issue #21: Seeds
Where Dreams are Grown by Suzanne van Rooyen
The Thing in the Rain by Jeremy Rosen
The Second Law of Thermodynamics by Sara Cleto and Brittany Warman
Crimson-Hooded by Sandi Leibowitz
Scavengers by Anna Sykora
Phersu by Sonya Taaffe
What We All Heard and What Was Denied by Mary M. Alexander
The Moon is on Fire by Dan Campbell
and of course
Seeds by Julia Rios
This line-up, while short, is packed with awesome. You will not be disappointed, I promise.
But wait! There's more!
I noticed, while traveling along with our blog train, that while there was obvious evidence of people visiting the blogs involved (shares on twitter, facebook etc.) there weren't a whole lot of comments. I know. I get it. I don't usually comment either. I'll read something, and then not feel like I have anything intelligent to offer so I'll move on, but bloggers? They love comments. I mean, they love them and I'd really like to encourage our readers to leave a few.
So. For every comment you leave on every blog post involved in this blog train (check here for the list again) or on one of the stories or poems in Issue #21 will earn you one chance at winning a fabulous Niteblade library. That being one .pdf copy of every issue we've ever put out. That's twenty one issues of our awesome magazine ready to be enjoyed at your leisure. Surely that's worth leaving a comment or two?