Posts Tagged 'sandi leibowitz'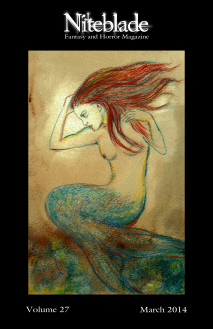 We are super proud to see several poems and one story from issue #27 of Niteblade show up on Ellen Datlow's rec list for Best Horror of the Year (volume Seven)!
Megan Arkenberg, "Godfather"
Beth Cato, "Bird Girl" (poem)
Sandi Leibowitz,  "Braiding" (poem)
S. Brackett Robertson, "The Dryad to the Woodcarver"
On a related note, Ada Hoffmann's poem from that issue, The Mermaid at Sea World, has been accepted into Imaginarium: Best Canadian Speculative Writing.
So. Incredibly. Proud.
Congratulations, ladies!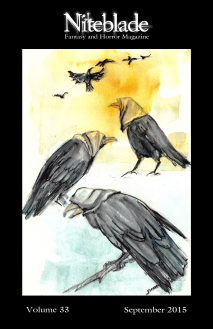 Wow. It's our final issue. It all feels so surreal, I don't even know what to say.
Thank you to everyone whose work has graced the pages of Niteblade, and to everyone who has worked (behind the scenes and otherwise) to make this magazine amazing. Thirty-three issues. Every one of them on time and as scheduled. That is no small feat. Thank you!
Special thank yous to:
Marge Simon — Niteblade would not be the same without your art, that distinctive style you've lent to our pages.
BD Wilson — We'd have never seen 8 years (8 years!!) without you. Thank you for talking me out of closing this magazine down so many years ago and for taking over all the web-based stuff. You're awesome.
Alexandra Seidel — From slush reader to poetry editor to friend. You are amazing and I'm so pleased to have been able to work with you for so long.
Jonathan Parrish — Without you Niteblade wouldn't exist. You've supported me in everything I do, but you've really gone above and beyond when it comes to Niteblade. Offering moral, financial and technical support and doing more work behind the scenes than anyone will ever know. Anyone but me, that is. Thank you. You're amazing and I love you.
And especially thank you to our readers. Without you this would all be pointless and I have really and truly valued your support through the years. Thank you, thank you, thank you!
This final issue has two covers based on Sandi Leibowitz's poem, The Island of Crows. That is because cover designer, Jonathan Parrish, wanted to do one in our newer style and one in the style we used way back when it all began. The interior layout of the downloadable copies is also a hybrid between the old style and the new.
I hope you enjoy our final issue, the table of contents look like this:
Table of Contents:
The Cicadas of Okinawa by Stephanie Lorée
Sorry, were those your sneakers? by Anne Carly Abad
Be Civilized: A Baba Yaga Story by Megan Branning
The Island of Crows by Sandi Leibowitz
The Children of Monsters by Matthew Meade
The Mirror Window by Alicia Cole
Mary by Andrea DeAngelis
The Labyrinth by Selena Bulfinch
The Garden Arch by Joshua Steely
Coyote in Long Island City by Sandi Leibowitz
Bubbles and Goats by Robina Williams
~Rhonda
Issue #32: What Happened Among the Stars was released today. In this issue we've got farcical science fiction, magical horses, everyday immortals, creeping trees, fairies, close encounters with death and so much more.
Table of Contents:
Small Necessary Things by Angela Enos
Shamaness by Wendy Howe
Jacks by Nicholas L. Sweeney
What Happened Among the Stars by Beth Cato
Monkeyshines by J.B. Rockwell
Carousel Ifrit by Sandi Leibowitz
The Third Sister by Gabriel F. Cuellar
coming home by Senia Hardwick
The Night Wind's Ballad by Alexandra Erin
The Hanging Tree by Brian Ennis
Available now:
Our dark fairy tale-themed issue is amazing, and it's available now 🙂
Contents
Candy, Shoe, and Skull; Sallow Flowers Plucked Like Chains by Eileen Wiedbrauk
Fruits by Sandi Leibowitz
The Men in the Wall by Rhonda Eikamp
Sefiria the Lesser–A Tale From The Secret Egyptian History of Murtadi, Son of Gaphiphus by Darius M. Klein
Hunger by Sandi Leibowitz
A Curse and a Kiss by Eric J. Guignard
Snip. Clip. Whip. by T. Fox Dunham
Et je ne pleurais jamais les larmes cicatrisantes magiques; c'est seulement un mensonge joli: Aarne-Thompson Index No. 310 by Elizabeth R. McClellan
The Flight of the Silk Moth by Zoe McAuley
All the Better by Lissa Sloan
Caught by Sandi Leibowitz
As you can see, we could have sub-titled this issue 'The Sandi Leibowitz Special'. This is what happens when you read submissions blind… 🙂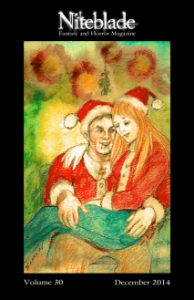 Issue #30 is alive and kicking! This one is pretty amazing and features monsters, traditional and otherwise, living nightmares, modernized hauntings, and subtle horror that will give you chills. The be specific, the table of contents looks like this:
Abominable Snowman by Ada Hoffmann
Cold by Thomas Wood
Nameday by Anne Carly Abad
A Million Miles Away by Christian Riley
Vampyrics by John Philip Johnson
Bindings by Jamie Killen
The Art by Sandi Leibowitz
Three Little Words by Sealey Andrews
Ghost Engine Updates an Ad for Angry Spirits by Anne Carly Abad
Date of Death by Stone Showers
It's also available in more places than ever before. Check out this list:
So amazing! You won't be disappointed.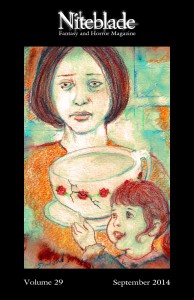 I am incredibly proud to announce the release of the September 2014 issue of Niteblade — Porcelain Doll.
This issue (which is #29 for those of you keeping track at home), contains:
St. Winifred Medical Center, Abandoned by Joshua Gage
Shelba's Brood by M.E. Garber
The Gate of Horn by Megan Arkenberg
Dancing with the Departed by Anna Zumbro
Porcelain Doll by J.A. Grier
There She Stands by Nathaniel W. Phillips
Awakened by Sandi Leibowitz
Lena's Confession by Kristi Brooks
Valediction for the Dungeon Master by Mark Jones
The Crew by Doug Blakeslee
It's a great selection. It's interesting to watch how themes emerge from the slush pile and I feel like this issue has strong flavours of hauntings and love… and sometimes the both together.
You can preview all the stories and poems at our website — Niteblade #29: Porcelain Doll and if that intrigues you, pick up a downloadable copy at the Niteblade Store (which means we don't have to pay anyone commissions) or, if you prefer, at the following third party websites:
Porcelain Doll at Smashwords
Porcelain Doll at Amazon
Porcelain Doll at Kobo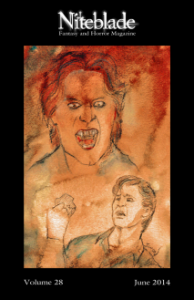 It begins with a subtle titillation of curiosity…
groaning floorboards at the dark end of the hall…
the rising musk of something savage…
cloven hooves on cobblestones…
a quivering chill…
And then there's no going back!
From the mists of antiquity to the edge of madness, the handpicked original fiction of Niteblade Magazine spans the finest reaches of Horror and Fantasy writing. Each issue features short stories and poems that intrigue, terrorize, inspire, and do not let you go!
June's issue is a riveting mix of selections that soothe with a feather's touch and wrench you back around with white-knuckle intensity. It's the full experience and the full release of horror and fantasy at its most compelling.
This issue contains:
Clotho by L.S. Johnson
The Summer I Fell In Love by Aaron Polson
A Means for the Journey by Erin Cole
Monstrovarious by Adam Armstrong
Stone City Old as Immeasurable Time by Kelda Crich
The Bitter Gourd's Fate by Anne Carly Abad
Looking-Glass Lover by Sara Norja
Labyrinth of Sand by Sandi Leibowitz
My Siren by Amelie Daigle
You can check out the teasers on our website right now. The full stories and poems will be available once we reach our sales/donation goal of $50 for this issue. If you just can't wait (and who could blame you), you can pick up a downloadable version of this issue right now for $2.99. Not only will that place a full digital copy in your possession immediately, it will push us closer to our goal so other people, not able to purchase their own copy, will be able to read it online for free sooner rather than later. Win/Win 🙂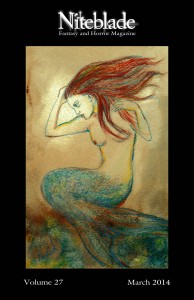 I always think each issue we produce is better than the last, and this is no exception. Issue #27: The Mermaid at Sea World is definitely one of the strongest line-ups we've ever put together. You're going to love this one, I guarantee it!
What if you had power over death? Or, if bleeding could transform you into something new altogether? From dryads to mermaids to lycanthropes to zombies, the stories and poems contained here offer musings on these creatures and much more. So sit down with a cup of tea, a warm blanket, and a book light—these tales will transport you to far-off fantasy worlds and into the forgotten corners of the darkest minds. It is Niteblade, where the strange and unusual lay down their roots.
Includes:
Bird Girl by Beth Cato
Godfather by Megan Arkenberg
The Dryad to the Woodcarver by S. Brackett Robertson
Hunt of the Damned by David Stegora
The Mermaid at Sea World by Ada Hoffmann
Crossing the Veil by Jamie Lackey
the queen's pauper by Anna Sykora
You Kill Me by Milo James Fowler
Braiding by Sandi Leibowitz
Hold My Hand by K. A. Mielke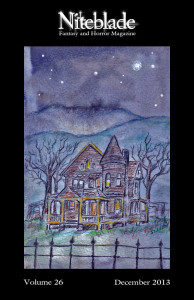 Issue #26 of Niteblade is a theme issue. Earlier in the year we held a fundraiser and one of the perks donors could choose was to pick the theme for our December issue. An generous donor who would like to remain anonymous, donated $100 to Niteblade for the chance to pick the theme for this issue and they chose 'Ghost Stories'. They especially wanted winter ghost stories, but were open to any type of haunting tale.
After reading through a great many submissions the poetry editor, Alexandra Seidel, and myself (with the help of our fabulous fiction slush readers Alexis and Samantha), have put together a fantastic line up of ghostly verse and stories. This is a big issue packed full of spooks, spectres and all manner of things that will send chills up your spine.
Table of Contents:
House 5 by Adele Gardner
Memory Walking by KB Lawrence
A Fixer-Upper by Amanda C. Davis
Soldier's Return by Robert Dawson
Envying the Dead by Francis W. Alexander
The Isle of Skye by Adele Gardner
Hot Biscuits by Elizabeth Archer
Hanashi Ukemi by Kenneth Kao
A Voice, Independent by Christos Callow Jr.
Dead Letters by Sandi Leibowitz
Heaven & Earth by Adrienne J. Odasso
Pushed Out by Jay Wilburn
Wintery Silence by Shari Jo LeKane-Yentumi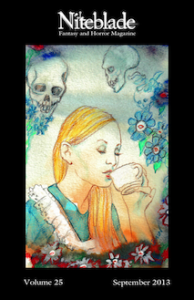 Issue #25: Alice Underground gets its title from a phenomenal poem by Brittany Warman and sports one of my favourite covers of all time! We certainly aren't growing complacent as we grow older here at Niteblade, this issue packs a hell of a wallop:
Lady Mary Speaks of Dreams by Sandi Leibowitz
With The Band by Carl Barker
Bitter Mnemosyne by Sara Norja
Jonesy by Evan Purcell
Alice Underground by Brittany Warman
Starry Night by David Luntz
Le Cirque by Jess Simms
the moon, so low by Dan Campbell
The Kiss of Legend by T.H. Lee
This man by Erik Amundsen
Empire of Ash by Cameron Johnston
Not Too Bold by Shira Lipkin
You can purchase your copy of our latest issue directly from the Niteblade Store, or Amazon (coming soon to Kobo).
In other exciting news, due to the generosity of our authors we have raised enough money to adopt a chimp from Save the Chimps. I will make a post about that next week and we will hold a vote to pick exactly which chimp we'll be adopting.