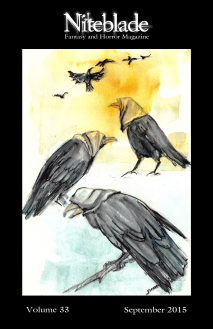 Wow. It's our final issue. It all feels so surreal, I don't even know what to say.
Thank you to everyone whose work has graced the pages of Niteblade, and to everyone who has worked (behind the scenes and otherwise) to make this magazine amazing. Thirty-three issues. Every one of them on time and as scheduled. That is no small feat. Thank you!
Special thank yous to:
Marge Simon — Niteblade would not be the same without your art, that distinctive style you've lent to our pages.
BD Wilson — We'd have never seen 8 years (8 years!!) without you. Thank you for talking me out of closing this magazine down so many years ago and for taking over all the web-based stuff. You're awesome.
Alexandra Seidel — From slush reader to poetry editor to friend. You are amazing and I'm so pleased to have been able to work with you for so long.
Jonathan Parrish — Without you Niteblade wouldn't exist. You've supported me in everything I do, but you've really gone above and beyond when it comes to Niteblade. Offering moral, financial and technical support and doing more work behind the scenes than anyone will ever know. Anyone but me, that is. Thank you. You're amazing and I love you.
And especially thank you to our readers. Without you this would all be pointless and I have really and truly valued your support through the years. Thank you, thank you, thank you!
This final issue has two covers based on Sandi Leibowitz's poem, The Island of Crows. That is because cover designer, Jonathan Parrish, wanted to do one in our newer style and one in the style we used way back when it all began. The interior layout of the downloadable copies is also a hybrid between the old style and the new.
I hope you enjoy our final issue, the table of contents look like this:
Table of Contents:
The Cicadas of Okinawa by Stephanie Lorée
Sorry, were those your sneakers? by Anne Carly Abad
Be Civilized: A Baba Yaga Story by Megan Branning
The Island of Crows by Sandi Leibowitz
The Children of Monsters by Matthew Meade
The Mirror Window by Alicia Cole
Mary by Andrea DeAngelis
The Labyrinth by Selena Bulfinch
The Garden Arch by Joshua Steely
Coyote in Long Island City by Sandi Leibowitz
Bubbles and Goats by Robina Williams
~Rhonda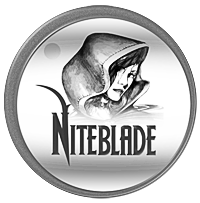 There's no point in dancing around the subject, you can see it right there as the title of this post.
Niteblade is closing.
This hasn't been an easy choice, I promise you. Niteblade has been a big part of my life for over seven years and means the world to me so I struggled to make this decision. Now that I have, however, it feels right. It makes me sad on some levels, but it feels right.
I'm not at the same place I was when I started Niteblade and it's becoming more and more difficult to find the spoons to give it the time and attention it deserves. I love it, I'm super proud of it, and I want to have it end while that is true. I don't want to watch it decline or become a burden or a job to me rather than something I enjoy and love. And I don't want it to have an abrupt closure–something planned and deliberate feels much more its style.
When I first met the man who is now my husband I asked him how old he was and, by way of offering me a hint he said, "It's a magic number."
He was 33.
Ever since then I have thought of 33 as a magic number, and that is why I've decided to make Niteblade's 33rd issue her final one.
Our remaining issues look like this:
December 2014 – Unthemed / FULL
March 2015 – Dark Fairy Tales / Open
June 2015 – Unthemed / Open
September 2015 – Theme TBA / Open
The final theme is going to be somewhat eclectic, Alexa and I are both going to toss some images & ideas out and invite people to use any of them to help frame their contributions. For my part you can expect those themes to be things like bridges, magic numbers and doorways. I'm not sure what Alexa has in mind, but we'll definitely post a blog / email an announcement once we finalize all that.
We want to go out with a bang, not a whimper, so in addition to having four more complete issues which are sure to be amazing  we'll be hosting a small series of guest blogs from contributors, staff members and readers. Nothing too masturbatory, but I really want to focus on celebrating Niteblade's existence rather than mourning its passing.
All great things may have to come to an end, but we're going to make this particular ending spectacular.