Archive for the 'Announcement' Category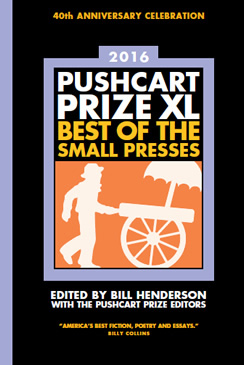 Every year choosing which stories to nominate for the Pushcart Prize is difficult. It's not any easier this year because, despite the fact we only put out three issues instead of four because I'm very aware that this is the final time I will be nominating work from Niteblade for this prestigious award. Difficult as it was, however, I have made my decisions and mailed the package today so they are final and official.
I am pleased to announce that on behalf of Niteblade Magazine I was proud to nominate the following poems and stories for The Pushcart Prize:
Congratulations nominees, and good luck!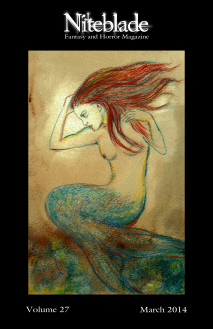 We are super proud to see several poems and one story from issue #27 of Niteblade show up on Ellen Datlow's rec list for Best Horror of the Year (volume Seven)!
Megan Arkenberg, "Godfather"
Beth Cato, "Bird Girl" (poem)
Sandi Leibowitz,  "Braiding" (poem)
S. Brackett Robertson, "The Dryad to the Woodcarver"
On a related note, Ada Hoffmann's poem from that issue, The Mermaid at Sea World, has been accepted into Imaginarium: Best Canadian Speculative Writing.
So. Incredibly. Proud.
Congratulations, ladies!
Long time Niteblade poetry editor Alexandra Seidel has an alter ego and that alter ego has a book out today. Luminous Dreams is a collection of erotic speculative fiction.
Congratulations Alexa!
This one is not for the faint of heart (or our younger readers).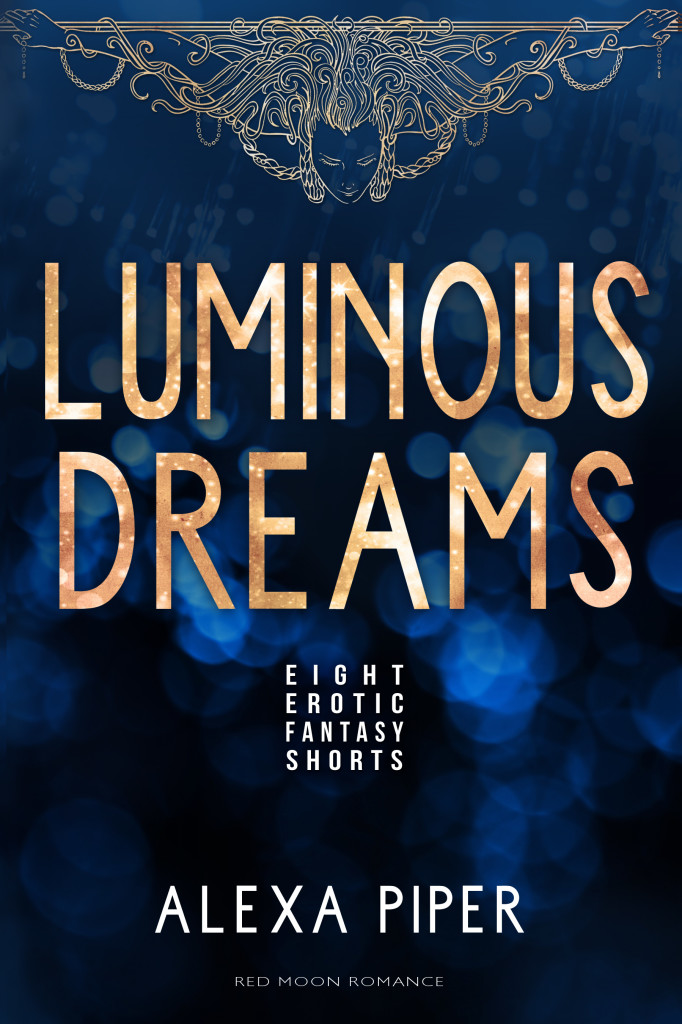 Relax, close your eyes… and dream.
Eight tales, eight sensual dreams of enchantment, wanderlust and lovers' longings, of searching and finding; these dreams tell of birds of fire, curses that lie like bridges between night and day, and hunger for sweet seduction.
If you are a Niteblade author and have an exciting announcement we'd love to help spread the news. Just contact Rhonda with the details!
Submissions are closed, but we aren't done yet.
Not only is there one final issue yet to come, I've still got an awesome announcement or two up my sleeve…
~Rhonda
Wow. Time is doing that thing where it zooms by again. We're counting down to our final issue and, more immediately, we're counting down to when submissions are going to close. We're still open but not for much longer. Please send us your best work by July 31st.
That's less than two weeks away!
Issue #32: What Happened Among the Stars was released today. In this issue we've got farcical science fiction, magical horses, everyday immortals, creeping trees, fairies, close encounters with death and so much more.
Table of Contents:
Small Necessary Things by Angela Enos
Shamaness by Wendy Howe
Jacks by Nicholas L. Sweeney
What Happened Among the Stars by Beth Cato
Monkeyshines by J.B. Rockwell
Carousel Ifrit by Sandi Leibowitz
The Third Sister by Gabriel F. Cuellar
coming home by Senia Hardwick
The Night Wind's Ballad by Alexandra Erin
The Hanging Tree by Brian Ennis
Available now:
Our dark fairy tale-themed issue is amazing, and it's available now 🙂
Contents
Candy, Shoe, and Skull; Sallow Flowers Plucked Like Chains by Eileen Wiedbrauk
Fruits by Sandi Leibowitz
The Men in the Wall by Rhonda Eikamp
Sefiria the Lesser–A Tale From The Secret Egyptian History of Murtadi, Son of Gaphiphus by Darius M. Klein
Hunger by Sandi Leibowitz
A Curse and a Kiss by Eric J. Guignard
Snip. Clip. Whip. by T. Fox Dunham
Et je ne pleurais jamais les larmes cicatrisantes magiques; c'est seulement un mensonge joli: Aarne-Thompson Index No. 310 by Elizabeth R. McClellan
The Flight of the Silk Moth by Zoe McAuley
All the Better by Lissa Sloan
Caught by Sandi Leibowitz
As you can see, we could have sub-titled this issue 'The Sandi Leibowitz Special'. This is what happens when you read submissions blind… 🙂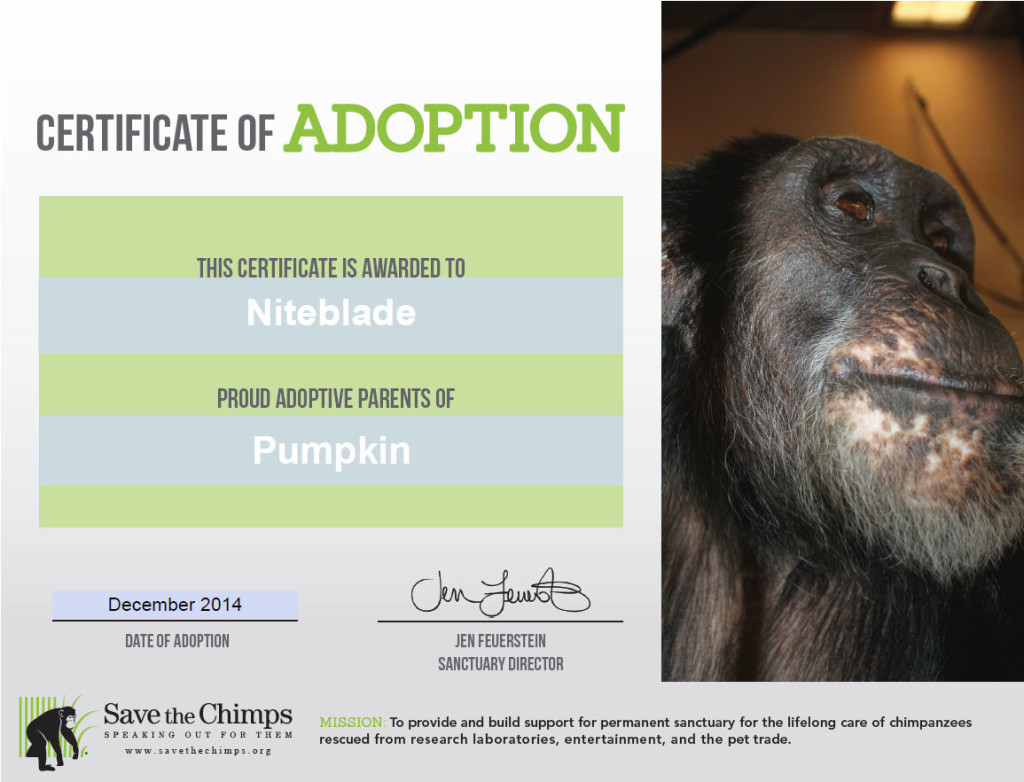 Last month Niteblade became the proud adoptive parent of Pumpkin, from Save the Chimps. Pumpkin was born in a laboratory, taken from his mother before he was two and 'knocked down' (anesthetized in what tends to be a very traumatic way) about 180 times and had his liver biopsied at least 23 times. By the time he was five years old, Pumpkin was self-mutilating.
You can read more about his story here.
In 2002, when Pumpkin was about 16 he was rescued by Save the Chimps and has been recovering in their sanctuary since then. These days he no longer self-mutilates and has been spending more and more time outside on 'the island' (which is a big thing for chimps raised in captivity).
These things, Pumpkin's rescue and rehabilitation, would not be possible without donations received by Save the Chimps, and I'm exceedingly proud that the Niteblade family is counted among those donors.
Thank you.
Thank all of you, but an especially big thank you to the authors who donate their payment to help chimpanzees like Pumpkin. Your generosity matters and it does make a difference.
ETA: This is the second chimp Niteblade has adopted. The first was Rufus.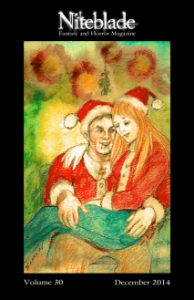 Niteblade is only partway to our sales/donation goal. Once we reached that goal we would release the web-based version of the latest issue free for everyone to read… but if I were to release it early, well, that would be a gift for all our readers and all the contributors to Niteblade whose work will be readily available to be read. Win/win!
So on behalf of myself and everyone at Niteblade, I'm pleased to announce the latest issue is available to read online now. Enjoy!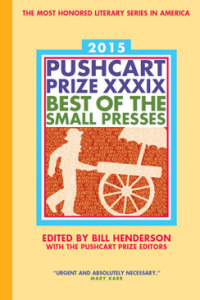 Nominating for the Pushcart Prize is always difficult. Picking six works from all Niteblade has published over the year? It's freaking tough. If you think I'm exaggerating, take a look over our archives and try to choose the six works you'd nominate from four issues. See? Hard.
This year it was made even more tricksy by the fact I was nominating not only from Niteblade, but also A is for Apocalypse. Luckily for me, I had back-up.
Poetry editor Alexandra Seidel helped me out with the nominations this year. And when I say helped me out I mean she was invaluable and pivotal when it came to making our poem-based decisions.
So with no further ado… this year the Niteblade nominations for the Pushcart Prize are:
Congratulations ladies, and good luck!