Our dark fairy tale-themed issue is amazing, and it's available now 🙂
Contents
Candy, Shoe, and Skull; Sallow Flowers Plucked Like Chains by Eileen Wiedbrauk
Fruits by Sandi Leibowitz
The Men in the Wall by Rhonda Eikamp
Sefiria the Lesser–A Tale From The Secret Egyptian History of Murtadi, Son of Gaphiphus by Darius M. Klein
Hunger by Sandi Leibowitz
A Curse and a Kiss by Eric J. Guignard
Snip. Clip. Whip. by T. Fox Dunham
Et je ne pleurais jamais les larmes cicatrisantes magiques; c'est seulement un mensonge joli: Aarne-Thompson Index No. 310 by Elizabeth R. McClellan
The Flight of the Silk Moth by Zoe McAuley
All the Better by Lissa Sloan
Caught by Sandi Leibowitz
As you can see, we could have sub-titled this issue 'The Sandi Leibowitz Special'. This is what happens when you read submissions blind… 🙂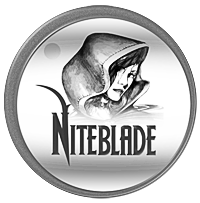 Issue #31 is going to be a special theme issue — Dark Fairy Tales.
For this special issue Niteblade is looking for fairy tales, and not just any kind of fairy tales, we want them dark — Grimms' grimmest. Surprise us with the shadows of "happily ever after." What price did the princess pay for her royal marriage? What beauty might be born from curses? What if the witches and evil fairies had the right idea all along? As always we'll be looking for stories and poems that offer us something new and unusual so even though we'll accept retellings we preference will be given to original fairy tales.
Submissions are open now and we'll be responding to them as they come in (not asking you to wait until after the deadline has passed). Please read and follow the submission guidelines found here.