Archive for November, 2013
I have a love/hate relationship with the Pushcart Prize. I love that I get to nominate six works every year for this extra recognition and the chance to win. I hate that I only get to nominate six works every year for this extra recognition and the chance to win. Still, rules are rules, so each year come November I re-read each of our issues and pick six works to nominate.
I dropped the package in the mail today, so it's official. This year, on behalf of Niteblade Magazine I have nominated the following works for the Pushcart Prize:
Infectious by Lilah Wild (March 2013)
before by Lynn Hardaker (March 2013)
Compassion, During and After the Fall by Cory Cone (June 2013)
Not Too Bold by Shira Lipkin (September 2013)
Pushed Out by Jay Wilburn (December 2013)
Memory Walking by KB Lawrence (December 2013)
Congratulations to all the nominees, and good luck!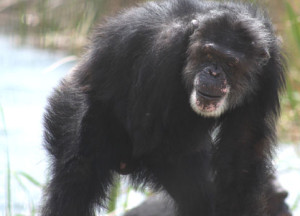 Rufus
©2010 Save the Chimps
www.savethechimps.org
This is Rufus. Due to the generosity of many of Niteblade's authors and poets, we were able to "adopt" Rufus from Save the Chimps last month. As described in this Miscellanea blog post, contributors are given a choice of being paid via paypal or of donating their payment to Save the Chimps. I had hoped that maybe we would be able to adopt a chimp every 18 months or so, but I was blown away by the number of people donating their payment. We reached the $75 goal quite some time ago and then had a bit of a vote to decide which chimp we'd adopt. Rufus won by a landslide.
You can learn more about Rufus (and see more photos of him) right here — All About Rufus.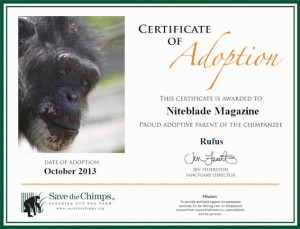 The reason I'm just blogging about our adoption of Rufus now is that I must have made a mistake when I filled out the paperwork to adopt him. The original certificate (which exists solely for bragging rights) listed me, personally, as the person who adopted Rufus (though I'd said in the papers that it was on behalf of Niteblade Magazine). I emailed Save the Chimps to see if they could provide me with a certificate that more accurately reflected reality but so far I haven't heard back (no doubt since they are busy helping chimps). So what you see above is a copy of the certificate which I edited to give credit where it belonged.
Thank you to everyone who donated their payment to support Save the Chimps, and to everyone who voted to help us decide which chimp to adopt! It's a small thing we've done, but because of you, Niteblade is changing lives and helping to make the world a better place, and how awesome is that?