Archive for December, 2013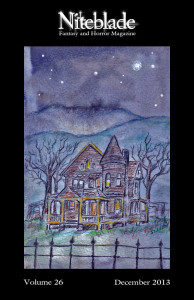 Issue #26 of Niteblade is a theme issue. Earlier in the year we held a fundraiser and one of the perks donors could choose was to pick the theme for our December issue. An generous donor who would like to remain anonymous, donated $100 to Niteblade for the chance to pick the theme for this issue and they chose 'Ghost Stories'. They especially wanted winter ghost stories, but were open to any type of haunting tale.
After reading through a great many submissions the poetry editor, Alexandra Seidel, and myself (with the help of our fabulous fiction slush readers Alexis and Samantha), have put together a fantastic line up of ghostly verse and stories. This is a big issue packed full of spooks, spectres and all manner of things that will send chills up your spine.
Table of Contents:
House 5 by Adele Gardner
Memory Walking by KB Lawrence
A Fixer-Upper by Amanda C. Davis
Soldier's Return by Robert Dawson
Envying the Dead by Francis W. Alexander
The Isle of Skye by Adele Gardner
Hot Biscuits by Elizabeth Archer
Hanashi Ukemi by Kenneth Kao
A Voice, Independent by Christos Callow Jr.
Dead Letters by Sandi Leibowitz
Heaven & Earth by Adrienne J. Odasso
Pushed Out by Jay Wilburn
Wintery Silence by Shari Jo LeKane-Yentumi