Archive for February, 2014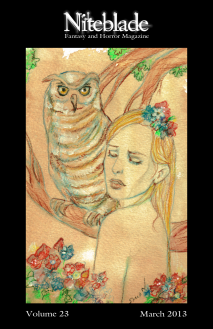 Issue #23: Blodeuwedd has been free to download from our website here, and from Kobo Books for a very long time. Unfortunately it's not free on Amazon. I'd like for you to help me change that.
I made Issue #23 free because I want people to be able to see how high quality our downloadable issues are. I want people who don't come to our website to find Niteblade, read it, become hooked and seek us out to read more. No matter how you feel about it, Amazon is key to getting noticed in this business, key to being read. If we could get Amazon to list our issue #23 for free it could go a long way toward increasing our exposure to the world. That is good for everyone.
Please go to the Amazon listing for Issue #23: Blodeuwedd.
If you scroll down to the Product Information you will see a link which says 'Tell us about a lower price'.
Please click that link and fill out the information. When it asks you where you saw the lower price, please tell them it was a Kobo Books –> http://store.kobobooks.com/ebook/blodeuwedd
Submit the form.
Once you've done that, please email me at rhonda @ niteblade.com and I will be happy to send you a downloadable copy of our most recent issue, Niteblade Issue #26: A Fixer-Upper as a way of saying thank you. Be sure and tell me, in that email, what format you prefer (.pdf, .ePub or .Mobi).
And thank you. Thank you very much.