Posts Tagged 'Kinuko Y Craft'
A graduate of Kanazawa College of Art in Japan, Kinuko Y. Craft came to the United States to continue her study of Art at the School of Art Institute of Chicago in the early sixties. Her work has graced publications like Playboy, Time, and The New York Times Magazine to name a few. And on books by Stephen King, Isaac Asimov, C.S. Lewis, Tanith Lee and Andre Norton. Kinuko has works in the permanent collections of The National Geographic Society, The National Portrait Gallery at The Smithsonian, The Cornish Colony Museum in Windsor, VT,and The Museum of American Illustration, New York City. Craft's work has gained her numerous awards in her field. Her works appear on countless licensed products. Influenced by the works of Leonardo Da Vinci, the Pre-Raphaelites and Symbolist painters, she is without a doubt one the best and most well known fantasy artists of the day. Her works offer serene comfort and remind people to take time to appreciate the beauty in all things.
What was it like growing up in Japan?
I walked to school every day so I could feel the seasons change. The only "violence" I knew was fighting with my siblings by pulling their hair or throwing sticks at each other. Small town life in Japan was peaceful, safe and the streets were always filled with people walking. Almost no one had cars. We all rode the train or a bus when we had to go to the next town.
Did you always have a love of art? What led you to pursue a career in the field?
My grandfather was an art lover and a master calligrapher. He had a collection of books on Western Art. They fascinated me and I poured over their pages endlessly. He also had a print by Maxfield Parish called "Stars" which I fell in love with. I painted and drew when ever I could and even stole my sisters set of Craypas once while she was in school and painted a mural on a sliding door in the living room when nobody was there.
What was going through your mind your first day in the United States?
I arrived by passenger ship in San Francisco in January of 1964. That part was exciting and invigorating. The City was beautiful as I had expected. However the American Cultural Center in Kanazawa (The city where I went to Art School) had recommended that I take the bus from San Francisco to Chicago to better "See America." The cold, bleak landscape, miserable food and the uncleanliness of the bus terminals were nothing like anything I had expected. There was and still is nothing like it in Japan that would have prepared me for the experience. It was terribly disappointing, but once I arrived in Chicago I knew I had made the right choice.
Did you ever think back then you would have become as successful as you have?
First of all, I don't think I am successful. I don't know what it is in my case. I only knew then that I wanted to paint and would let
nothing stand in my way to make that happen. Besides, I have never thought I have achieved anything bright artistically. All I can do is what I do. It's like trying to climb to the top of a ladder that has no end.
A lot of your work has involved fairy tale/mythological themes. Were you always drawn to those things? Do you have a favorite story from either of those genres? Why do you think such tales are timeless in their appeal?
They are the culmination of human wishes, dreams and hope. I feel the imagination expressed in them is something we must have to go through life. As a pre-schooler, I always asked for anyone around to tell me stories. I heard folk tales, legends; and ghost stories so scary they made me afraid to go to the bathroom at night. After I started school and finally could read, I found a book titled "Greek Myth for Young Readers" in my father's pile of old books. About the same time, a grade school friend loaned comic-book versions of the Iliad and the Odyssey. It opened me to a dreamworld I had never known. They have guided me into a world of literature and imagination which fuels my soul as an artist.
You have produced covers for such authors as Tanith Lee, Isaac Asimov, Stephen King, and Andre Norton. What is it like to see your work complement the works of such talented authors?
I don't really think about it. I'm not into fame. They are all phenomenal writers who's stories offer plenty of fodder for visual interpretation. Fortunately, I pret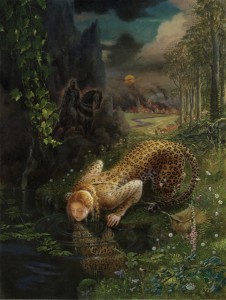 ty much do what ever I like. So far none have complained, thankfully. They make wonderful reading in the bathtub.
What it is like to work with your husband Mahlon F. Craft and daughter Marie Charlotte Craft? Do you find yourself more inspired when working with your family?
Mahlon does everything I don't. I paint, do the laundry and dishes and cook for our dog. Mahlon does everything else. We enjoy working together on books because we can collaborate as author/designer and artist. There are no bruised egos if I ask him to change a scene so it better fits what I want to paint. My daughter was coached by editors when writing Cupid and Psyche and King Midas and the Golden Touch. She has a degree from Columbia University in Literature. I hoped writing professionally might be something that would take on her, but it didn't.
You have contributed to several children's books. Do you enjoy that?What does it feel like to have the chance to inspire future generations to dream and create?
I'm not sure what you mean by "contributed." In all of the books I have illustrated, mainly I am left on my own and my charge is to
create art that does justice to the story, while entertaining me as a painter.
What one subject have you yet to cover that you would most like to?
A ghost story–something mysterious, dark and beautiful.
What is one little known thing about yourself you'd be at liberty to share with our reader's?
Nothing, really, except that I am insanely fascinated with big canines..
What advice would you offer the artists of tomorrow?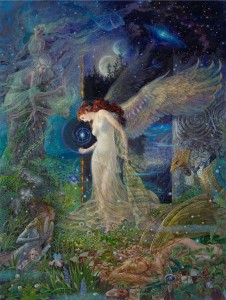 Be prepared for the world you know as a student to change in ways you can't even begin to dream of. Drawing skills are basic to all forms of visual art. They are the tools of the trade, and being facile as a draftsman will allow you to adapt your output and nurture your imagination to move with markets that are sure to change in the future.
What do you think you would of been if not an artist?
I don't know. Maybe I would have been born as a sea shell, or plankton, a cloud, or wind.
What do you like to do in your spare time?
Just moping around aimlessly, or picking ticks off of my dog Wolfgang and some reading.
What projects are currently working on?
I have two mural designs to complete as paintings which will be enlarged into glass mosaics. It's been a trying assignment because there are many people involved on the client side and their opinions had to be considered as the designs evolved. After that I will
complete the work on illustrating a Christmas story Mahlon wrote about 11 years ago for publication in 2012. And I have to provide enough finished drawings for an exhibit at my gallery sometime next year. Next I have to finish Beauty and the Beast which I started 8 years ago and haven't touched since.
How do you hope to be remembered when your time comes?
As an artist inspired by beauty who's best painting will always be the next one. On the other hand, I live and think for the moment. I don't much think about what will happen after I'm gone. I won't hear it nor care, perhaps, but I do hope to meet all of my dogs there.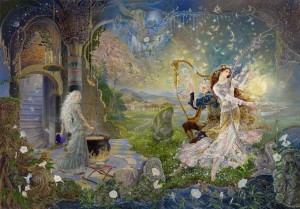 Where can your fans go for the latest on your career?
So far, just my web site. I'm not a computer user, nor am I interested in social networking. Posting to a Facebook page or on
Twitter would be pure drudgery for me–and that's the truth. If I ever do either of these things, it will be through Mahlon, though he's
already overloaded with work.