It's that time again! Our third annual fundraiser for Niteblade is currently up and running on IndieGoGo! We have got some amazing perks this year too, check this out:
Submission feedback on your next Niteblade submission
Interior art from our past issues
Critiques by fabulous Niteblade authors and editors

Aaron Polson
Damien Angelica Walters
Alexandra Seidel
Rhonda Parrish
Suzanne van Rooyen
Pete Aldin
Sara Cleto

Survival Colony Nine by Joshua David Bellin
Hysteria by Stephanie M. Wytovich
Handmade bookmarks from Beth Cato
Yoga cookies from Anna Sykora
Cover Art
Bill Ratner will record your outgoing voice mail message as Flint from GI Joe
Pick the theme for our March 2015 issue
And more!
Plus, our fundraisers are the only time you can purchase subscriptions and have the next four issues arrive in your inbox upon release (and at a discounted rate)!
Check out our IndieGoGo campaign, see how you can claim some of these fantastic rewards for yourself, or help us spread the word to all your friends — whatever you can do to help support Niteblade's efforts in the coming year we greatly appreciate it. Thank you!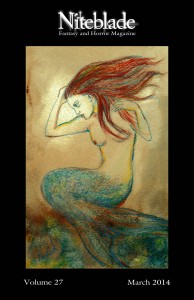 I always think each issue we produce is better than the last, and this is no exception. Issue #27: The Mermaid at Sea World is definitely one of the strongest line-ups we've ever put together. You're going to love this one, I guarantee it!
What if you had power over death? Or, if bleeding could transform you into something new altogether? From dryads to mermaids to lycanthropes to zombies, the stories and poems contained here offer musings on these creatures and much more. So sit down with a cup of tea, a warm blanket, and a book light—these tales will transport you to far-off fantasy worlds and into the forgotten corners of the darkest minds. It is Niteblade, where the strange and unusual lay down their roots.
Includes:
Bird Girl by Beth Cato
Godfather by Megan Arkenberg
The Dryad to the Woodcarver by S. Brackett Robertson
Hunt of the Damned by David Stegora
The Mermaid at Sea World by Ada Hoffmann
Crossing the Veil by Jamie Lackey
the queen's pauper by Anna Sykora
You Kill Me by Milo James Fowler
Braiding by Sandi Leibowitz
Hold My Hand by K. A. Mielke