Archive for October, 2014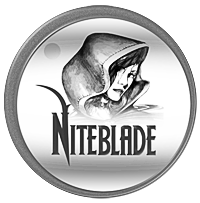 There's no point in dancing around the subject, you can see it right there as the title of this post.
Niteblade is closing.
This hasn't been an easy choice, I promise you. Niteblade has been a big part of my life for over seven years and means the world to me so I struggled to make this decision. Now that I have, however, it feels right. It makes me sad on some levels, but it feels right.
I'm not at the same place I was when I started Niteblade and it's becoming more and more difficult to find the spoons to give it the time and attention it deserves. I love it, I'm super proud of it, and I want to have it end while that is true. I don't want to watch it decline or become a burden or a job to me rather than something I enjoy and love. And I don't want it to have an abrupt closure–something planned and deliberate feels much more its style.
When I first met the man who is now my husband I asked him how old he was and, by way of offering me a hint he said, "It's a magic number."
He was 33.
Ever since then I have thought of 33 as a magic number, and that is why I've decided to make Niteblade's 33rd issue her final one.
Our remaining issues look like this:
December 2014 – Unthemed / FULL
March 2015 – Dark Fairy Tales / Open
June 2015 – Unthemed / Open
September 2015 – Theme TBA / Open
The final theme is going to be somewhat eclectic, Alexa and I are both going to toss some images & ideas out and invite people to use any of them to help frame their contributions. For my part you can expect those themes to be things like bridges, magic numbers and doorways. I'm not sure what Alexa has in mind, but we'll definitely post a blog / email an announcement once we finalize all that.
We want to go out with a bang, not a whimper, so in addition to having four more complete issues which are sure to be amazing  we'll be hosting a small series of guest blogs from contributors, staff members and readers. Nothing too masturbatory, but I really want to focus on celebrating Niteblade's existence rather than mourning its passing.
All great things may have to come to an end, but we're going to make this particular ending spectacular.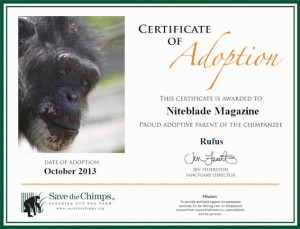 Each contributor to Niteblade is offered a choice of being paid via Paypal or donating their payment to Save the Chimps. Once we've reached $150 in donations, my husband and I match that and Niteblade "adopts" a chimpanzee.
Well, we've done it again 🙂
With last month's issue we reached the tipping point for donations and now it's time to choose which chimpanzee we will adopt.
Please follow this link:
and read the profiles of the chimps who are available for "adoption".
Then, choose which chimpanzee you'd like us to adopt and leave your vote as a comment to this post. We'll be open to votes until mid-November and then we'll tally them up and adopt whichever chimp gets the most votes.
Last year Rufus won by a landslide and we adopted him. Will he take it again this year? It's totally up to you 🙂
~*~
On a related note, starting with issue #30 (December's issue) we will be switching our charitable donations to support Fauna Foundation. They are also a chimpanzee sanctuary, but they are Canadian (like me) and their chimp adoption rates are lower than Save the Chimps new ones ($55 vs $300). This will enable us to make more frequent donations, and to an organization which is just as deserving as Save the Chimps.