Posts Tagged 'j.a. grier'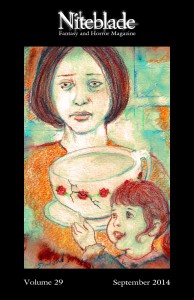 I am incredibly proud to announce the release of the September 2014 issue of Niteblade — Porcelain Doll.
This issue (which is #29 for those of you keeping track at home), contains:
St. Winifred Medical Center, Abandoned by Joshua Gage
Shelba's Brood by M.E. Garber
The Gate of Horn by Megan Arkenberg
Dancing with the Departed by Anna Zumbro
Porcelain Doll by J.A. Grier
There She Stands by Nathaniel W. Phillips
Awakened by Sandi Leibowitz
Lena's Confession by Kristi Brooks
Valediction for the Dungeon Master by Mark Jones
The Crew by Doug Blakeslee
It's a great selection. It's interesting to watch how themes emerge from the slush pile and I feel like this issue has strong flavours of hauntings and love… and sometimes the both together.
You can preview all the stories and poems at our website — Niteblade #29: Porcelain Doll and if that intrigues you, pick up a downloadable copy at the Niteblade Store (which means we don't have to pay anyone commissions) or, if you prefer, at the following third party websites:
Porcelain Doll at Smashwords
Porcelain Doll at Amazon
Porcelain Doll at Kobo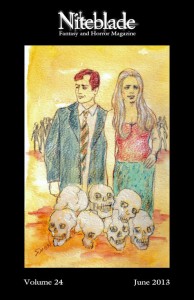 June 2013 brings us issue #24 of Niteblade. This one is entitled, Forbidden Island, and it's pretty fabulous. Check out this ToC:
Compassion, During and After the Fall by Cory Cone
Forbidden Island by J.A. Grier
The Imago by Carly Berg
The Travelling Dead by Keith Kennedy
The Peculiar Fruit of the Savage Chinchilla by Kate Duva
Where We Died by Shira Lipkin
Little Stitches by M. Shaw
An Unexpected Review by Michele Bannister
Shifting Sands of Blood by Rebecca Harwell
We seem to have ended up with a bit of a zombie theme for this one, but that is certainly not all you'll find. We've also got exotic places, tiny people and bizarre pets. There's something inside for every fantasy and horror lover. If you don't believe me check out the teasers we've got waiting for you.
You can pick up a copy of this issue at our Store where you can purchase Forbidden Island in several formats (.pdf, .mobi or .epub). It will also be coming soon to the Amazon page for Kindle as well as to Kobo. If you'd rather read it online, you can make a donation (from the sidebar on almost every page on this site) and once we reach our sales/donation goal of $40 we will release the website version for free to everyone.
What's more our generous authors have donated a total of $25 this issue, added to the $35 from our previous issue that brings our current total earmarked for Save the Chimps to $60. Once it reaches $75 I will match that donation and Niteblade will "Adopt a Chimp". It looks like that will be a reality very soon.