Posts Tagged 'Kristi Brooks'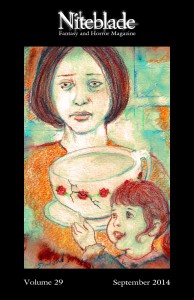 I am incredibly proud to announce the release of the September 2014 issue of Niteblade — Porcelain Doll.
This issue (which is #29 for those of you keeping track at home), contains:
St. Winifred Medical Center, Abandoned by Joshua Gage
Shelba's Brood by M.E. Garber
The Gate of Horn by Megan Arkenberg
Dancing with the Departed by Anna Zumbro
Porcelain Doll by J.A. Grier
There She Stands by Nathaniel W. Phillips
Awakened by Sandi Leibowitz
Lena's Confession by Kristi Brooks
Valediction for the Dungeon Master by Mark Jones
The Crew by Doug Blakeslee
It's a great selection. It's interesting to watch how themes emerge from the slush pile and I feel like this issue has strong flavours of hauntings and love… and sometimes the both together.
You can preview all the stories and poems at our website — Niteblade #29: Porcelain Doll and if that intrigues you, pick up a downloadable copy at the Niteblade Store (which means we don't have to pay anyone commissions) or, if you prefer, at the following third party websites:
Porcelain Doll at Smashwords
Porcelain Doll at Amazon
Porcelain Doll at Kobo