Posts Tagged 'sara norja'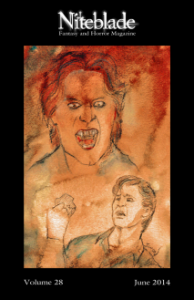 It begins with a subtle titillation of curiosity…
groaning floorboards at the dark end of the hall…
the rising musk of something savage…
cloven hooves on cobblestones…
a quivering chill…
And then there's no going back!
From the mists of antiquity to the edge of madness, the handpicked original fiction of Niteblade Magazine spans the finest reaches of Horror and Fantasy writing. Each issue features short stories and poems that intrigue, terrorize, inspire, and do not let you go!
June's issue is a riveting mix of selections that soothe with a feather's touch and wrench you back around with white-knuckle intensity. It's the full experience and the full release of horror and fantasy at its most compelling.
This issue contains:
Clotho by L.S. Johnson
The Summer I Fell In Love by Aaron Polson
A Means for the Journey by Erin Cole
Monstrovarious by Adam Armstrong
Stone City Old as Immeasurable Time by Kelda Crich
The Bitter Gourd's Fate by Anne Carly Abad
Looking-Glass Lover by Sara Norja
Labyrinth of Sand by Sandi Leibowitz
My Siren by Amelie Daigle
You can check out the teasers on our website right now. The full stories and poems will be available once we reach our sales/donation goal of $50 for this issue. If you just can't wait (and who could blame you), you can pick up a downloadable version of this issue right now for $2.99. Not only will that place a full digital copy in your possession immediately, it will push us closer to our goal so other people, not able to purchase their own copy, will be able to read it online for free sooner rather than later. Win/Win 🙂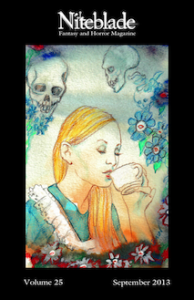 Issue #25: Alice Underground gets its title from a phenomenal poem by Brittany Warman and sports one of my favourite covers of all time! We certainly aren't growing complacent as we grow older here at Niteblade, this issue packs a hell of a wallop:
Lady Mary Speaks of Dreams by Sandi Leibowitz
With The Band by Carl Barker
Bitter Mnemosyne by Sara Norja
Jonesy by Evan Purcell
Alice Underground by Brittany Warman
Starry Night by David Luntz
Le Cirque by Jess Simms
the moon, so low by Dan Campbell
The Kiss of Legend by T.H. Lee
This man by Erik Amundsen
Empire of Ash by Cameron Johnston
Not Too Bold by Shira Lipkin
You can purchase your copy of our latest issue directly from the Niteblade Store, or Amazon (coming soon to Kobo).
In other exciting news, due to the generosity of our authors we have raised enough money to adopt a chimp from Save the Chimps. I will make a post about that next week and we will hold a vote to pick exactly which chimp we'll be adopting.