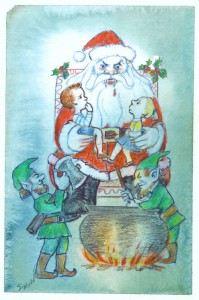 The upcoming Niteblade anthology, to be released in December, has got a title and an official table of contents.
The title was suggested by BD Wilson and I think it's perfect. This anthology will be titled Nothing To Dread. It plays with the cover image and is pulled from the poem, "'Twas The Night Before Christmas" by Clement Clarke Moore.
He was chubby and plump, a right jolly old elf,
and I laughed when I saw him, in spite of myself.
A wink of his eye and a twist of his head
soon gave me to know I had nothing to dread.
Table of Contents:
Dead Again Tomorrow by T.J. Tranchell
Intelligent Designs by Alec Cizak
Alien Beauty by Guy Antibes
Of Warmth, Of Dragons by Michael R. Fosburg
On Its Own by Suzanne Sykora
Whipped by Paul Ingrassia
Blackened Borderland by Peter Diseth
Dead Teenagers at Make-out Point Joe L. Murr
Dream Spinner by Robert E. Keller
A Moment Before, A Moment After by Brian Rosenberger
Unsuitable Replacement by Jonathan Pinnock
Gender Characteristics by F.J. Bergmann
Sentry by Greg Schwartz
Untitled by Greg Schwartz
Family Jaunt by Lucien E.G. Spelman
The Homecoming by Lynette Mejia
Following Rabbits by Gregg Winkler
Anonymous Advice to Prospective Students of the Northern Witch by Donny Wankan
Oh, Christmas Tree by S. Alan Fox
Christmas' End by Jamie Lackey
The List by Amanda Davis
Bait Worms by Aaron Polson
Night Lights by Aaron Polson
And Yet The Stars Still Existed by Beth Cato
Christmas Bloodbath by Beth Cato
One Response to "Anthology Title and TOC"