She Nailed a Stake Through His Head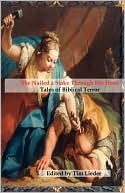 Book review by Sarah Hayes
The true terror of the Bible comes to life through its unwitting characters, some knowing pieces of a greater game and some ignorant pawns in His divine machinations. Either walking in the dunes of the Middle East or swimming a stormy ocean, they are all looking for answers and trying to live normal lives. They are Ruth and Naomi, who both share the blessing and the curse of a double-edged devotion to one another. Delilah, who betrays Samson for something different than money and pays the price for it. Holofernes, whose wife beheads him every night only to grow it back much to her disgust.
She Nailed A Stake Through His Head is a collection of stories that take a darker look at the parables of the New and Old Testaments, without losing the markings that make them so Biblical, so affecting and yet so startling. Those who think the Bible is nothing but life lessons and comforting anecdotes will find themselves unsettled in a satisfying way by its frankness and explicit details. There is sex and violence and savagery of body and mind along with some very supernatural happenings, including vampires of the most grisly sort.
There is nothing tame about the stories in She Nailed A Stake Through His Head; everything from the visual imagery to the storytelling is brutal and unrestrained in its mission to show the unsung side of some of the well-known tales of the Good Book. The language is gorgeously detailed and unrelenting and it is refreshing to read a collection of stories by multiple authors that carries a consistently high level of quality. Readers who are willing to set aside their preset notions about the characters birthed in the Bible will find themselves surprised by the richness and honesty of those lives retold in She Nailed A Stake Through His Head.