John Everson is well-known for his novels (Covenant, Sacrifice,The 13th, and Siren). Covenant gained him a Bram Stoker Award for a first novel and his short stories appear in several collections and well over 50 magazines. His latest novel is Siren. John is also co-founder of the publishing company Dark Arts Books, where he works tirelessly assisting with editing, providing cover artwork, layouts and promotion of the company. It is said when he wishes to escape from writing he can be found in his hidden studio recording pop/rock songs.
Can you tell us a little about your beginnings? As a child where you always drawn towards what would later become your career? Do you recall what the first story you ever wrote as kid was about?
As a kid I was a voracious reader, especially of anything fantastic. Growing up I read all the standard kids series — Hardy Boys, Nancy Drew, Tom Corbett, Space Cadet — but I quickly graduated to Golden Age sci-fi novels from Isaac Asimov, Robert Heinlein, Clifford Simak, Poul Anderson, and more.
I loved the twisted macabre-tinged sci-fi of Richard Matheson, and his short fiction in particular was probably a huge influence on my writing. But the first story I remember writing as a kid was a space opera set in Isaac Asimov's Foundation universe. Thankfully, that one is long lost in a landfill.
When did you first know you wanted to become a writer? What did it feel like to learn you can actually make a living doing something you love?
I always knew that I'd write in some sense. In grade school and high school I wrote a lot of song lyrics (and songs) along with poetry and short fiction. Somewhere along the way I decided I'd go into Journalism and work for newspapers, which I did. I quickly found though that I really preferred the "fluff" writing over anything related with actual news. So in college I worked a lot on the features side of the newsroom, doing celebrity interviews and album reviews. Back then I interviewed everyone from Jay Leno to the Throwing Muses. I even wrote a TV column at one point. That carried on after college — I left my first job at a suburban newspaper
to work for a music magazine (though I kept writing Pop Stops, the weekly music column I started at the newspaper for the next 20 years as a freelancer). Those early years at the newspaper and the music magazine are when I first began publishing short horror fiction regularly as well. Eventually I took a job in trade journalism so that I could actually pay the mortgage, so I must say that the writing that I most enjoy doing still does not pay the bills.
Does your son share your passion for written word? Do you find him to be much like you? I hear he likes to hear you play an acoustic guitar. Do you enjoy times when you get to take a break from your work and indulge him that?
My son has had a love for words from the start. I dedicated my short fiction collection Needles & Sins to him because of his love for stories. He knew his alphabet at 17 months and just today we came back from the kindergarten parent-teacher conference to find that he's reading a year beyond his peer group. So yeah, in his love of words and music (and stubbornness), he's a lot like me. And I love to share songs and music with him. Music is probably the biggest love of my life, and he seems as enamoured with it as I have always been. That's pretty cool to see.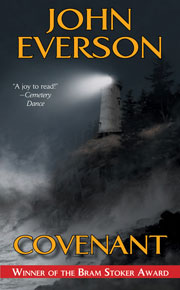 What kind of music do you make there in your hidden studio lair?
Not much, unfortunately, these days. I've been so focused on writing the past couple years, that I've really not played much at all. I do love to write pop-rock songs though. Nothing makes you feel better than a really hooky, well-produced pop song!
What does it feel like to win the Bram Stoker Award? Do you enjoy his works? Which of his works do you feel was his best?
The Bram Stoker Award is given out annually by the Horror Writers Association to recognize achievement in the field. It's voted on by other horror writers — your peers — so it was really amazing to win that award. I actually had gone to the award ceremony that year simply to network… so nobody was more shocked than I was to find out that I won!
As for Bram Stoker himself? The only work of his I've read was Dracula, but that novel I read 2-3 times in high school. I loved it.
What was the best advice anyone ever gave you?
Go ahead and write fiction if you can't not do it. But don't quit your day job.
Do you prefer to write novels or short stories, or do you like them both equally?
I like the instant gratification of short fiction, because you can start and finish a short story in the same day. It's nice to have to have a completed piece of work in that short of a time. That said, when you finish a novel,it's really a monumental feeling because it's so much work to write one. Over the past few years I've definitely grown to focus more on novels, which allow you to expand and tell a more complex a story than short fiction does.
What do you think you'd be doing if you hadn't became a writer?
Well… currently my day job is involved with creating websites for online education. So… I suppose I might be doing that whether I became a fiction writer on the side or not. Or maybe I would have gone completely batshit crazy, quit the conservative comfort of my day jobs and gone out on the road as a rock musician. A guy can dream…
Do you enjoy providing the artwork for covers? Is there any one cover you have worked on that you love most?
I kind of
backed into creating bookcovers. It started when I tried to help out a small press that was publishing an anthology that I had stories in. I wanted to help make the cover a little better than their original, and the next thing I knew, I was designing the next half dozen releases for them. That led me to founding Dark Arts Books (where I also do the covers) and to doing a line of small  hardcover chapbook covers for Delirium Books. Nearly all of my covers feature photo collages of photos I've taken, and my
favorites are probably Spooks! and Failure, which feature images of my wife and Like A Chinese Tattoo and Suckers which feature LA model Jade Paris.
You can see most of my cover and website art work at http://www.johneverson.com/artwork.htm
Other than Alan Clark what other illustrators do you admire?
Travis Anthony Soumis has done the book covers for my last three full-length small press hardcovers, Needles & Sins, The 13th and Siren. I really love his style, and adapted the imagery from Needles & Sins to serve as the focal banner on my website.
Are there any of your works that hold more personal meaning for you?
Siren and Needles & Sins are probably my most personal novel and short story collection, respectively. Siren because it deals with the fear a father has for losing his child (the lead character is haunted by the death of his son which he watched and couldn't prevent) while the collection includes stories that really touch on some of my deepest emotions.
Why do you think people are so drawn towards the darker side of things?
We all are afraid of the dark… so more than anything else, we want to know what's hiding there… perhaps in the knowing, we can conquer our fear.
What is one subject you'd like to cover that you haven't had the chance to yet?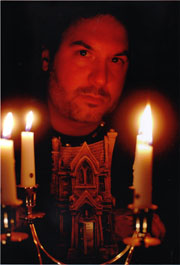 Honestly… I don't suppose there is one that I haven't touched on yet. I've been publishing fiction now for nearly 20 years. I've written 5 adult novels(one to be published next year as The Pumpkin Man) a young adult novel about goblins and witches and kids (currently being edited so that it can be shopped) and four short story collections that hold nearly 60 stories between them. There are still stories I want to tell… but my key themes have consistently been obsession and erotic horror. And I've done those a lot!
What works are you currently working on that you are most excited to get out there to the people?
(I just turned in my fifth novel The Pumpkin Man a couple months ago, so I'm pretty excited about that, though it won't be out for at
least 10 months. I'm also about to start edits on my young adult novel, tentatively titled A Gathering of Goblins. So I'm looking forward to polishing that so that hopefully my agent can find a good home for it where lots of kids will have the chance to read it. Because in the end, that's why I got into writing in the first place — to provide others the same kind of enjoyment that I found in books when I was a kid. It's kind of all come full circle.