Today's Niteblade Contributor interview is with Alexandra Seidel.  You may recognize her name – Rhonda announced last week she's the new poetry co-editor of Niteblade.  This interview was planned before the announcement.  🙂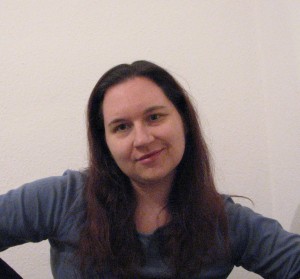 When did you first recognize yourself as a poet?
Even when I had my first few poems published, I wouldn't have spoken of myself as a poet, not with any confidence in my talent as a poet at any rate. But at some point, I was able to write a good poem, know it to be a good poem and have it accepted by great markets right away. That was about the time when I would have told you that I'm a real poet, meaning every word of it.
What draws you to speculative poetry?
I have always loved reading spec fiction, but strangely, my first few publications are more literary/mainstream. I think in retrospect, I did that to actually get something published, I just had no idea what the real world of writing looks like. I gradually moved to spec fiction and poetry. I like the people who work in this field, so that is certainly one thing that draws me to it. Another is that spec writing is what interests me as a reader, and as a writer, I like the ostensibly limitless possibilities: I can create a world wherever/whenever, consisting of whatever. The whole thing still has to work, and it's not like I never spent long hours doing research, but tailoring an entire universe, that is a challenge I cannot resist. I also like writing for people who choose to delve into something like that. But really, the first and foremost reason is that I love dreaming.
Is there a piece of writing advice you've never followed?
Probably, but since I didn't follow it, you don't seriously expect me to remember what it was, do you?
In the March 2010 issue of Niteblade, Rhonda chose to publish your poem, "The Note Found on the Person of the Dead Wizard Skewered From Above".  Is there a story behind how the poem came about?
Well, I think I was tinkering with a story in which there are harpies. That played into the composition of the poem, but if there was anything else more concrete I, err, sort of forgot.
What have you been working on lately?
As far as poetry is concerned, I'm writing a lot of poems about a bunch of Greek/Roman gods that have to do with sleep and dreams, Hypnos, Morpheus, Nix and so on. They just appeal to me, and I thought it would be nice to explore them in verse, in a cycle of poems even. Who knows, I might even write a story or two.
Fiction-wise, there are a couple of things, and then there is life which somehow manages to get in the way more often than I like. I plan on doing some darker stuff soon.
Is there anything else you'd like to share with Niteblade's readers?
Yes, promotional stuff. First, I'm a slush reader for Niteblade, I read poetry and I read stories, and I like doing this. I would love to read more wow-ingly great stuff, so send that. (My blog has one or two posts that might be interesting for people who want to submit; read: http://tigerinthematchstickbox.blogspot.com/)
Second, I just came on board as the new poetry editor for Fantastique Unfettered. It's a great mag. Read it. If you write poetry, I want awesome (but note that Niteblade's tastes are quite different from FU's).
Third, thanks to anyone who ever read anything of mine! And to Amber, thanks for the interview!
One Response to "Niteblade Contributor Interview With Alexandra Seidel"