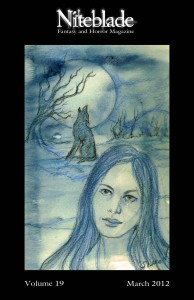 Yay!
On Thursday we surpassed our goal for sales and donations and released the web-based version of Issue #19 to the interwebs so now everyone can read it online for free. Know what the best part is? The donations haven't stopped.
Thank you. Thank you so much.
It's fantastic to see that people appreciate what Niteblade has to offer enough to show their support by donating money and telling their friends to stop by.
Thank you.
So very excited to start this new chapter of Niteblade on such a positive note.